Alumni and peers of a University of Southern California business professor have raised questions after he voluntarily stepped away from his position following student complaints that he had used a word during class that sounded like a racial slur.
The situation occurred August 20, when Marshall School of Business professor Greg Patton was delivering a lecture to his "Communication for Management" class, providing them with tips on how to present information effectively, Annenberg Media reported.
Patton cited Apple founder Steve Jobs' use of filler words while presenting and then went on to list examples of breaks in other languages.
"If you have a lot of 'ums and errs,' this is culturally specific, so based on your native language," Patton said, according to a recording of the lecture. "Like in China, the common word is 'that, that, that.' So in China it might be 'nèi ge, nèi ge, nèi ge.'"
In an email sent August 21 to USC administrators and obtained by National Review, a group of Patton's students identifying themselves as "Black MBA Candidates c/o 20200" wrote that the professor pronounced the word like the N-word "approximately five times," offending "all of the Black members of our Class."
The students wrote they spoke with Chinese classmates who were "appalled" by what they had heard and confirmed that the pronunciation of the word is "much different than what Professor Patton described in class."
By the following week, Patton had taken a pause from teaching the course, with Marshall Dean Geoffrey Garrett announcing the change in an email to students. "It is simply unacceptable for faculty to use words in class that can marginalize, hurt and harm the psychological safety of our students," Garrett wrote.
But many people have since come to the professor's defense over the alleged incident. In a petition sent to Garrett, nearly 100 Marshall alumni voiced their support of Patton, according to Annenberg Media.
The alumni, who said they represent more than a dozen nationalities and ethnicities, called Patton's example "an accurate rendition of a common Chinese use, and an entirely appropriate and quite effective illustration of the use of pauses."
The alumni wrote they were "deeply disappointed that the spurious charge has the additional feature of casting insult toward the Chinese language, the most spoken in the world, and characterized it and its usage as vile."
"We feel Marshall should be open to diversity in all areas," they wrote, according to the Los Angeles Times.
Taisu Zhang, a professor at Yale Law School, tweeted Friday that he had spoken to his USC colleagues who confirmed Patton's temporary leave.
"All I can say is, the professor's pronunciation of the Chinese phrase 'neige' was accurate, and his use of it as an example of filler language was linguistically appropriate," Zhang wrote. "It's a *very* common phrase."
Annenberg Media spoke with Kevin Park, a part-time MBA student who is of Korean descent. While Park said he hasn't personally had Patton as a professor and doesn't know if he could speak to the situation, his initial reaction to the accusation against Patton "was that it was super overdramatized."
"I don't think the professor meant harm," Park said.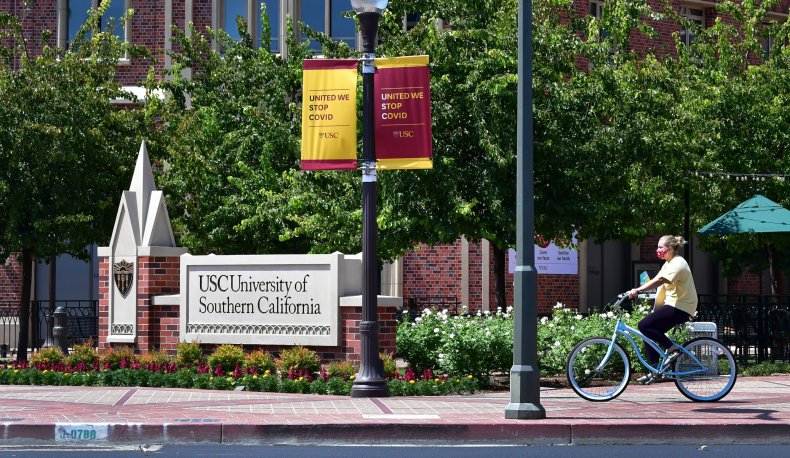 Patton has worked or taught at USC since 1994, according to his resume. He has received multiple awards for "outstanding teaching and has extensive global corporate consulting and training experience." Patton has led programs in the Pacific Rim for over 20 years, his resume states.
But the group of students accused Patton of displaying "negligence and disregard," as they asserted that the word in question is "most commonly used with a pause in between both syllables."
那个 is a Mandarin word translating to "um" or "uh" in English, and is commonly pronounced nèi ge (NAY-guh) or nà ge (NAH-guh). Patton was using the former pronunciation, according to the Los Angeles Times.
The students, saying they had lived abroad in China and taken several language courses, said that the phrase "clearly and precisely before instruction is always identified as a phonetic homonym and a racial derogatory term, and should be carefully used," particularly in the U.S., they wrote in the email.
"Our mental health has been affected," the group continued. "It is an uneasy feeling allowing him to have the power over our grades. We would rather not take his course than to endure the emotional exhaustion of carrying on with an instructor that disregards cultural diversity and sensitivities and by extension creates an unwelcome environment for us Black students."
In an email sent last week to members of the USC Marshall Graduate Student Association Executive Board, Patton expressed remorse over the incident, saying that he'd previously been given the language example by several international students.
"I have since learned there are regional differences, yet I have always heard and pronounced the word as 'naaga' rhyming with 'dega,'" the professor wrote, adding that his pronunciation of the word comes from his time in Shanghai, according to National Review.
"Given the difference in sounds, accent, context and language, I did not connect this in the moment to any English words and certainly not any racial slur," Patton continued.
A spokesman for Marshall confirmed in a statement to Newsweek that Patton had "agreed to take a short term pause while we are reviewing to better understand the situation and to take any appropriate steps."
In his apology email, Patton called the accusations against him false.
"Unfortunately messages have circulated that suggest ill intent, extensive previous knowledge, inaccurate events and these are factually inaccurate. Fortunate we have transcripts, audio, video, tracking of messages and a 25 year record," Patton wrote. "I have strived to best prepare students with Global, real-world and applied examples and illustrations to make the class content come alive and bring diverse voices, situations and experiences into the classroom."
Newsweek contacted Patton for comment, but did not hear back in time for publication.
Correction (09/08/20, 4:46 p.m.): An earlier version of this article stated that the University of South Carolina "dismissed" Patton. After students expressed complaints, Patton volunteered to step away for the remainder of the course. He was not dismissed.