U.S. Citizenship and Immigration Services (USCIS) has pulled offline hundreds of pages of documents providing insight into the country's asylum process and practices since President Donald Trump took office, the Sunlight Foundation, a government transparency watchdog, has said.
According to Sunlight's Web Integrity Project, as many as 26 documents for Training of Asylum Officers were pulled from the USCIS's main website between March and April 2017 and "cannot be found anywhere else on the site."
USCIS spokesman Michael Bars countered the claim, saying: "Assertions that USCIS has removed or taken office training documents off line are factually inaccurate. USCIS makes these training materials available on the Web to ensure public access to lesson plans."
Bars said that the Refugee, Asylum and International Operations (RAIO) Directorate of USCIS took steps to standardize and integrate training programs in fiscal year 2013 across three divisions: Refugee Affairs, Asylum and International Operations.
As a result, he said lesson plans were updated and that nearly all lesson plans referred to by Sunlight were outdated and no longer being used.
After recieving FOIA requests regarding the lesson plans, USCIS said it moved the information from its primary website and uploaded documents to its FOIA "electronic reading room" site.
Sunlight acknowledge that eight of the manuals had been relocated to the agency's Freedom of Information Act (FOIA) "reading room," but said the decision to take down pages that many immigration lawyers rely on and move others without any notice has created confusion for those who rely on the resources.
"Their actions, intentional or not, have made it more difficult for those looking to train asylum officers or who are asylum officers themselves to access this information and that potentially strains the relationship between the agency and those who would like to get this information," Toly Rinberg, the director of the Web Integrity Project, told Newsweek.
The organization said pages stripped from the website included information on international human rights law, a list of U.S. statutes and international agreements establishing the framework for the asylum process and a series on techniques for interviewing asylum seekers, including how to interview torture victims and how to work with interpreters.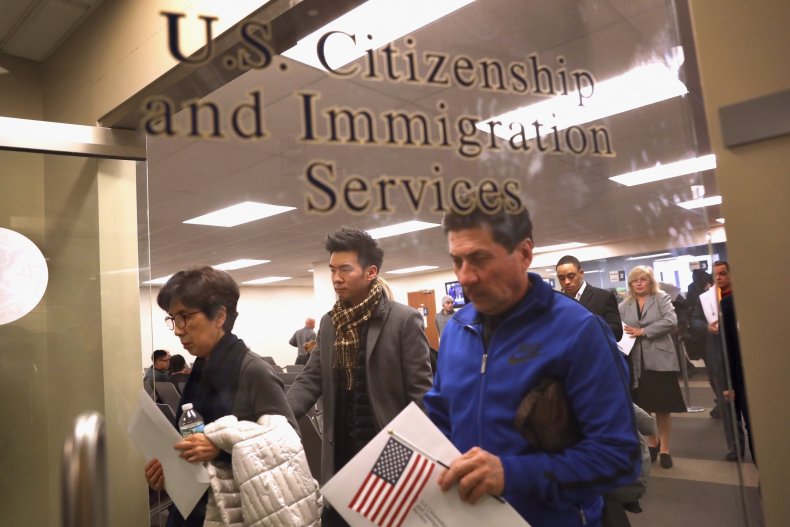 Rinberg said Sunlight "felt compelled to tell the public about these removals" after hearing from the immigration attorney community that many had been relying on the pages.
"The asylum process is so important, and particularly important given the Trump administration's focus on stripping immigration policies," he said.
In a statement shared by the Sunlight Foundation, Victoria Neilson, an attorney for the Catholic Legal Immigration Network, Inc. (CLINIC) said some of the most useful documents removed dealt with the inner workings of the asylum process.
As someone who helps train lawyers who are new to asylum work, the documents had been an invaluable resource, Neilson said.
"They give good insight into how the asylum officers themselves are trained to interpret ambiguous areas of the law and how asylum officers are trained to conduct interviews," Neilson said. "They give us a little sense of what to expect in some situations.
USCIS declined to comment on the record to Newsweek on Wednesday, but pointed out the fact that some documents had been relocated to the website's reading room.
The agency has also taken steps under the Trump administration to make the asylum process more restrictive.
An executive order signed by Trump in January 2017 established tighter evidentiary standards for determining "credible fear" among asylum seekers.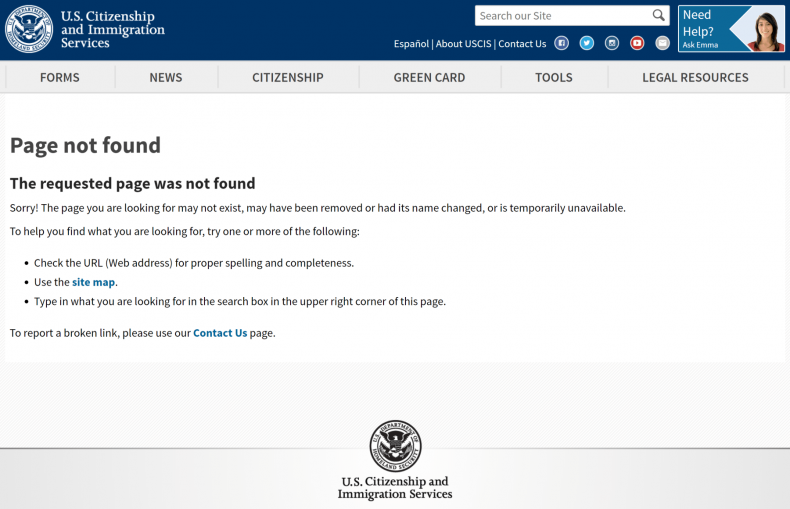 Attorney General Jeff Sessions has been a strong critic of the program, saying in a speech last October that the "system is being gamed, no doubt about it" by immigrants with "fake" claims of persecution in their home countries.
Neilson said that while the Trump administration's changes to the asylum program could mean some of its resources might need to be updated, there is no indication that the changes would have made the majority of the documents pulled from USCIS's website outdated.
The immigration attorney said she believed the decision to pull the pages down without providing any notice showed that "transparency is not a priority for this administration, at least in the field of immigration."
"So it's not really surprising to me that they would not want to share some of their internal thoughts on how to adjudicate these cases," she added.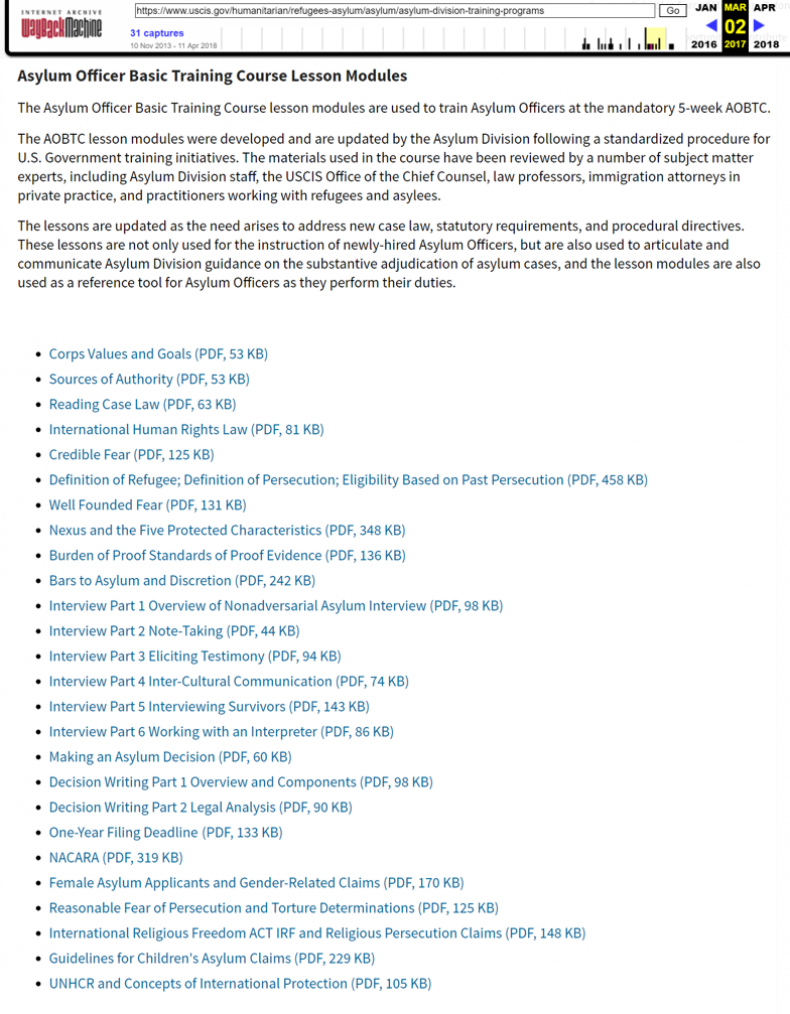 Sunlight said it contacted USCIS three times, twice in April and once again in May, about the documents removed from its pages, but received no response.
A day before the watchdog group's report was released, USCIS announced that it would be launching an FOIA Immigration Records SysTem (FIRST) which will allow users to submit, manage and receive FOIA requests entirely online.
"Today marks an important step in our effort to transform outdated USCIS systems," USCIS Director L. Francis Cissna said in a statement.
"Modernizing the way we accept and respond to FOIA and Privacy Act requests is a priority. FIRST's efficient process will reduce our FOIA backlog, eliminate errors, and speed up the delivery of documents to requesters," she added.
Despite the effort to improve the agency's FOIA system, Rinberg said Sunlight has seen a pattern of the "quiet removal of documents" under the Trump administration.
Read more: Caravan Migrants May Wait up to Five Years to Hear Decision on Their Asylum Case
"Particularly around climate change, but also now women's health resources, for example, breast cancer information being quietly removed and I think that's what's important here, is that following media attention… they choose not to restore these documents in a lot of cases," Rinberg said.
The Web Integrity Project director said government agencies should do more to inform people when information is being deleted or moved on their websites to provide greater transparency.
"It is very easy for an office to have a small notice on a website saying these resources were previously here. Please contact us for more information… Or to say, here's a reason why they will no longer be presented, but if you have more questions, please contact us," Rinberg said.
Otherwise, he says, agencies risk sending the message of an "adversarial relationship rather than a collaborative, participatory one" with those who rely on government information.
This story has been updated with comments from the U.S. Citizenship and Immigration Services​.