Immigration Agency Removes 'Nation of Immigrants' from Its Mission Statement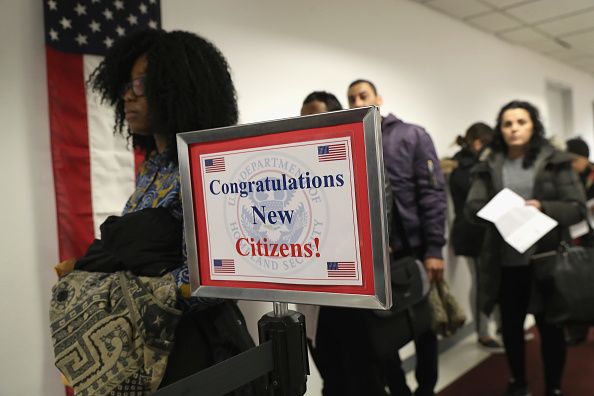 The federal agency charged with processing immigration applications to the United States slashed the phrase "nation of immigrants" from its mission statement on Thursday.
U.S. Citizenship and Immigration Services (USCIS) Director L. Francis Cissna announced the agency's new mission statement in a staff-wide email.
"U.S. Citizenship and Immigration Services administers the nation's lawful immigration system, safeguarding its integrity and promise by efficiently and fairly adjudicating requests for immigration benefits while protecting Americans, securing the homeland, and honoring our values," the new mission statement reads.
The USICS's former statement, which is no longer on its website, included the line "a nation of immigrants." It formerly read, "USCIS secures America's promise as a nation of immigrants by providing accurate and useful information to our customers, granting immigration and citizenship benefits, promoting an awareness and understanding of citizenship, and ensuring the integrity of our immigration system."
The change was first reported by online news publication The Intercept.
In his email to staff, Cissna wrote that the updated mission statement is "straightforward" and "defines the agency's role in our country's lawful immigration system and the commitment we have to the American people."
The director also noted that the new change removes the word customers because it is a misinterpretation of their role. The agency should not be considered "a mere production line or even described in business or commercial terms" he noted.
Cissna said that calling immigrants and those who support immigration benefits customers promotes "an institutional culture that emphasizes the ultimate satisfaction of applicants and petitioners, rather than the correct adjudication of such applications and petitions according to the law."
"All applicants and petitioners should, of course, always be treated with the greatest respect and courtesy, but we can't forget that we serve the American people," the director wrote.
In an email to Newsweek, USCIS officials wrote that the White House did not instruct the agency to change its statement. The change has been approved by the secretary of homeland security, USCIS noted.
Cissna was confirmed as the head of USCIS in October 2017. He previously served as director of immigration policy at the Department of Homeland Security and was a volunteer immigration policy adviser to Donald Trump's presidential campaign.
Human rights organizations have said that removing the immigration line from the mission statement does not alter the fact that the U.S. was built by immigrants. However, it does show how the Trump administration will "stop at nothing to demonize and dehumanize immigrants and refugees," according to Human Rights First.
"We cannot separate 'immigrants' from 'Americans'—we are intrinsically linked as children, parents, neighbors and loved ones," said Eleanor Acer, senior director of refugee protection at Human Rights First, in a statement to Newsweek. "By seeking to distinguish between the two, the administration is turning its back on our nation's proud history and engaging in dangerous revisionism."
Omar Jadwat, director of the Immigrant Rights Project at the American Civil Liberties Union, told Newsweek that it's obvious the Trump administration is continuing to divide immigrants from American-born citizens.
"It's sending a message perfectly in line with what the administration has said and done so far, which is trying to set immigrants apart from other people in America—to paint them as a law enforcement issue as opposed to real individuals with a variety of real and valid concerns and claims," Jadwat said.