This is the story of an Oregon weed that nobody's high on.
In two areas of the state, and in nearby Idaho, a genetically modified, weedy grass has spread beyond fields where it was grown by contractors affiliated with the Scotts Miracle-Gro Co., which developed it beginning in the 1990s in collaboration with Monsanto. Over more than a decade, Scotts has spent millions trying and failing to eradicate the plant, known as creeping bentgrass, which is genetically modified to be resistant to the herbicide Roundup, also known as glyphosate.
In mid-January, the U.S. Department of Agriculture's Animal and Plant Health Inspection Service (APHIS) announced in the Federal Register that the agency would deregulate the plant. This means Scotts could be free to bring the grass to market, though the company has vowed not to do so. It also means the company will no longer be legally required to pay to clean up the grass after 2017, though it has promised to do so.
The move has been opposed by a wide swath of individuals and organizations. In an unusual move for such agencies, the Oregon and Idaho departments of agriculture came out strongly against deregulation because of its potential impact on farmers and the environment. Oregon Senator Jeff Merkley also opposed it; Martina McLennan, his spokesperson, wrote in an email that "uncontained GM crops that escape into neighboring fields or waterways can pose a serious threat to the livelihoods of nearby farmers and ranchers, not to mention being a costly nuisance to the entire community."
Many local farmers and grass growers fear the grass could get onto their land and taint their crops, which are tested for introduced genes before being sold to China, the European Union and other places that are averse to genetically modified organisms. If that happens, farmers wouldn't be able to sell their crops internationally, which could be devastating, says Jerry Erstrom, a farmer in southeastern Oregon's Malheur County.
The grass first spread in 2003, in north-central Oregon's Jefferson County, when windstorms blew seeds as far as 13 miles beyond where they were planted, including into the state's Crooked River National Grassland. In 2010, the grass jumped from fields in Idaho, where the company was growing it, onto land in Malheur County, across the Snake River and into Oregon.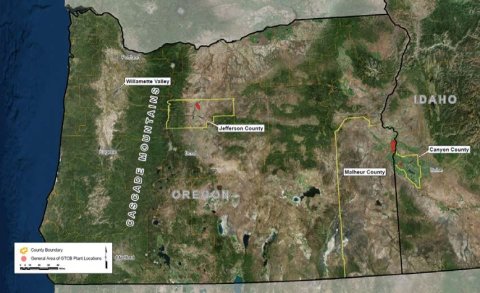 It is now found in irrigation ditches in part of Malheur, where Monty Culbertson, manager of a large irrigation project in the county, says the grass is scattered on about 20 square miles. And it's spread over a similar-sized area in Jefferson County. Jim King, senior vice president of corporate affairs with Scotts, says that in spring 2016 the company located 400 locations where the grass is still growing in Malheur, though some local farmers dispute that number, saying it is higher.
"We remain confident in the technology [meaning the grass], the safety of the technology, and we don't believe it will have an impact on the environment," King says.
Creeping bentgrass needs a steady supply of water, and for this reason it has been found almost exclusively in irrigation ditches. This presents a problem, however—only Roundup is approved to spray near water, and by design the grass is impervious to this chemical. To eradicate the plant, workers spray it with the herbicide glufosinate in the fall and spring, when the ditches run dry.
Farmers and researchers are worried that the grass will spread, and the plant has already produced a seed bank in the soil that's nearly impossible to eliminate. The grass is also capable of hybridizing with at least two other species of grass and to pass on its herbicide-resistant genes. The seed can also be spread by water and wind and by creatures such as birds.
"The likelihood to me that it's going to spread is highly probable," says Bruce MacBryde, a researcher who worked for the Agriculture Department's APHIS from 2002 to 2009. MacBryde looked into the safety of genetically modified creeping bentgrass when Scotts first approached the agency about deregulating it early in MacBryde's tenure, before withdrawing the application. At that time, the agency didn't seem disposed toward deregulation and fined Scotts $500,000 (the maximum amount allowable by law) in 2007 for its escape in Jefferson County.
The U.S. Fish and Wildlife Service also came out against approving the grass back then, arguing that if it spread to Oregon's Willamette Valley, it could "jeopardize the continued existence" of two endangered plant species and modify the habitat of the endangered Fender's blue butterfly.
But something changed when Scotts applied again for deregulation, announced in early 2016. To many observers, that process moved suspiciously quickly. On September 30, APHIS announced the availability of a draft environmental impact statement on the petition, followed by a 45-day public comment period that ended November 14. These comments—most of which were critical of the petition—typically take many months to go through and consider, says Erstrom, who worked in government for more than 30 years.
On December 8, APHIS nevertheless announced it had produced a final environmental impact statement, followed by a 30-day comment period, and on January 17 it reported that it had come to an ultimate decision: deregulation. (The USDA didn't respond to a request for comment.) "I've never seen an environmental impact statement go through in that period in that time," Erstrom says. "It's unheard of." He and others wonder about the degree to which corporate pressure may have influenced the decision. Nathan Donley, a senior scientist with the Center for Biological Diversity, an environmental group, says the group will look into legal options to challenge the ruling.
Carol Mallory-Smith, a professor of weed science at Oregon State University, opposed the deregulation because of the grass's ability to spread and its potential agronomic impact. "There are growers…who had nothing to do with the introduction of this crop, were not going to gain from it, and yet now they are being asked to take responsibility for controlling it," she says.
Mallory-Smith worries about this happening with other genetically modified plants or genes in the future. "What's the assurance that this isn't a trend, that any time there's a problem and a gene has escaped, that we're not going to have somebody to be held accountable?"
Culbertson, echoing many locals, expressed concern that Scotts won't continue to help clean up creeping bentgrass because it won't be legally obligated to. In effect, it isn't being held responsible, he says. "I think personally, morally, that's wrong."