President Donald Trump announced on Friday a $19 billion dollar coronavirus relief plan specifically for farmers and ranchers. Included in the plan are expected to be both direct payments to individuals and a program to purchase food from U.S. farmers and ranchers to be distributed throughout the U.S. through food banks.
"The program will include direct payments to farmers as well as mass purchases of dairy, meat and agricultural produce to get that food to the people in need," Trump said.
In July, the USDA is expected to receive another $14 billion to assist with funding.
"During this time of national crisis, President Trump and USDA are standing with our farmers, ranchers, and all citizens to make sure they are taken care of," Secretary Perdue said in a press release sent to Newsweek Friday.
"The American food supply chain had to adapt, and it remains safe, secure, and strong, and we all know that starts with America's farmers and ranchers," Perdue continued. "This program will not only provide immediate relief for our farmers and ranchers, but it will also allow for the purchase and distribution of our agricultural abundance to help our fellow Americans in need."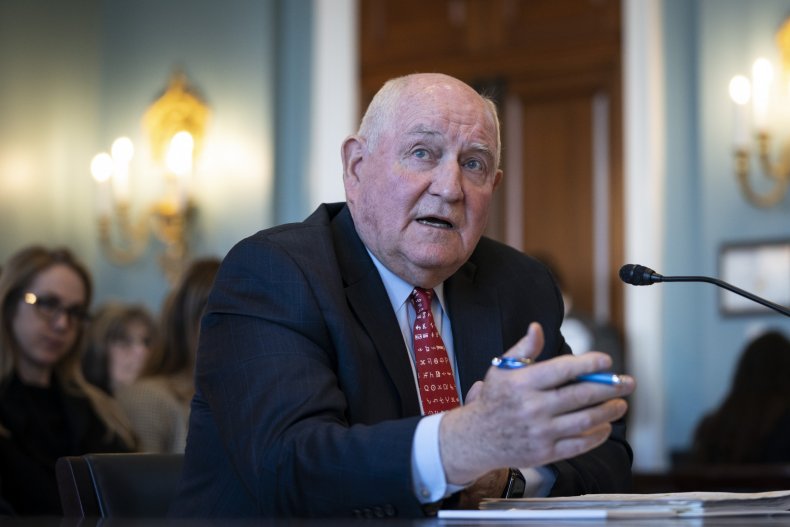 Secretary of Agriculture Sonny Perdue said the Coronavirus Food Assistance program would consist of two parts.
"One is a direct payment," Perdue said, "$16 billion dollars in direct payments to farmers, ranchers and producers who experienced unprecedented losses during this pandemic." Funds from the Commodity Credit Corporation (CCC) amounting to $6.5 billion will be used to expedite the payments, combined with $19.5 billion in coronavirus relief funding. This will be done instead of waiting for funding of the CCC to reoccur in July.
The second part of the program is expected to include a $3 billion total purchase of foodstuffs from American food producers that is expected to be given to charitable organizations for distribution.
"Having to dump milk or plow under vegetables ready to market is not only financially distressing," Perdue said, "but it's heartbreaking as well to those who produce them."
According to the USDA, the food donation program will begin by purchasing $300 million in meat, dairy and produce per month for local and regional distribution.
"The distributors and wholesalers will then provide a pre-approved box of fresh produce, dairy, and meat products to food banks, community and faith based organizations, and other non-profits serving Americans in need," the USDA said.
In addition, the USDA has access to "$873.3 million available in Section 32 funding to purchase a variety of agricultural products for distribution to food banks. The use of these funds will be determined by industry requests, USDA agricultural market analysis, and food bank needs," the Friday statement from the USDA statement read.
Section 32 funds have been historically used to fund school lunches and farm disaster relief programs.
"The FFCRA [Families First Coronavirus Response Act] and CARES [Coronavirus Aid, Relief, and Economic Security] Act provided an at least $850 million for food bank administrative costs and USDA food purchases, of which a minimum of $600 million will be designated for food purchases," according to the USDA. "The use of these funds will be determined by food bank need and product availability."