USDA Joke That Santa Has Been Issued A Permit to Enter U.S. Sparks Backlash: 'Will He Be Detained At The Border And Thrown Into A Cage?'
A tweet from the United States Department of Agriculture (USDA) lauding Santa's yearly visit over the Christmas holiday has unleashed a sleighful of criticism on Twitter, where users compared the tweet with the plight of immigrants in detention centers at the border.
"Breaking: Santa and his 9 reindeer have been issued a permit to enter the U.S. on #ChristmasEve," read Monday's tweet from the USDA, "thus ensuring children across the country will wake up #Christmas morning filled with joy & spirit of the season."
"Will he be detained at the border and thrown into a cage?" tweeted author Jamie Schler.
"We, the American taxpayers, are paying private companies to house immigrants. They are making MILLIONS off of these poor souls. And they are treating them worse than zoo animals. No baths. No decent food. No medical care. No regulatory supervision. Merry Christmas," user @bejaha, using the screen name "Feliz Navidad to Kids in Cages," tweeted.
Some Twitter users were quick to point out that the usage of migrant detention centers began during the administration of Barack Obama, not under the current administration of President Donald Trump.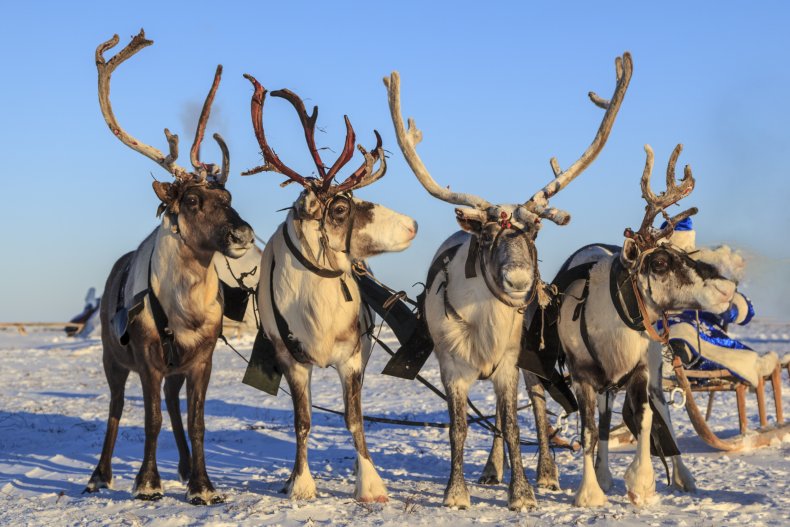 "'This administration,'" tweeted @K1rbUrNthusiasm. "ahh yes, this def starts under Trump, not Obama."
Embedded in the tweet from the USDA was the link to a press release, which designated Santa "a broker with Worldwide Gifts, Unlimited."
"The permit will allow reindeer to enter and exit the United States between the hours of 7 p.m. December 24, 2019 and 7 a.m. December 25, 2019, through or over any U.S. border port," the press release said.
"At USDA, we want to ensure we are not hindering Mr. Claus' important work of spreading Christmas Cheer for all to hear," said Secretary of Agriculture Sonny Perdue in the press release. "Ease of access into the United States for Mr. Claus and his nine reindeer will ensure that children all over the country—including my own fourteen grandchildren—will wake up on Christmas morning with joy and filled with the spirit of the season. USDA issued this permit in advance and waived all applicable fees to help ensure a smooth trip on Christmas Eve night."
Also mentioned in the statement were disease testing for Santa's reindeer, including a positive finding for "red nose syndrome" for Rudolph.
Measures to prevent communicable diseases were also described. Santa's boots and sleigh runners were to be disinfected.
"It would be a disaster for Worldwide Gifts, Unlimited, if my reindeer were to unintentionally bring in foot and mouth disease along with all the gifts," the statement quotes Claus as saying. "Why, something like that could put me out of business. That's why we work all year to keep the reindeer healthy and take all possible precautions before and during our trip."
Newsweek contacted the USDA for comment but did not receive a response in time for publication.