Used Condoms Being Washed And Resold, Inspectors Say After Raid on Factory
Almost 324,000 used condoms were found being washed and reshaped ready to be sold after police swooped in on a factory in Vietnam.
Officials from the Binh Duong Province Market Division and local police raided the property in the province's Tan Vinh Hiep Ward, in Tan Uyen Town, on Saturday, reported the VN Explorer news website.
According to the media outlet, the Vietnam Directorate of Market Surveillance said the facility was rented by 32-year-old Pham Thi Thanh Ngoc.
Local media reported that she had allegedly told officials that around once a month, "somebody" delivered thousands of used condoms to her.
Her alleged role was to clean, dry and sort the condoms before making them look fresh again for new customers, said the news channel.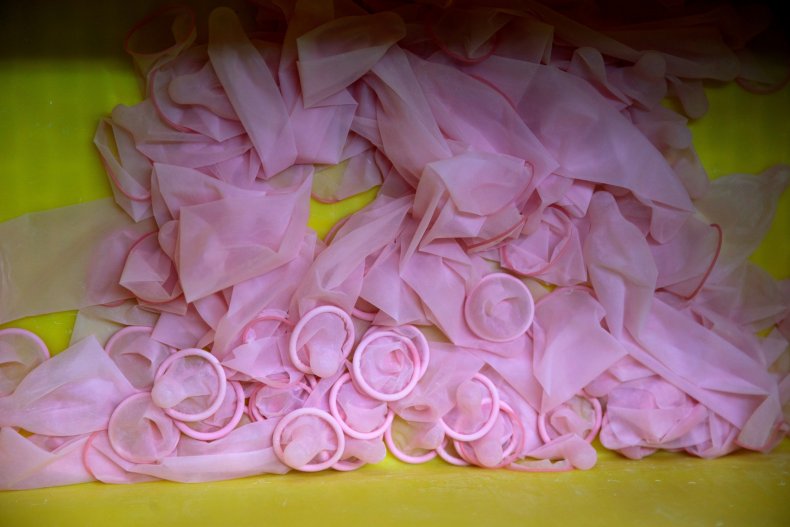 Market monitors said the haul was equivalent to around 360 kilos and the sheaths were destined to be sold on the market later.
Inspectors are also understood to have found thousands of condoms which had been cleaned and packed ready to be sold to unsuspecting customers.
Authorities are investigating and no further details about the illegal operation are available, said local media.
The Centers for Disease Control and Prevention (CDC) has previously warned about the dangers of washing and reusing condoms saying it was hazardous to health.
There was so much concern about people reusing sheaths that in 2018, the CDC tweeted about the subject.
Appearing to acknowledge that most people are aware of the advice, the health agency said on Twitter: "We say it because people do it: Don't wash or reuse #condoms! Use a fresh one for each #sex act."
The tweet features a link to the CDC's page titled "Condom Effectiveness."
Bekki Burbidge, deputy chief executive at sexual health charity FPA, previously told Newsweek: "Condoms should never be used more than once, for any reason. Always use a new condom every time you have sex. It's also important to use a new condom for each new sex act, for example if you switch from vaginal sex to anal sex."
And speaking to Newsweek for a 2018 story on the importance of using condoms, Isabel Inman, media and communications manager at sexual health charity Brook, said it was vital people knew how to use them properly.
Referring to the CDC tweet, she said: "There are lots of simple mistakes that people make when using condoms, so it's vital to raise awareness."
"Condoms are the only method of contraception to protect against both pregnancy and STIs and therefore it is really important that people know how to use them correctly."