Used Cooking Oil Powers Passenger Jet's Nearly 7-Hour Flight From Paris to Montreal
An Air France flight powered by used cooking oil took off from Paris today for a nearly seven-hour flight to Montreal, Canada.
Air France-KLM joined forces with Total, Airbus and airport operator Groupe ADP to "achieve the first long-haul flight with sustainable aviation fuel [SAF]," according to a press release.
"Air France flight 342 took off today at 3:40 p.m. from Terminal 2E of Paris-Charles de Gaulle airport to Montreal (Canada), carrying for the first time in its tanks sustainable air fuel produced by Total in its French factories," Air France-KLM wrote in the release.
The biofuel used for the flight, it added, "was made from waste and residue sourced from the circular economy. Total produced the SAF from used cooking oil at its La Mède biorefinery in southern France and at its Oudalle factory near Le Havre, without using any virgin plant-based oil.
The flight used a 16 percent mix of sustainable aviation fuel, according to the release.
"This flight is a tangible result of the four groups' shared ambition to decarbonize air transportation and to develop a SAF supply chain in France, prerequisite to the generalization of their use in French airports," the press release said.
According to a flight tracker from FlightAware, the Air France flight powered by the used cooking oil took off at around 3:37 p.m. CEST and is expected to land at around 4:27 p.m. EDT. The flight time was around 6 hours and 50 minutes, according to FlightAware.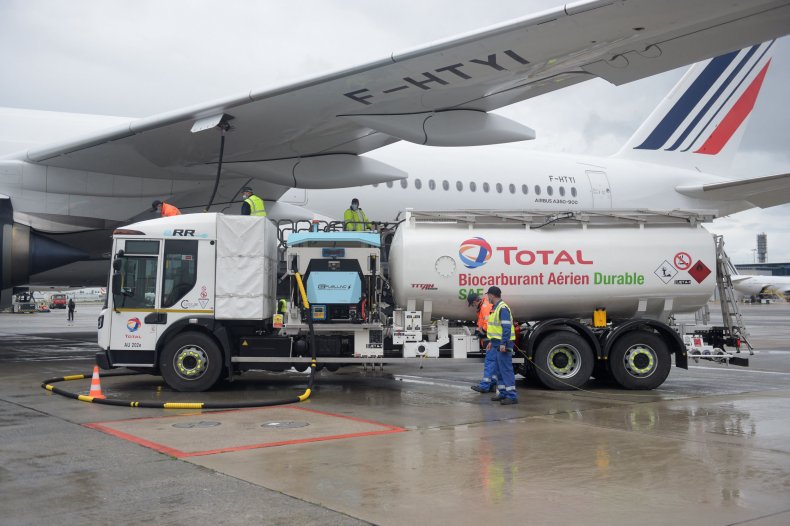 The used cooking oil powering the flight consumes 25% less fuel than its predecessor, according to the press release.
Additionally, a "pure-electric refueling truck" was used to fill the plane with the sustainable fuel.
In response to the ongoing climate crisis, France has mandated that by the start of 2022, all flights departing from its soil will be required to use at least 1 percent of sustainable aviation fuel. This number then increases in the subsequent years "to 2% by 2025 and 5% by 2030, as part of the European Green Deal."
In the press release, Air France-KLM CEO Benjamin Smith said, "sustainable aviation fuels constitute our main lever in the medium-term for reducing our CO2 emissions per passenger/km by half by 2030."
Newsweek reached out to Air France-KLM for comment but did not receive a response in time for publication.
This is not the first time the company has used sustainable aviation fuels for flights, having achieved its first SAF-powered flight in 2009.
According to the press release, between 2014 and 2016 Air France had carried out 78 flights using "a 10% SAF blend in collaboration with a Total affiliate." The previous flights using sustainable aviation fuel, all shorter than today's, showed "that the use of SAF had no impact on the reliability of airline operations," the press release said.