Usher Lawsuit: STD Exposure a Crime in Certain States, Regardless of Transmission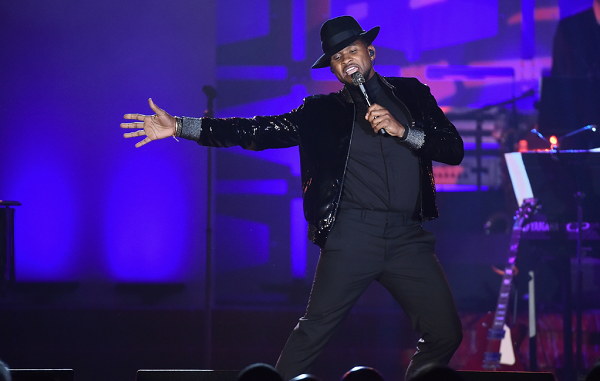 Superstar singer Usher could be held liable for allegedly exposing sexual partners to herpes, even if those partners don't contract the virus—at least in some states.
After settling a $1.1 million lawsuit by a woman who claimed to have contracted herpes from Usher, the platinum-selling artist is facing another lawsuit involving three others who claim the platinum-selling artist exposed them to the sexually transmitted disease.
A lawsuit filed on Monday in California by attorney Lisa Bloom claimed Usher had vaginal sex with two women—identified as Quantasia Sharpton and the other as Jane Doe—both of whom said they consented to sexual intercourse with the "Let it Burn" singer but had not been made aware of his alleged herpes infection beforehand. A man, listed under the name John Doe for privacy purposes, also claimed to have engaged in oral sex with Usher without being aware of his health status.
In a press conference held on Monday, Sharpton said it was a few years ago when she had sex with Usher, who married his second wife, Grace Miguel, in 2015. Sharpton said she was celebrating her 19th birthday at an Usher concert when she was handpicked by one of the Confessions singer's security guards and selected to go back stage. The guard requested her number on behalf of Usher, claiming that the father-of-two was interested in her.
"After the show, my friends and I returned to the hotel. I got a call from Usher on a blocked number, asking me what hotel I was staying in and the room number. About an hour later, he arrived. We spoke for a while, and then we engaged in sexual contact," she said. "He never warned me about any STDs."
Sharpton's public statement sparked a fire on Twitter, and several of the singer's fans questioned the validity of the woman's lawsuit on the basis that Sharpton had only been exposed to herpes. While the other unidentified woman in the lawsuit did claim to have contracted the incurable STD, Sharpton and the male plaintiff had not.
However, according to California law, even victims who have only been unknowingly exposed to a sexually transmitted disease are within their rights to file a lawsuit.
"In California, there's a health and safety code provision that says if you have an STD you have a legal obligation to warn your sex partner, and if you don't it's a crime," Bloom told Newsweek via phone call. "But we're not going to the police, we're filing a civil lawsuit. So on the simple side, if indeed positive for herpes, he has a duty to warn and he is liable for exposure even if the other person is negative for herpes."
In all 50 states, it is illegal to intentionally or recklessly spread a sexually transmitted disease such as HIV or AIDS without notifying a sex partner of the disease. However, some states have regulations that would result in misdemeanor and felony charges for the reckless and intentional spreading of STDs such as herpes, gonorrhea, syphilis and chlamydia.
Although convictions typically only occur when an infected person actually transmits the disease to someone else, in some states—like California, New York, New Jersey, Georgia, Alabama and several others—nondisclosure of infection status to a sexual partner is considered a crime even if the disease is not transmitted.
The lawsuit didn't specify how much money the plaintiffs are seeking in damages, but Bloom noted her clients are requesting for Usher to either contact his sexual partners if the diagnosis is true or make a public statement to put people's minds at ease.
"This is an unusual situation. I generally would not be encouraging somebody to reveal their personal medical information about STDs to the public. I get why he would not want to do that. I would not want to do that if I were him," Bloom said. "But this is an unusual situation because there have been credible news reports including documents posted that he has herpes, that he has infected at least one other person who he paid off in a confidential settlement, and a lot of people are calling me and saying he had sex with them without warning them. So given all of those unusual facts all taken together, I think most people think if you're accused of having an STD you would deny it. If he doesn't have it he can deny it, which we asked him to do and he can clear all this up right away. If he does have it, he needs to comply with the law and warn his sex partners."
The previous lawsuit filed against the 38-year-old in 2012 became public following the plaintiff's settlement win in late July. That particular plaintiff, who had tested positive for herpes, said in the lawsuit that Usher had "consciously and purposefully" withheld his infection status from her following his diagnosis with herpes sometime in 2009 or 2010, around the time of his first divorce from celebrity stylist Tameka Foster.
The identity of the plaintiff in the first lawsuit, which Usher reportedly settled in December of 2012, remained private. Bloom praised Sharpton for taking the step to speak publically about possibly being exposed to herpes by the singer, saying that Sharpton "put her face and her name out there really to put a human being in front of this story.
"I feel for people like Quantasia. She deserves to have a voice. She deserves to be respected. If its true that Usher is positive and he came and had sex with her and did not warn her, she was very much disrespected and it was a violation of her rights. He exposed her to a disease which could have a significant effect on her. And that's wrong. She's a human being who has the same rights as you do, as I do, as all these celebrities do," Bloom said. "And that's what I'm hoping to do, is to give her and the other clients that I represent a voice in this and try and even out the playing field a little bit. They can't go after Usher by themselves."
Usher has yet to confirm or deny allegations that he is positive for herpes or knowingly exposed sexual partners to the STD. A request for comment from Usher's reps by Newsweek was unanswered.