Is Usman Cheating On Lisa? 'Before the 90 Days' Preview Shows Major Drama
Lisa and Usman are going to have an uncomfortable confrontation on Sunday night's episode of 90 Day Fiancé: Before the 90 Days. Lisa apparently catches Usman writing "I love you" to a woman online, but it may not be what you'd assume.
The exclusive clip aired on Entertainment Tonight Friday. In it, it seems Lisa is hurt that Usman would ever say those words to another woman, especially when they're engaged.
Right away, the clip shows Usman admitting he did say "I love you" to another woman. But he quickly explains he was just showing admiration for his fans. "Yes, that is true," he starts. "You see that I wrote to her 'I love you,' but that does not mean that 'I love you.'"
He continued to outline the situation. "Because if all the 'I love you' that is coming to me they are my girlfriends, then I think I have about 100."
This isn't the first time Usman, a 30-year-old Nigerian man, and his fiancee Lisa, a 51-year old American, have fought over social media activity. Before the pair ever met in person, Lisa appeared to be threatened by Usman's social media accounts. This is because Usman is a famous Nigeria rapper, and he has loads of fans commenting lovingly on his posts at all times.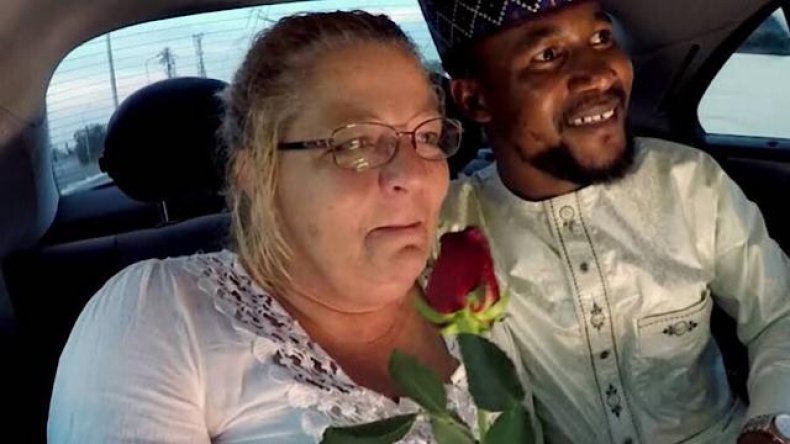 Lisa explained she's been cheated on before, so the public shows of affection are hard to handle. "You might as well have just stuck a knife in my heart when I found that on your phone," Lisa tells Usman in the clip. "You really...you have no idea how much you hurt me. I'm hurt and I'm pissed off and I have every right to be. That'd be like you opening my phone and you seeing I'm telling some dude that I love them. Not cool."
The American woman also told TLC producers that there's a fear from her past relationships that Usman may cheat on her, like those before.
This isn't the first confrontation Usman and Lisa have had on the series. The most recent showed Lisa angry at Usman because he didn't tell her she needed to bring her divorce certificate to Nigeria. The pair planned to get married before Lisa flew back to America. That way, they'd be able to start the K-1 visa process. But without the proper paperwork, it seems Lisa and Usman may not be able to get married while she's still in town.
Other controversies on the show stem from claims that Lisa is controlling. Early in the season, she asked Usman to remove a model from his music video. Even he was upset about this, as were his musical colleagues. Fans of the series have slammed Lisa for her behavior, and apparently, the same accusations will be featured on the series Tell All from other 90 Day cast members.
Apparently, this dramatic moment won't last too long. By the end of the clip, Lisa reveals she believes when Usman says "this woman means nothing to him."