USPS Agrees to Expedite Georgia Voters' Mail Ballots Ahead of Runoff Elections
The United States Postal Service (USPS) has agreed to provisions that stipulate timely and efficient transport of Georgia's mail ballots in the final weeks leading up to its runoff elections.
In a formal accord established between the federal agency and civil rights groups pushing for voter equity, including the NAACP Legal Defense Fund and Vote Forward, USPS pledged to abide by terms that aim to reduce delays and ensure all ballots cast are counted.
Roughly 2 million votes have already been cast in Georgia ahead of the state's January 5 runoff contests, which will determine whether Democrats are able to gain a majority in the U.S. Senate. Incumbent Republican Senators David Perdue and Kelly Loeffler are campaigning to defend their seats against their respective Democratic challengers, Jon Ossoff and Raphael Warnock, in the aftermath of November's races. In Georgia, contests move into runoffs when no candidate receives a plurality of popular votes during an initial election.
The new agreement, filed Wednesday night, requires postal workers to expedite delivery of mail ballots that it identifies at processing facilities from January 2 through January 4, on the eve of Georgia's runoff races. This "express" route is meant to ensure overnight delivery to local elections departments.
Additional terms oblige the Postal Service to expedite ballots from a printing facility in Albany, New York, to their respective destinations at Georgia residences; perform daily facility sweeps to locate any parcels that were misplaced; and deliver completed ballots cast in Atlanta directly to the district's election board.
USPS also agreed to continue following court-ordered instructions effected previously, as the bureau nears the end of a national election cycle that depended heavily on its services.
The ongoing coronavirus pandemic gave way to an influx of absentee ballots cast across the country this year, given concerns about transmission risks associated with in-person gatherings. An overhaul of procedural changes within USPS over the summer, which followed Postmaster General Louis DeJoy's appointment to the agency's chief role, subsequently prompted criticism and unease in light of its election responsibilities.
The changes quickly led to widespread delays and sparked accusations from civilians and lawmakers alike, who suggested they came as a result of President Donald Trump's opposition to voting by mail. Following a wave of lawsuits, DeJoy announced that USPS would halt further modifications until after Election Day. The agency defended its integrity against the summer's criticism, and continued to do the same in language that appeared in Wednesday's agreement concerning Georgia.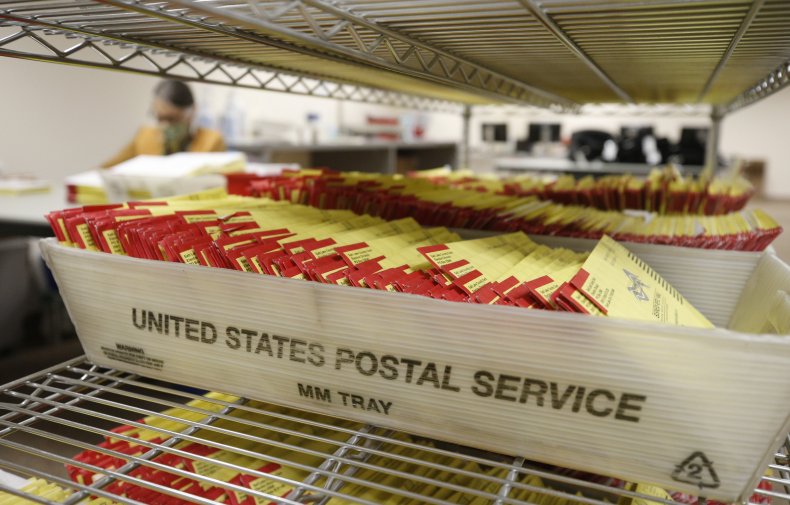 "USPS denies that it has in any way impeded the timely delivery of Election Mail and also denies that any additional measures USPS will implement under this agreement beyond those contemplated and being implemented pursuant to the December 8 and December 14, 2020 memoranda [establishing the terms related to Georgia's mail ballots] are necessary to ensure the expeditious and secure delivery of ballots," attorneys stated in one of the agreement's opening paragraphs.
A USPS spokesperson echoed that sentiment in a statement sent to Newsweek on Thursday, which reaffirmed the agency's commitment to "the timely and secure delivery of Election Mail for the Georgia runoff." The statement said that while USPS is unable to comment on pending lawsuits pertaining to election mail, "it remains our view that none of the Election Mail lawsuits are justified by the facts or supported by the applicable law."