'Lesson Learned': Man Shares Unbelievable Way USPS Delivered His Package
A music lover was in disbelief after seeing how his postal package had been delivered, with his vinyl parcel crammed into the mailbox, effectively destroying it.
Redditor Jakefrmstatepharm shared the frustrating images of the bent box, and the unsheathed record, to the site's Vinyl forum.
"Moved recently, this is how USPS [United States Postal Service] delivered my first record to the new house," he captioned the image.
The inception of the USPS is linked to Benjamin Franklin in 1775, and it would become a permanent fixture of the federal government in 1792, with the passing of the Post Office Act.
Its site said: "Today, the U.S. Postal Service is part of the fabric of this nation. We deliver more mail and packages than any other post in the world.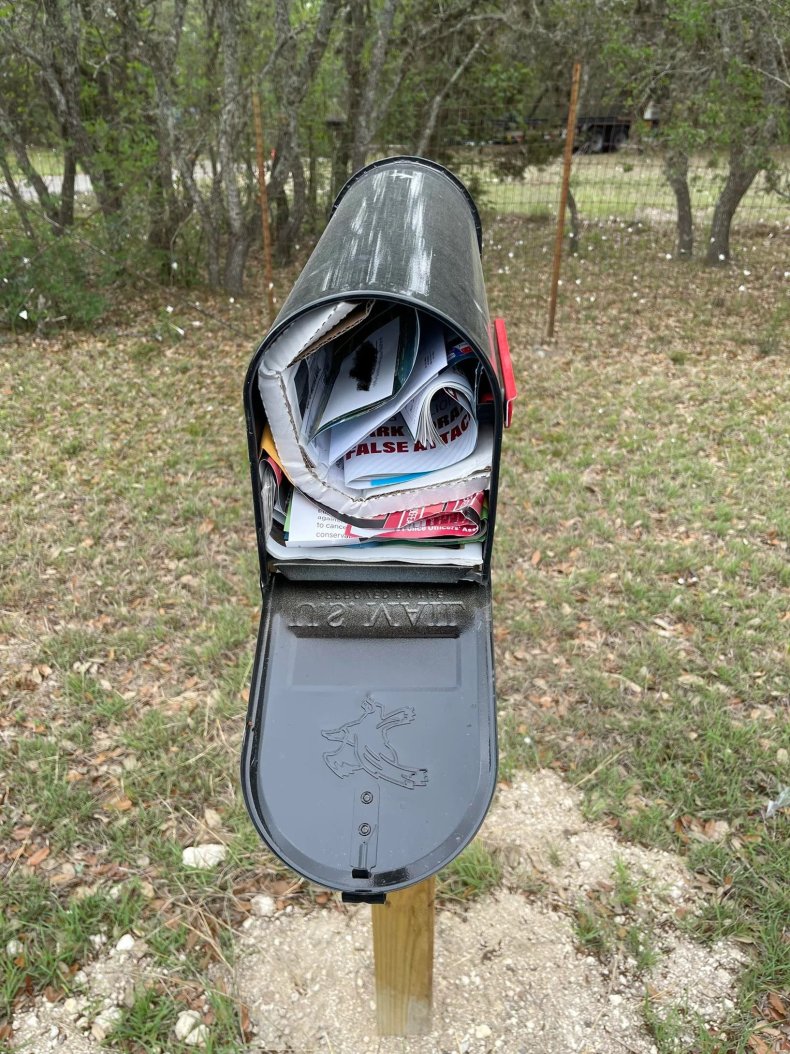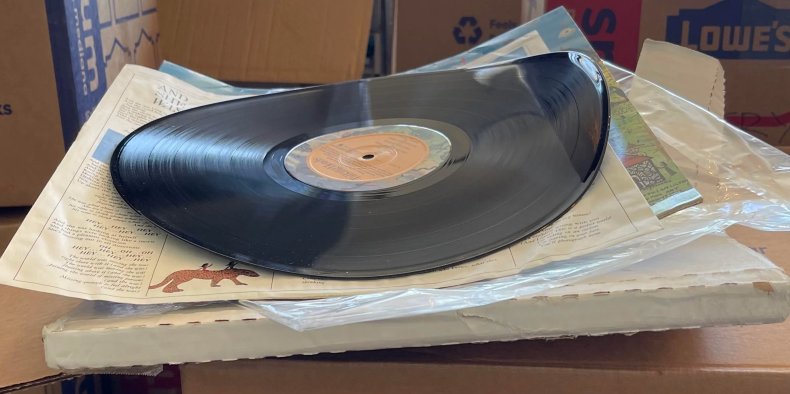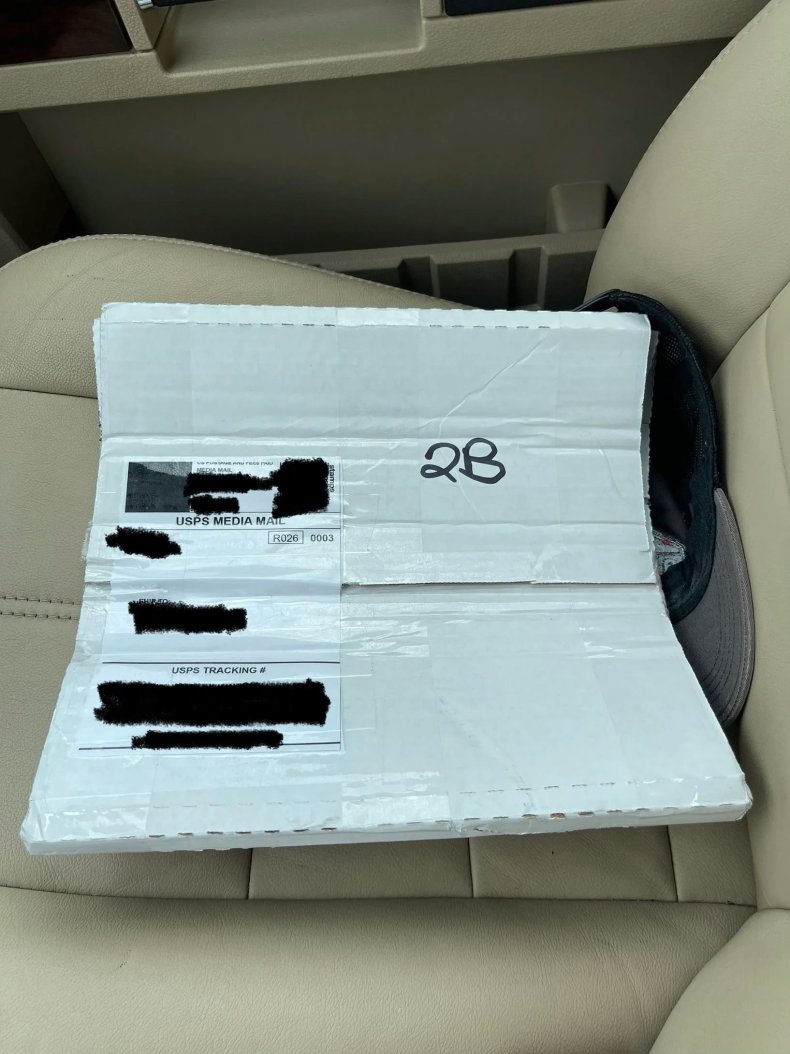 "We serve more than 163 million addresses in this country—covering every state, city, and town. Everyone living in the United States and its territories has access to postal products and services and pays the same for a First-Class Mail postage stamp regardless of location."
While customers may pay the same, Jakefrmstatepharm, thought to be from Texas, claimed USPS didn't refund him for the Little Creatures album, by Talking Heads.
Little Creatures was the band's sixth studio album, released in 1985, and features nine tracks, including And She Was.
He explained: "I contacted the carrier to complain about the mistreatment of my package and to see if they would reimburse for the damage, not for them to contact the seller. This is not the seller's fault...
"I did open a case with USPS, they said they talked with the carrier but would not refund anything, even the shipping fees."
He claims he spent $60 on the pressing, revealing he did attempt to try and salvage the music.
"Funny thing is I did actually try to flatten it out, the 3rd picture is after sitting under a bunch of books for a couple days outside in the heat.
"Should have snapped a picture before, unfortunately there's no way this is going back to flat, even still I wouldn't want to run it on my TT [turntable] even if it were slightly warped," he added.
And sharing his theory as to why it didn't snap, he revealed: "I think it's because of the heat, those cars they use don't have AC so it was probably warm enough to bend instead of break. I'm with you though I fully expected it to be in pieces...
"Imagine the effort that it took for them to fold it like that, probably took longer to fold it and shove it in there than it would have taken for them to walk to my door."
The music fan explained he moved house recently, as he reminisced about his previous postal worker.
He wrote: "So yeah, at our last house we had the sweetest mail carrier and she always walked the records up to the door and handed them to me, and if I wasn't home she would even tuck them behind the screen door for protection.
"Coming from that to this was disturbing. It says media mail on the box!! I submitted a complaint but they won't pay for the damage since it wasn't insured. Not the most expensive record but it was Mint and I'm down $60. Guess I'll have to order another copy of Little Creatures.
"Lesson learned, if you move to a new house maybe put a note in your mailbox that says 'do not bend or fold packages!'"
Amid questions from Redditors, he claimed the mailbox is 100 feet from the front door, or a 10 feet walk if they drive up the driveway.
"All the other companies deliver to the porch, that being said I am trying to get HOA approval to install a larger box on the post for packages," he added.
But luckily he said: "Since this incident the carriers have driven up the driveway to deliver other packages, as they do with nearly every other house on this street."
The post has been liked more than 4,400 times since being shared last week, as the music lover added he had been "looking forward" to the listening to the album, and confirmed he'd order a new one soon.
A spokesperson for USPS told Newsweek: "First and foremost, the Postal Service offers our sincerest apologizes for any inconvenience experienced by the customer.
"A mishandled package is unacceptable and does not reflect the careful efforts of the thousands of professional, dedicated carriers in our workforce. We take the customer's concerns very seriously.
"We always want to hear directly from our customers immediately when they have a delivery concern and urge them to call the U.S. Postal Service's Customer Care line at 1 800-ASK-USPS or contact their local Post Office as soon as possible so that the issue can be looked into and addressed promptly."