A USPS worker has shared the items you shouldn't post with your letters as "the machine will rip them out." Hint: It's almost everything.
The anonymous worker took to TikTok under the name @secretsofusps to hand out the advice-cum-warning in a video with over 5 million views.
Delivery Barcode Sorter (DBCS) machines at USPS facilities read the barcodes on each letter and sort them. Each machine can sort around 36,000 pieces of mail in an hour. The machine normally takes two workers—one to load the input letters and another to gather the mail after.
This advice comes straight from an employee who said they can work over 10 hours on the machine a day.
Reaching from their experience, the USPS employee told viewers to "stop sending coins, cards, keys and jewelry through letters. The machine will rip them out."
The video showed a machine processing the letters at an intense speed, as they became one big blur flashing in front of the camera.
"When I say cards, I mean collective cards. They're usually in protective plastic sleeves. And those don't stand a chance against these machines," they clarified in a comment.
"I always feel bad for wedding invites with pretty wax seals. They end up everywhere," they continued.
According to a post office mechanic, posting letters with objects inside can often lead to the letter itself being unpostable too. "I service these machines," they wrote. "Can definitely confirm that at the end of each night I find coins, keys and pens," they commented on the viral video.
"What's worse is that the original letter where it came was most likely destroyed because of it. Now we have no clue where to forward it."
Some USPS customers were left annoyed by the suggestion that they change their mailing ways, with one user writing: "This is the company's problem not the people's. We don't get paid to accommodate y'all. You get paid to figure something out."
The USPS worker however reasoned that there already is an alternative for those who decide to post items in letters—a non-machinable stamp. They add a small amount to the price but mean the letter gets treated as a parcel, hand-processed rather than being put through a machine.
"The post office has already figured out a way to accommodate small rigid items. For only 30 cents more, you can use a non machinable stamp," advised the worker. "This will let the clerks know to hand sort your letter."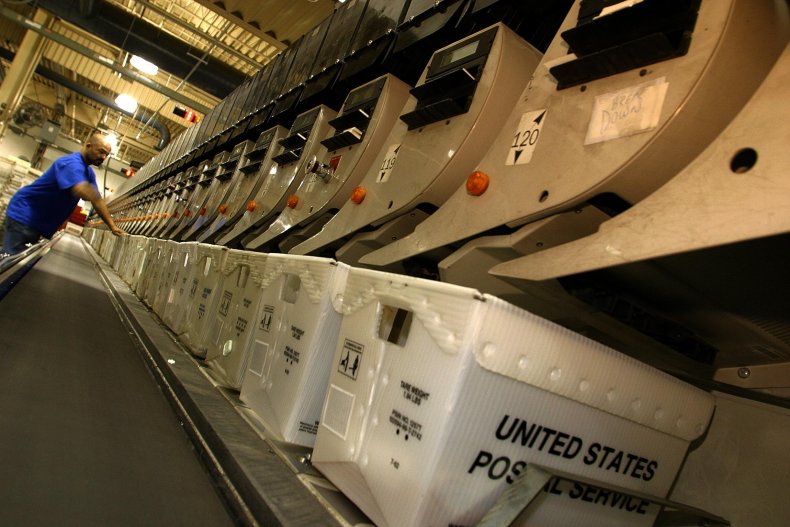 A nonmachinable surcharge is added to first-class mail which "is too rigid or contains items such as pens, keys or coins that cause the thickness of the mailpiece to be uneven," according to the USPS, along with a list of other conditions.
Viewers of the TikTok video were left agreeing with the advice, reasoning that regular mail is not intended to deliver objects. "Why is everyone so pressed?" asked one user. "You can mail a key or a card, just use the proper packaging. Envelopes are meant for mailing paper.
While USPS employees backed up the original message, adding: "From a USPS employee, thank you for this message. People don't understand until they see a visual."
Newsweek has contacted the USPS for comment.