The United States Postal Service (USPS) has failed to meet a deadline set by a U.S. District Court judge on Tuesday to carry out a full sweeps of mail-processing facilities in key swing states and states with strict absentee ballot deadlines to locate any unprocessed ballots.
This week, the USPS said that some 300,000 ballots had received an entry scan but had not received an exit scan—suggesting they had not been delivered. As a result, Judge Emmet Sullivan ordered the federal postal agency to sweep its facilities by 3 p.m. on Tuesday for any undelivered ballots in key regions of the country. But the USPS did not meet the deadline.
"Given the time constraints set by this Court's order, and the fact that the Postal Inspectors operate on a nationwide basis, Defendants were unable to to accelerate the daily review process to run from 12:30 p.m. to 3:00 p.m. without significantly disrupting preexisting activities on the day of the Election, something which Defendants did not understand the Court to invite or require," lawyers for the USPS said in a legal statement first reported by The Hill's John Kruzel.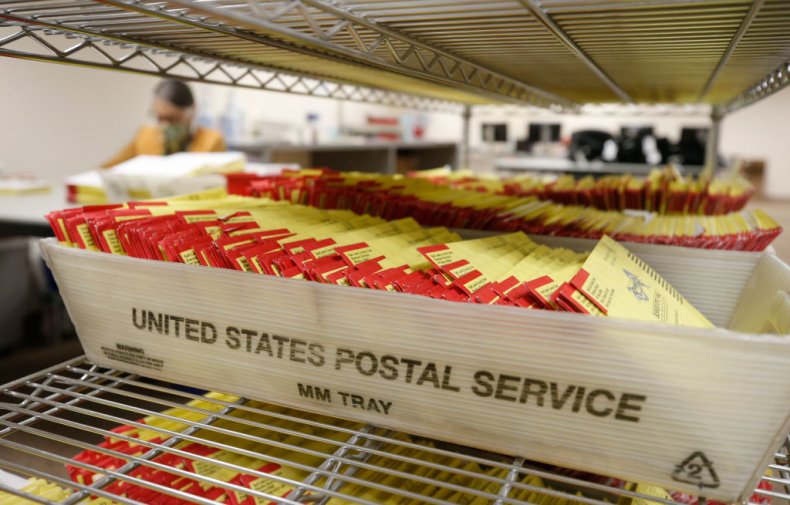 In a statement to Newsweek, the USPS disputed the suggestions that it was not working fast enough to process ballots.
"Beginning in January 2020, the U.S. Postal Service began 'all clear' sweeps to ensure Political Mail and Election Mail, which includes voter registration materials, requests for absentee ballots and ballots themselves, were not left behind. These efforts have intensified as we've moved closer to Election Day," USPS spokesperson David Partenheimer said in an email.
"Since Oct. 29, the Inspection Service has been conducting daily reviews at all 220 facilities that process ballots," he said. Partenheimer said that the "total mail volume surpassed 4.5 billion mailpieces for Political Mail and Election Mail tracked, representing an increase of 114 percent compared to the 2016 election cycle" in the past 14 months.
Sullivan's order impacted mail-processing places in 12 postal districts servicing 15 states. Areas within the key battleground states of Arizona, Florida, Georgia, Michigan Pennsylvania and Texas—all of which have shown a close race between President Donald Trump and Democratic presidential nominee Joe Biden—were included. The federal judge in Washington, D.C. issued the order at the request of the National Association for the Advancement of Colored People (NAACP) and the organization Vote Forward.
"Voters are counting on the Postal Service to deliver our democracy, and no ballot should be left uncounted because of delays. Unfortunately, it's no surprise that the USPS is unable to meet the deadline set to sweep facilities. It is a direct result of the current administration's repeated efforts to obstruct this essential service," Megan Lewis, executive director of Voting Rights Lab, told Newsweek in an email.
"Without immediate action, hundreds of thousands of voters may not have their voice heard. That is unacceptable," Lewis said.
Democrats have raise significant concerns about the processing of mail-in ballots following the appointment of Louis DeJoy, a prominent donor to Trump and Republicans, as USPS postmaster general. After DeJoy took over the role in June, a large number of mail-processing machines were taken out of service and the USPS began experiencing significant delays. The USPS has insisted that there has been no concerted effort to delay votes, despite the issues.
Due to the novel coronavirus pandemic, voters have turned to mail-in ballots in unprecedented numbers. Meanwhile, Trump has repeatedly attacked mail voting—claiming without evidence that it will lead to massive voter fraud. But tens of millions of voters were undeterred by the president's attacks, with more than 65 million mail-in ballots already returned, according to analysis by the U.S. Election Project.
Updated 7:11 AM ET: with additional background information and a comment from Megan Lewis of Voting Rights Lab.