Will 'Black Mirror's' 'USS Callister' Become a Series? Creator Teases There Could be a Future
Black Mirror's "USS Callister" won three Emmy awards Saturday and there could potentially be more in its future—if the episode becomes a series.
"Never say never," creator and executive producer Charlie Brooker said about continuing the story of the episode's characters, Variety reported Saturday. "The opposite of never," executive producer Annabel Jones added. "Forever!"
The episode won Emmys for outstanding TV movie, picture editing and sound editing. Black Mirror also won the award for outstanding TV movie for "San Junipero" in 2017.
In "USS Callister," Robert Daly (Jesse Plemons) is the chief technical officer of a gaming company who is the starship captain in a virtual reality world. Digital clones of his real-life coworkers make up the virtual crew of the ship. While he's bossed around in real life, he's the one in charge in his video game.
The episode also stars Cristin Milioti as a coworker who leads a rebellion against Daly in the virtual world and destroys the DNA samples he has of his coworkers in his apartment in the real world. Jimmi Simpson plays Daly's real-life boss.
The potential of the story to continue was also addressed when Netflix first released the episode. "I was talking with Louise Sutton, who produced this and 'Metalhead,' and she cooked up the brilliant idea of spinning it off into a TV series," director Toby Haynes told The Hollywood Reporter in January. "I'd love to do a TV series of 'USS Callister'—it's probably one of the best pilots for a space show ever. … I think Charlie [Brooker] might revisit it as a Black Mirror."
While the episode ended with Daly defeated in and unable to leave the virtual reality, its director wouldn't rule out seeing Plemons if there is a series or sequel. "That's the fun of it, isn't it? That's what this idea is," Haynes said to the publication. "There is this brilliant idea that he is still alive, and his attempted murder gets pinned on someone. Whose fingerprints do they find in the apartment? There's so much you could do."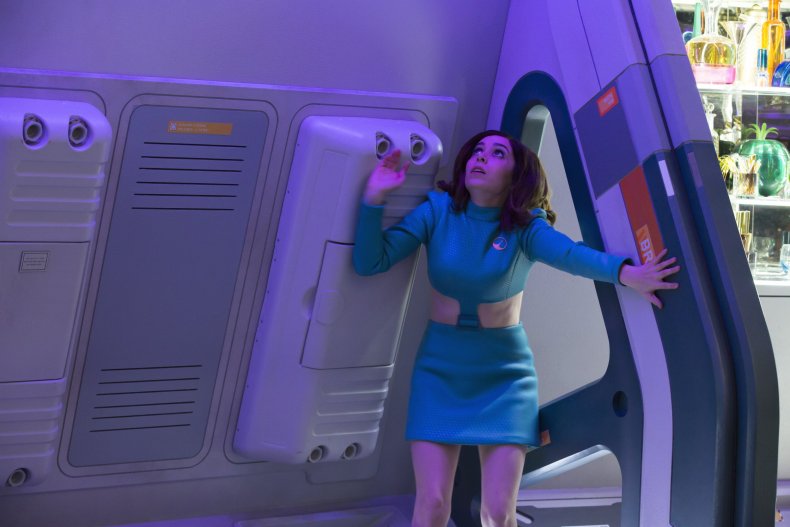 Milioti would like to reprise her role and explore that point from Haynes. "If this were ever a spinoff, in the fake world she would be kicking ass and battling aliens," she told THR in December. "And then there is the real world where her prints have been found inside Daly's apartment. He's dead in his apartment and she has to figure that out."