USS Connecticut Leaders Fired After Nuclear-Powered Submarine Hits Underwater Mountain
The leadership team of Navy submarine USS Connecticut has been fired for poor decision making roughly one month after the boat ran into an underwater mountain.
Vice Admiral Karl Thomas, commander of the U.S. 7th Fleet, on Thursday said in a statement obtained by Newsweek that Commander Cameron Aljilani, Lieutenant Commander Patrick Cashin and Master Chief Sonar Technician Cory Rodgers had been relieved "due to loss of confidence."
Thomas said he had determined that "sound judgement, prudent decision-making and adherence to required procedures in navigation planning, watch team execution and risk management could have prevented" the collision, which reportedly took place in the South China Sea.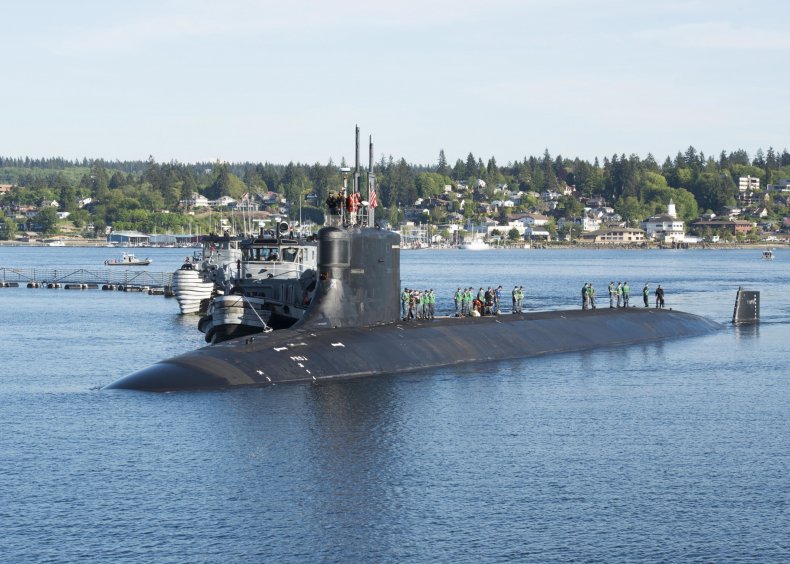 Captain John Witte, Commander Joe Sammur and Command Master Chief Paul Walters were named as the nuclear-powered Seawolf-class attack submarine's interim leadership team. The USS Connecticut is currently in Guam for damage assessment and is expected to undergo repairs in Bremerton, Washington.
No further details about how the leadership team could have prevented the October 2 incident, which left 11 sailors with injuries that were not life-threatening, were released. The Navy announced that the submarine had "struck an object" five days after the collision took place but provided few details of what had transpired.
Following an investigation, the Navy announced on Monday that the USS Connecticut had "grounded on an uncharted seamount while operating in international waters in the Indo-Pacific region" and that it was determining if any "follow-on actions, including accountability" would be taken.
The collision did not damage the submarine's nuclear propulsion system. The full extent of the damage is unclear. The Navy has also not acknowledged precisely where the incident took place, although the reported location in the South China Sea prompted China to call for the U.S. to provide "a clear explanation" of what happened.
"We once again urge the U.S. to give a detailed account of the accident," Chinese Foreign Ministry spokesman Wang Wenbin said during a briefing on Tuesday, according to the Associated Press.
Wang accused the U.S. of a "lack of transparency and responsibility" and demanded to learn "the specific location of the accident, whether it was in another country's exclusive economic zone or even territorial waters, whether it caused a nuclear leak or damaged marine environment."
Although China claims sovereignty of most of the South China Sea, the body of water contains islands that are also claimed by several other countries. China last month blamed the USS Connecticut incident on U.S.-induced tensions in the region.
The U.S. asserted that countries in addition to China have the right to navigate through the South China Sea and has regularly conducted "freedom of navigation" operations through the waterway in recent years.