USS Fitzgerald: Seven U.S. Navy Sailors Missing After Collision With Merchant Vessel Off Coast of Japan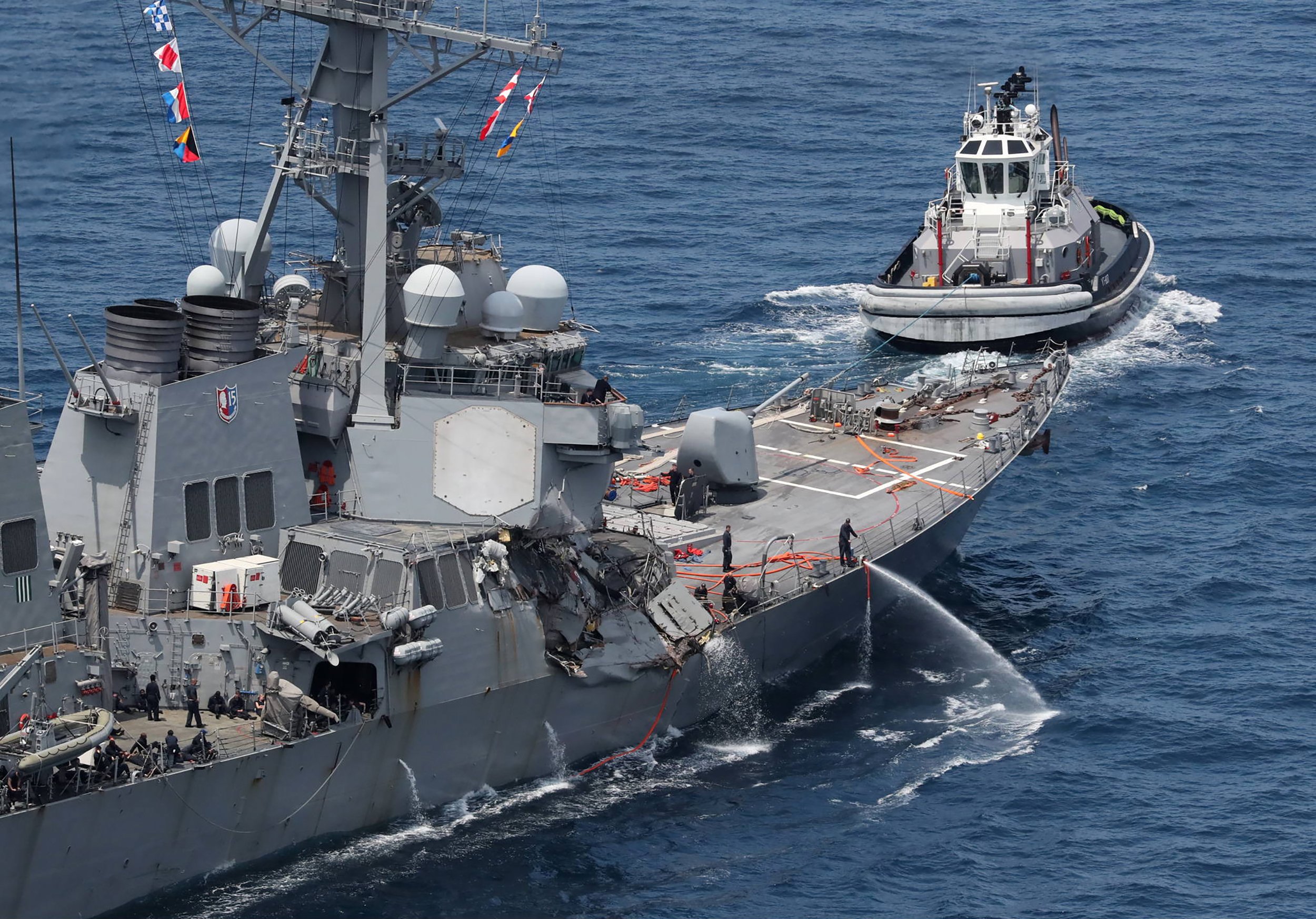 Seven U.S. Navy sailors are missing after an American warship collided with a merchant vessel off the coast of Japan.
The commanding officer of the USS Fitzgerald, Commander Bryce Benson, had to be medically evacuated after the collision, which took place at approximately 2:30 A.M. local time Saturday while the ship was sailing 56 nautical miles southwest of Yokosuka, Japan, according to a Navy statement.
Another two U.S. sailors were medically evacuated and taken to a hospital in Yokosuka for treatment for "lacerations and bruises," according to the U.S. naval fleet in Japan.
The ship remained under her own power but was being escorted back to land by the Japanese coast guard. Another U.S. Navy ship, the USS Dewey, was dispatched on Saturday morning to assist with the recovery.
The identities of the missing sailors are not known.
"Right now we are focused on two things: the safety of the ship and the well-being of the sailors," said Admiral Scott Swift, commander of the U.S. Pacific Fleet, which oversees operations in the Indian and Pacific oceans.
Footage and images from Japanese broadcaster NHK showed that the Fitzgerald had suffered substantial damage to the ship's starboard side.
The Fitzgerald—which weighs 9,000 tons when full and carries guided missiles—suffered extensive damage both above and below the waterline as a result of the collision. The ship it collided with was a Philippine-flagged merchant vessel, the ACX Crystal, about three times the size of the Fitzgerald, the Japanese coast guard said.
The U.S. ship left its base in Yokosuka for routine operations on Friday, according to a spokesman for U.S. Naval Forces Japan. It is not clear what caused the collision or how much notice the crew had before the collision.
Marine traffic records show that the ACX Crystal was traveling between the Japanese cities of Nagoya and Tokyo when it made a sudden U-turn about 25 minutes before the collision and was traveling at 14.6 knots (15.8 mph) at the time, BBC reported.
By mid-afternoon local time, the U.S. Navy Japan said that flooding had been stabilized and that the ship was not at risk of sinking. None of the crew on board the ACX Crystal were injured, the AP reported.
The U.S. Navy Japan has set up hotlines for families of crew members.