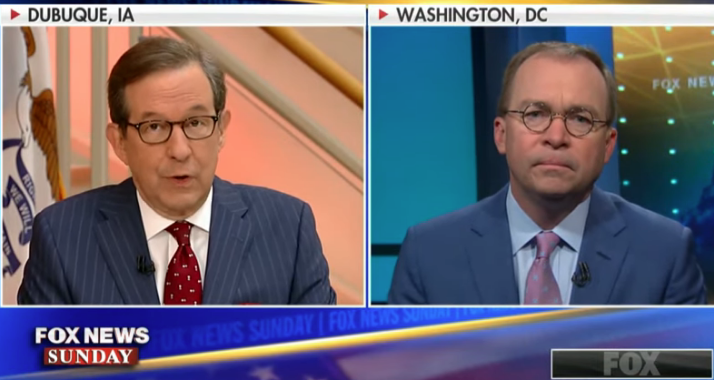 White House Chief of Staff Mick Mulvaney said Sunday it was not "unreasonable" for someone in the Trump administration to have the U.S.S. John McCain moved out of sight of the president during his visit to Japan last week.
The acting chief of staff told Fox News and NBC News Sunday nobody should or will be fired for requesting to cover up and hide the U.S. Navy ship from the apparently fragile view of President Donald Trump during his recent visit to Japan.
The Navy confirmed Saturday there was a request to "minimize the visibility" of the U.S.S. John McCain and Mulvaney said it was likely somebody in the Department of Homeland Security or Secret Service asked as a favor to Trump.
Mulvaney lashed out at the news media in both interviews for trying to unearth past hard feelings between the late Republican senator and the president.
"I absolutely believe it was somebody on the advance team," Mulvaney told Chuck Todd on NBC's Meet the Press Sunday. "An advance team is hundreds of people... The fact that some 23- or 24-year-old person on the advance team went to that site and said, 'Oh my goodness there's the John McCain. We all know how the president feels about the former senator, maybe that's not the best backdrop, can somebody look into moving it?'"
"That's not an unreasonable thing to ask," Mulvaney said. "You're the third or fourth journalist who has asked me is somebody going to get fired for this?' No."
Mulvaney echoed a similar defense of someone trying to hide the Navy ship which is named for the grandfather of McCain, John S. McCain Sr., who died in 1945 and served in both world wars.
"The president didn't know about it, I didn't know about it, look, literally hundreds of people are involved in moving the president overseas," Mulvaney told Fox News Sunday host Chris Wallace. "The president's feelings about the former senator are well-known the fact that a low-level person asked about moving it shouldn't suprise anybody."
"We think it's much ado about nothing," he added. "[It was] not an unreasonable thing to ask."
"Again, the president's feelings for the former senator are well-known, they're well-known throughout the office and they're well-known throughout the media. But to think you're going to get fired over this is silly," Mulvaney continued.
Trump recently said whoever was behind the request to move the U.S.S. McCain was "well-meaning."
Mulvaney repeated the same hypothetical comparison on Fox News and NBC News regarding the U.S.S. McCain incident, asking Wallace and Todd if someone would be fired for asking not to sit next to another employee should there be network tension between two co-workers.
"We think this is a minor issue that the media is trying to make into a larger matter," he said.