USS Milwaukee First Navy Ship to Have Deployment Paused in 2021 Because of COVID Outbreak
The USS Milwaukee is the first ship to have its deployment paused this year due to a COVID outbreak after it was decided last week that the ship will stay in port at Naval Station Guantanamo Bay after about two dozen sailors aboard tested positive for COVID.
The two dozen positives make up about a quarter of the crew of just over 100 sailors on the USS Milwaukee and the number of positives is now staying relatively constant, defense officials speaking on condition of anonymity told the Associated Press Monday.
The ship left for its deployment from Naval Station Mayport in Jacksonville, Florida, on December 14 and stopped for a scheduled visit at Naval Station Guantanamo Bay when the tests were conducted, the positives were discovered and the ship's redeployment to the U.S. Southern Command region was halted last week, according to the officials.
The Navy released a statement Friday that said the ship's crew is "100 percent immunized" and the sailors who tested positive were isolating, but the statement did not reveal the exact number of how many on the ship tested positive.
Over 98 percent of active-duty Navy sailors are fully vaccinated, according to the newest data released by the Navy.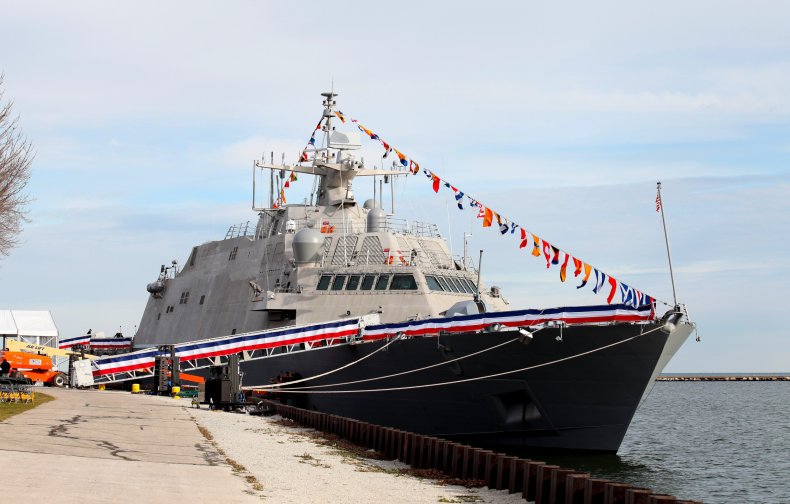 The USS Milwaukee, a smaller, more stealthy combat ship, is staying in port at Naval Station Guantanamo Bay. It is the first Navy ship this year to have to interrupt its deployment at sea—others were sidelined during the early months of the virus outbreak last year.
The officials said Monday that the Navy believes the total vaccination of the crew is the key factor in controlling the outbreak.
According to the Navy's statement, "a portion" of those infected are having mild symptoms, and that the specific variant is not yet known. COVID-19 cases have surged across the country as a result of the highly contagious Omicron variant.
The first major military outbreak of the virus was early last year on a Navy warship, the USS Theodore Roosevelt, an aircraft carrier that was operating in the Pacific.
The Roosevelt was sidelined in Guam for nearly two months, and more than 1,000 of the 4,800 crew members tested positive. One sailor died, and the entire crew went through weeks of quarantine in a rotation that kept enough sailors on the ship to keep it safe and running.
The Associated Press contributed to this report.