'An Insult': USWNT Soccer Player Rebukes Idea Team Isn't Inclusive of Christians
U.S. Soccer Women's National Team goalie Ashlyn Harris rebuked Jaelene Hinkle's account that being on the team meant sacrificing her faith, calling it an insult to the Christian players.
Hinkle, a professional soccer player, turned down a call-up from the National Team in 2017 because the players would wear rainbow-themed jerseys in honor of Pride month and she felt it conflicted with her faith. She was called into the USWNT camp in 2018, but was cut a few days into training. Given her on-field abilities some speculated her religion kept her off the roster.
After the recent World Cup win, author Obianuju Ekeocha posted a clip of an interview Hinkle did with The 700 Club in 2018 on Twitter and wrote, "Apparently, the U.S. women's football team is not a very welcoming place for Christians."
Harris retweeted the video and wrote that the team is about "inclusion," saying that Hinkle's intolerance and homophobia, not her religion, was the problem. In 2015, Hinkle posted on Instagram after the Supreme Court ruled same-sex marriage was a fundamental right. She wrote that you can't "pick and choose" what you believe from the Bible and thanked God for His "amazing grace, even during times of trial and confusion."
Harris wrote in her tweet that the 26-year-old didn't belong in a sport that "aims to unite and bring people together" and that she wouldn't have fit in with the pack.
"You weren't around long enough to know what this team stood for," Harris wrote in the tweet. "This is actually an insult to the Christians on our team."
Forward Tobin Heath is one of the players who has spoken publicly about her faith. After their World Cup victory, she posted a photo on Instagram and wrote, "all glory to God."
In 2011, she told Belief Net that she grew up in a Christian home but really grew in her faith during college. She called herself "extremely blessed" with regard to her teammates because she prays for them and has people pray for her. Heath added that there was a "great amount of unity" even with her non-believing teammates and said, "I truly believe that's God working."
Although 2019's team had a different roster than the one when Belief Net interviewed Heath, a number of players were on both squads, including Ali Kreiger, Carli Lloyd and Megan Rapinoe.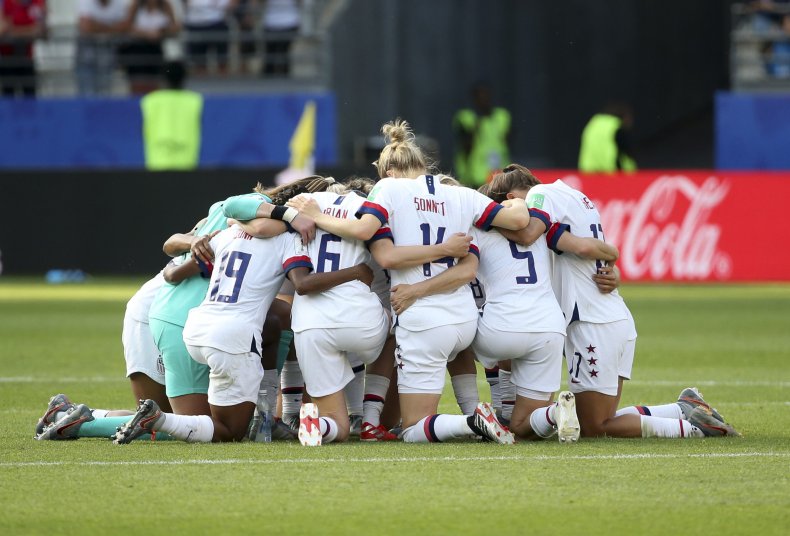 Teammate Julie Ertz has also spoken publicly about her faith and told Sports Spectrum that her religion gives her a bigger perspective on both her life and her career. Regardless of the team she's playing and training with at the time, Ertz said she participates in Bible study groups and pregame prayer huddles.
"I want to stay true to who I am and my beliefs," Ertz said. "These Bible studies really help me grow and keep me accountable. It brings me closer to my teammates; we continue to grow as players and persons."
A number of other players have expressed messages of their faith on social media, including Kelley O'Hara, Allie Long and Morgan Brian.
During the interview with The 700 Club, Hinkle said it wasn't "her job" to wear the jersey and said she gave herself three days to pray about the decision. She acknowledged she gave up a dream many little girls had and called it "very disappointing," but said the "peace trumps the disappointment."