Utah Governor Says COVID Situation is 'Serious,' Could Overwhelm the System
The governor of Utah said Thursday the coronavirus situation in his state is "serious" and could overwhelm the entire health care system.
"Utah is in a very serious situation. COVID-19 is the most devastating when hospitals are overwhelmed and unable to provide good care to everyone who needs it," Governor Gary Herbert tweeted. "We have seen this in Italy. We have seen this in New York. We could see this in Utah if things do not change."
Herbert, a Republican, has served as Utah's governor since 2009. He addressed residents on Thursday during his weekly coronavirus update, providing a sobering picture of the state's surge in case numbers.
The Utah Department of Health reported an additional 1,837 coronavirus cases on October 29, bringing the state's total to 110,640 cases. The 7-day rolling case average is currently 1,578, an increase from last week when it was just over 1,200, said state epidemiologist Dr. Angela Dunn. The 7-day positivity rate is at 18.1 percent, an increase from last week's 15.5 percent, she said.
Herbert announced on October 13 that health officials would begin using a transmission index model to assess how different counties were doing in terms of the pandemic. Since then, daily case rates have surpassed 1,000 every day in Utah, according to data from the health department.
Counties are placed in the various categories depending upon whether they meet certain criteria, including case rates, percent positivity rates and intensive care unit usage, according to KUTV. On October 13, just six counties were considered as "high transmission" and 15 were placed in the "moderate transmission" phase.
But on Thursday, 23 out of Utah's 29 total counties were marked as high transmission COVID-19 areas, with two moving from "moderate" to "high" this week, announced Rich Saunders, interim executive director of Utah's health department.
The Utah Department of Health placed additional restrictions on these areas as of October 13. Anyone living in a "high transmission" county is required to wear a face covering in public and must limit social gatherings to groups of 10 people or fewer. Those in moderate and low-level counties are "strongly recommended" to wear masks, and individual counties can enforce their own mandates regardless of its designation.
"If you live in a high transmission area, you are required to wear a mask. The vast majority of the state is under a high transmission area," Saunders said.
Saunders also warned that Utahns who experience non-COVID-related medical emergencies could be in harm's way, as hospitals might not have the capacity to immediately treat them.
"It's not just about COVID," Saunders said. "It's about anyone who has an issue that takes them to the hospital. A heart attack patient, for example, that might not be able to get into the hospital quickly enough for treatment. It's about patients waiting hours and hours for an emergency surgery or emergency care."
Herbert echoed this sentiment, saying that hospitals across the state are "getting too full to function well."
Dr. Mark Shah, an emergency room physician with the Utah Hospital Association, assured residents that the state has contingency plans in place to deal with the surge. This includes hospitals sharing patients, nurses working overtime and opening extra facilities to deal with patient overflow, he said.
"Hospital capacity is about supply and demand. Our supply of beds, medicine and staff is based on what is normal," Shah said. "If demand outpaces normal care we go to contingency plans."
Still, health care is finite and these contingency efforts "may fall short" of meeting patients' demands if the system becomes too stressed, the doctor warned. In an effort to avoid this, Shah urged Utahns to stop arguing about health care, mask-wearing and the pandemic, and unify, KUTV reported.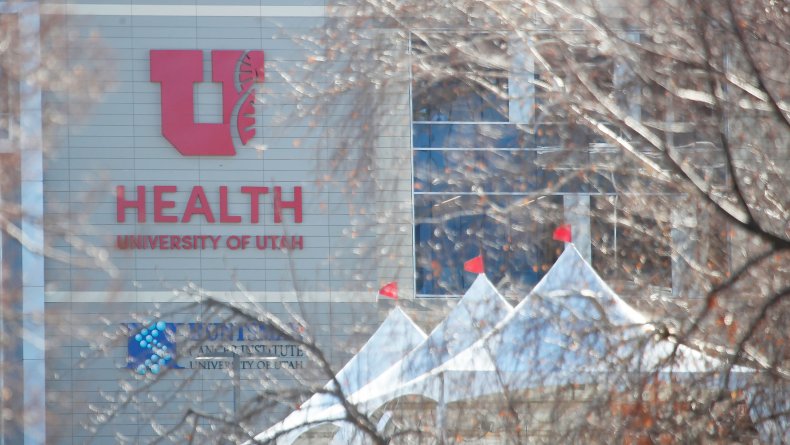 Greg Bell, president of the Utah Hospital Association, said that it remains uncertain if or when Utah's hospital network will become overwhelmed to the point where doctors must begin deciding which patients can receive immediate care.
Bell explained that he wasn't "raising the red flag yet," but issuing a warning instead. "We don't know, but there is certainly a foul wind and we need to take every precaution to avoid the worst case," he said.
Bell pointed to 16 hospitals in Utah's Wasatch Front, a chain of contiguous cities stretched across the north-central part of the state, and one hospital in St. George, a city near the Arizona border.
These hospitals are called "referral center hospitals," meaning they have the resources to take on the most complex coronavirus cases. Rural hospitals in Utah will typically send their more intense cases, coronavirus and otherwise, to the referral centers, Bell explained.
Right now, 69.2 percent of all ICU beds in the state are occupied by coronavirus patients, according to the Utah Department of Health. If that number reaches 72 percent, "major strains" will be placed on the health care system. When 85 percent capacity is reached, "Utah will be functionally out of staffed ICU beds, indicating an overwhelmed hospital system," according to the health department.
Newsweek contacted the Utah Department of Health for comment, but did not hear back in time for publication.