Utah Lockdown Protest Concert Forced to Change Venue After City Threatens to Turn Sprinklers On, Organizers Say
A concert in Utah, which was planned to take place in Kaysville in protest of the state's coronavirus restrictions, has been relocated to the city of Grantsville in Utah's Tooele County for May 30 following backlash from the Kaysville City Council which voted against it.
The event organized by Utah Business Revival, that will feature a concert by country music artist Collin Raye at the Studio Ranch Amphitheater (which reportedly has a capacity of nearly 10,000), has not been approved by Tooele County and the Tooele County Health Department.
The protest has been supported by Kaysville Mayor Katie Witt, who is running for Congress. She faced criticism from residents for supporting the concert and ignoring the risks posed in causing the further spread of the virus.
"I took an oath to defend the Constitution and it's an oath I take seriously. When the Utah Business Revival approached me about being able to exercise their first amendment rights and help local small businesses with a business market at the same time, I was fully supportive," Witt told Newsweek. "Reopening America and restoring our Constitutional freedoms are the issues facing our leaders and nation right now. We have a choice to make: freedom or fear. People can disagree. I choose freedom."
Eric Moutsos, the founder of Utah Business Revival, said in a statement: "With our Constitutional rights at risk, Kaysville Mayor Katie Witt and Police Chief Sol Oberg have championed our 1st Amendment freedoms of speech and assembly.
"Unfortunately, Kaysville City Council members Michelle Barber and John Swan Adams are joining with disgraced former councilman Dave Adams and fringe groups like the Sons of Kaysville. In an effort to make government more powerful, they're choosing to join the ranks of those who threaten our property and right to peaceably assemble," Moutsos said.
Kaysville City Council held an online forum on Thursday during which many residents, including some who signed a petition calling for Witt to resign, expressed their opposition to the planned concert to council members, The Salt Lake City Tribune reports.
Council members later that evening voted to pass a resolution that denounced the concert and the mayor's actions to support it.
Kaysville City Council was reportedly prepared to turn on the sprinklers and cut out the power at Barnes Park, where the concert was originally meant to be held, according to an unpublished news release from the council (which was reportedly confirmed to be genuine by Witt) shown to Moutsos.
"The city of Kaysville is really, really confused internally. We were invited by the mayor. The City Council knew, and now they're wanting to turn sprinklers on us to ruin our equipment," Moutsos claimed.
"It was a direct threat. What I want to do now is have our next rally in our swimsuits in Kaysville's Barnes Park because it's absolutely ridiculous that the City Council did what it did to the people of Kaysville and Mayor Witt, and they should be ashamed," he added.
Speaking to Newsweek, the City Manager for Kaysville, Shayne Scott, said Friday: "Kaysville City did not release a media alert about responses we would be taking in regards to this planned event. Discussions among city staff and elected officials took place over the past week or so but no decision was to be made on specifics of how to respond until next Tuesday.
"Concert/event organizers reached out to Mayor Katie Witt several weeks ago. They have held other events in other cities in Utah but this was to be the first concert as far as I know.
"After Mayor Witt had discussed this with event organizers and expressed support to them, she individually discussed this with city council members. Whether or not the city council members were against this event from the beginning or changed their [council members'] minds is for them to say," Scott said.
A spokesperson for Witt told Newsweek the unpublished news release from the Kaysville City Council "was confirmed to be a document the staff and council had drafted by the City Manager just in the last couple of days in a TV interview yesterday [Thursday]. The City Manager also confirmed that staff and council was considering those actions.
"The Utah Business Revival chose to move their concern prior to our Kaysville City Council meeting on Thursday, May 21st to a location where they could have more businesses participate and not have threats from a few members of city council who changed their minds about the event to help local businesses and include a concert from Collin Raye," the spokesperson said.
Members of Kaysville City Council have claimed they were misled about the event, which was reportedly portrayed to be a small protest gathering rather than a large scale concert.
"They [the protesters] have every right to be out there with megaphones and signs. But throwing a concert with food and trucks and live music has nothing to do with that [protesting]. I'm glad the circus isn't coming to Kaysville," John Swan Adams said.
Witt reportedly apologized to the council for not involving it more closely in events but said: "I did not misspend funds...I did not do anything illegal. But I did hurt your feelings."
When questioned about the council's intention to use sprinklers and cutting power at the park, another member of the Kaysville City council, Andre Lortz, said, "City staff had said here are possibilities for action that could be taken. It was to be discussed what actions would be appropriate."
Witt noted "I think it was important to take a stand. I don't regret taking that stand. This was all about standing up for the right of peaceful assembly...I would have done this if I were running for Congress or not. It's core to who I am," she added.
The Tooele County Health Department has not received a permit application for the Grantsville concert event, which is required for any gatherings of more than 1,000 people, the department confirmed in a statement.
"This event has not been approved by Tooele County or the Tooele County Health Department... COVID-19 transmission adds an additional worry because at an event like this it is nearly impossible to maintain social distancing.
"Our greatest concern is for the health and safety of our citizens. After an event is held without a permit, it is possible for the health department to file charges against the property owner for allowing an unpermitted event to take place. We do not want to see a spike in COVID-19 cases come from an unapproved event like this," the statement said.
Speaking to Newsweek, a member of the Grantsville City Council, Jewel Allen, said: "The event location lies just outside Grantsville City boundaries, and as such Tooele County has jurisdiction over it.
"With the event reportedly taking place near our city with potential adverse impact on the health and safety of our citizens, of course it is a matter of local concern. Speaking for myself, I believe that event organizers must follow the permitting process which are in place to ensure the safety of the public, and not just in this time of COVID-19," Allen said.
The protest event will also see around 300 businesses set up booths. "We are anxious to help even more small business owners survive and restore some Constitutional freedoms at the same time," Moutsos said in a statement.
"We've had zero spikes with COVID with thousands at our events so I'm not worried about safety at all. I think we're going to be safer than Walmart and Costco. The reason why is because at Walmart and Costco, people are coming right up next to you, and touch merchandise like a tomato and then put it back down," Moutsos noted, adding that people will be urged to use safe social distancing.
Newsweek has contacted Utah Business Revival and members of the Kaysville City Council for a comment.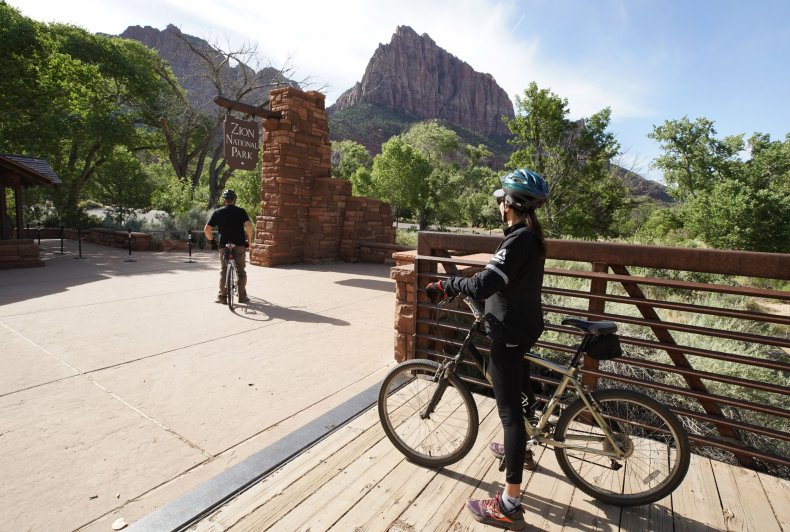 Utah has reported 7,874 confirmed cases and 92 deaths, as of Friday, according to the latest figures from Johns Hopkins University. Last week, Utah's Zion National Park, was reopened for the first time in over a month, as part of the country's phased reopening of national parks and other venues across different states
The novel coronavirus, which was first reported in Wuhan, China, has infected more than 5.1 million people across the globe. More than 1.9 million have reportedly recovered from infection, while over 333,400 have died, as of Friday, according to the latest figures from Johns Hopkins University.
The graphic below, provided by Statista, illustrates the U.S. states with the most confirmed COVID-19 cases.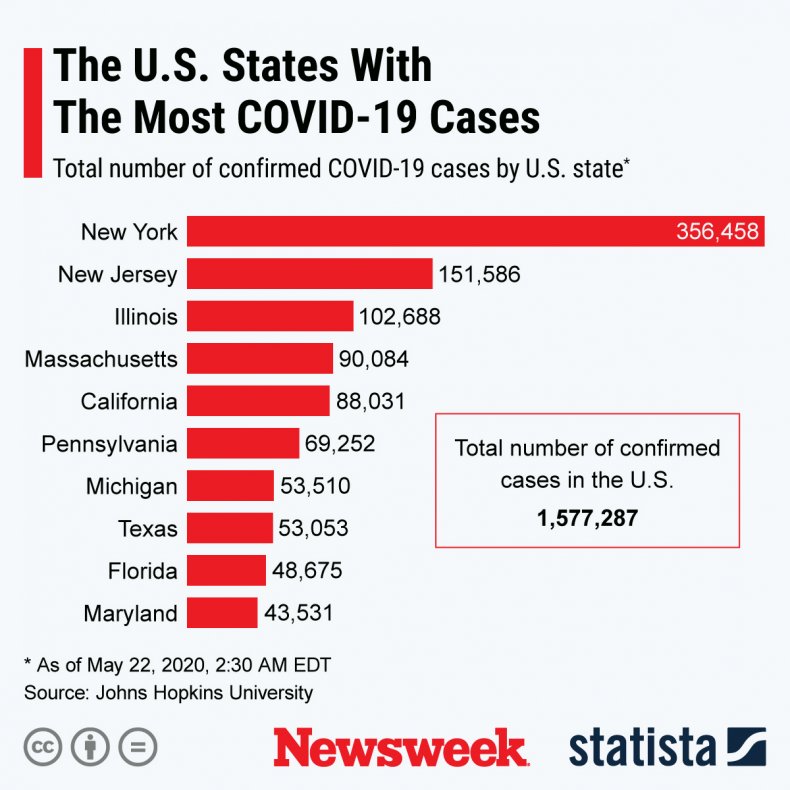 The graphic below, provided by Statista, illustrates the spread of the COVID-19 virus across the U.S.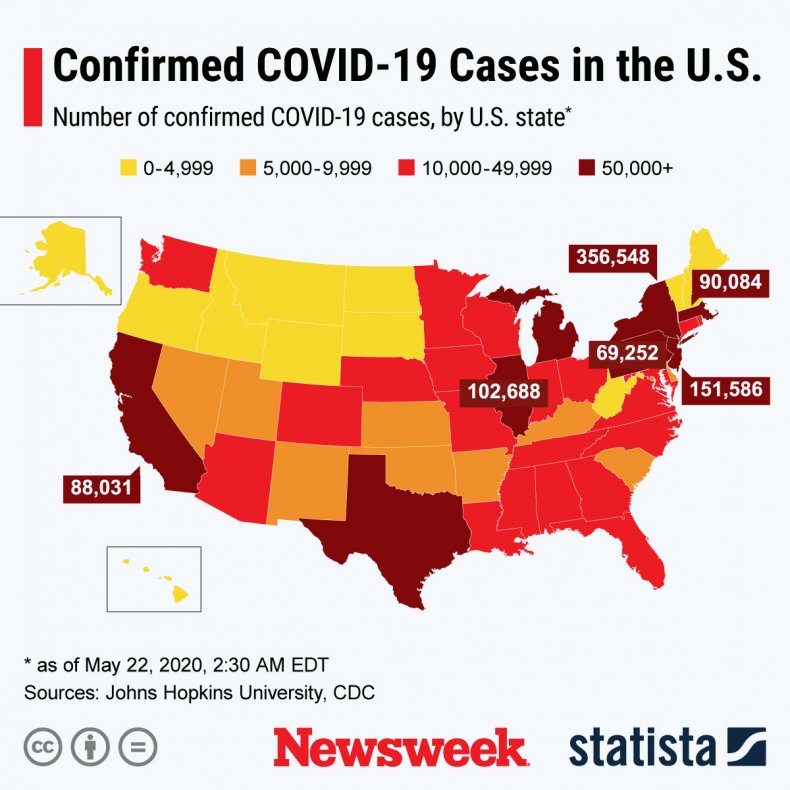 This article has been updated with comment from Witt, Grantsville City Council and the Tooele County Health Department.
Utah Lockdown Protest Concert Forced to Change Venue After City Threatens to Turn Sprinklers On, Organizers Say | News