Utah Man Caught Speeding Claims He Was on His Way to Kill Former Missouri Senator Claire McCaskill
A Utah man arrested for hitting speeds of 130 mph while driving impaired claimed that he was on his way to kill former Missouri Democrat Senator Claire McCaskill "if she wasn't dead already," according to a police affidavit filed early Wednesday morning.
At 12:45 a.m., a Utah Highway Patrol trooper spotted George William Stahl, 36, from Cottonwood Heights, driving at 115 mph on Interstate 80 in Summit County, according to the affidavit obtained by the Deseret News. Stahl was booked into the Summit County Jail that morning and under investigation for making a threat of terrorism, failing to stop at the command of police, reckless driving, speeding, DUI and drug possession.
"I activated my emergency lights immediately and the vehicle appeared to accelerate faster and pull away from me," the affidavit reads. "I caught up to the vehicle who was still traveling over 100 mph and the vehicle accelerated again and pulled away."
Police say that Stahl's vehicle reached at least 130 mph and drove on slick roads due to light snow. Another trooper spiked the vehicle's tires in order to force him to stop.
Authorities say that Stahl had an empty 12-pack of Budweiser beer in his car, along with another 12-pack that had been partially consumed.
"Stahl was belligerent and appeared heavily intoxicated... There was an empty 12 pack of Budweiser beer in his vehicle as well as a partially consumed other 12 pack," said the affidavit. Stahl also told police that he was on Adderall and LSD in addition to the beer.
He was transported to the North Summit Fire Station to be medically evaluated and began belligerently claiming that he had planned to kill McCaskill.
"He stated that he was on his way to Missouri to kill (former U.S. Sen. Claire McCaskill) if she wasn't dead already," Summit County police wrote. "Stahl made several real threats to Missouri Sen. Claire McCaskill. He stated that he was on his way to Missouri to kill her several times."
McCaskill responded to the threat in a statement to the St. Louis Post-Dispatch.
"Obviously this is not the first time there have been threats, and that is not good," the former senator said. "But the political temperature is very high right now, which makes it concerning."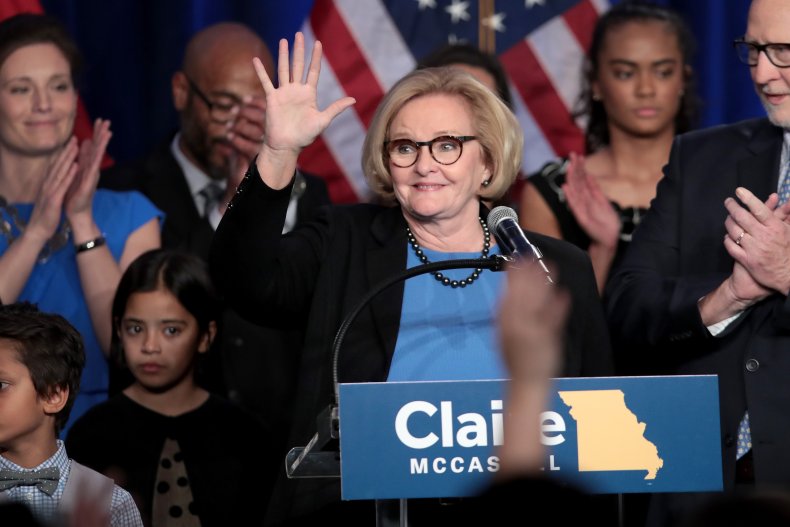 McCaskill, a Democrat, was first elected to the U.S. Senate in 2006 and served for two-terms until 2019, after losing her re-election to current GOP Sen. Josh Hawley. She is currently an analyst for NBC News and MSNBC.
The threat against McCaskill comes just days after a Staten Island man was arrested for publishing anti-semitic threats on social media against Minority Leader Sen. Chuck Schumer and approximately a month after a violent plot to kidnap Michigan Gov. Gretchen Whitmer was thwarted by the FBI. Whitmer has referenced President Donald Trump's language and rhetoric as a form of being "complicit" in allowing domestic terrorists to formulate these dangerous plots.
Newsweek reached out to Claire McCaskill for comment.