Utah Man Found Dead in Freezer Left Note Saying His Wife Didn't Kill Him
Paul Edwards Mathers, whose corpse was found in a freezer at his wife's home last November, died of undetermined causes, the Utah medical examiner determined. His case had been suspected as a homicide.
The Salt Lake Tribune reported that Mathers, 69, was discovered in the freezer after Tooele police were called to the Remington Park Apartments, where a maintenance worker reported he had not heard from tenant Jeanne Souron-Mathers, Paul's wife, in several weeks.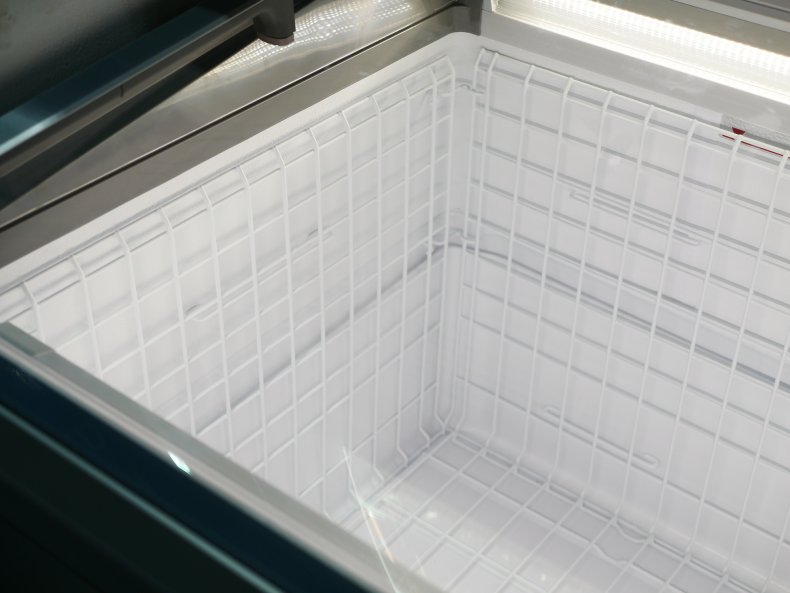 According to reports, police gained access to the apartment and found the body of Souron-Mathers, 75. A detective was dispatched to the location to search the home and opened a large chest freezer. Mathers' body was inside, wrapped in garbage bags with one secured by duct tape around his neck.
Detectives concluded that Mathers had died in March of 2009 and his body had been in the freezer for more than a decade, the Tribune reported.
The medical examiner's survey of the corpse revealed that Mathers had "end of stage bladder cancer, for which he had only weeks to months to live in early 2009." It also found potentially lethal doses of multiple prescription narcotics in his system.
The Tribune reported that according to Tooele Sgt. Jeremy Hansen, the department spoke to Mathers' sister shortly after his body was discovered. She said she last saw her brother on March 2, 2009, and when she stopped by for a visit on March 5 of that year, Souron-Mathers told her that her brother had moved to California.
Initially, police had suspected foul play. However, the paper reported that officers found a signed and notarized letter from Mathers outlining his impending demise. That letter, combined with the medical examiner's results, then led them to investigate his death as a suicide.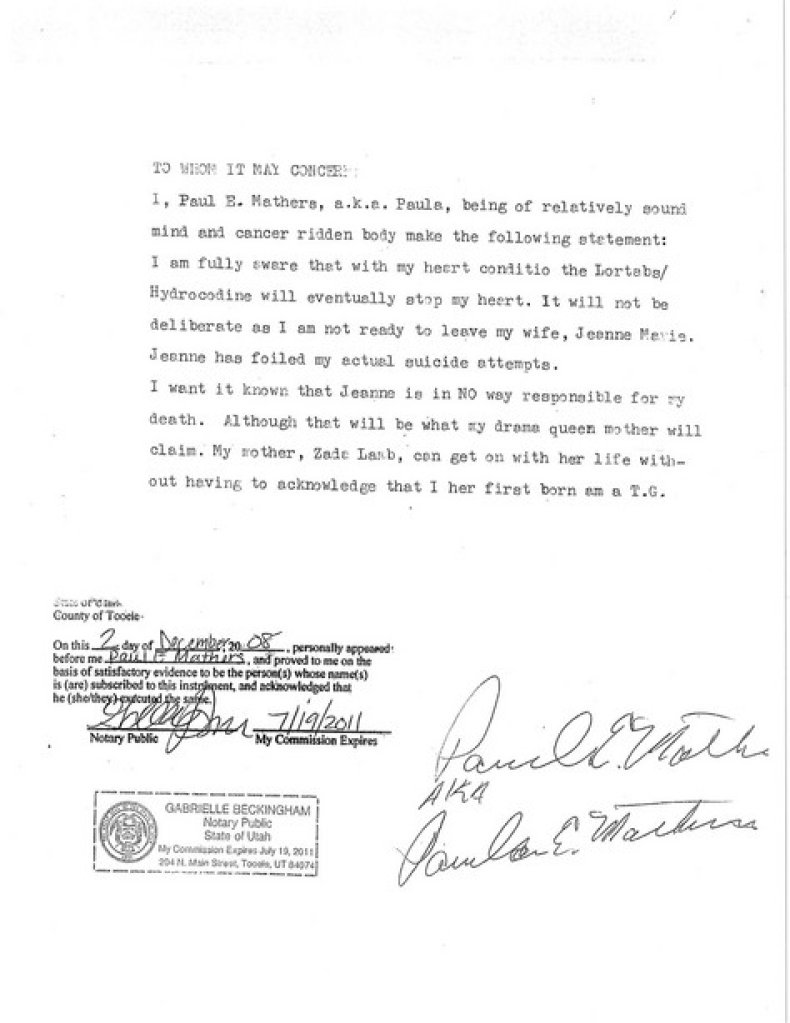 The letter read:
"To whom it may concern
I, Paul E. Mathers, a.k.a. Paula, being of relatively sound mind and cancer ridden body, make the following statement:
I am fully aware that with my heart conditio (sic) the Lortabs/Hydrocodine (sic) will stop my heart. It will not be deliberate as I am not ready to leave my wife, Jeanne Marie.
Jeanne has foiled my actual suicide attempts.
I want it known that Jeanne is in NO way responsible for my death. Although that is what my drama queen mother will claim. My mother, Zade Lamb, can get on with her life without having to acknowledge that I am a T.G."
The "a.k.a. Paula" and "T.G."—possibly referring to "transgender"—references in the letter imply that Mathers may have identified as a woman at the time of their death. Authorities said Mathers died from undetermined causes, but did not rule out suicide.
The Tribune wrote that police spoke to the woman who notarized the document, who said that she did not read the text before she stamped it.
Police subpoenaed a number of financial institutions and discovered that Souron-Mathers continued to collect her husband's benefits from the Department of Veterans Affairs after his death, coming to a total of $177,325. Authorities ruled that Souron-Mathers died from natural causes.
If you have thoughts of suicide, confidential help is available for free at the National Suicide Prevention Lifeline. Call 1-800-273-8255. The line is available 24 hours, every day.