Utah Newspaper Editorial Board Defends Mitt Romney's Vote To Convict Trump: 'Doing the Right Thing Was Difficult'
A prominent Utah newspaper has published an editorial defending state Republican Senator Mitt Romney after he faced significant backlash for voting to convict President Donald Trump alongside Democrats in the Senate impeachment trial on Wednesday.
Romney became the first senator in U.S. history to vote to remove a president from the lawmaker's own political party with his vote to convict Trump for abuse of power. But the lone Republican defection was not anywhere close to enough to block the president's acquittal in the GOP-controlled chamber. A two-thirds majority vote (or 67 senators) is required to remove a president from office, and the motion failed 48-52.
After Romney, who was the Republican Party's 2012 presidential nominee, announced his intention to vote with Democrats on the abuse of power article of impeachment, Donald Trump Jr. and the president himself lashed out at the lawmaker. But The Salt Lake Tribune, which has the largest paid circulation of any newspaper in Utah, praised Romney's "courage."
"When it was crunch time, Romney just could not avert his eyes from the fact that this president had, without a shadow of a doubt, abused his power as commander in chief," The Tribune's editorial board wrote.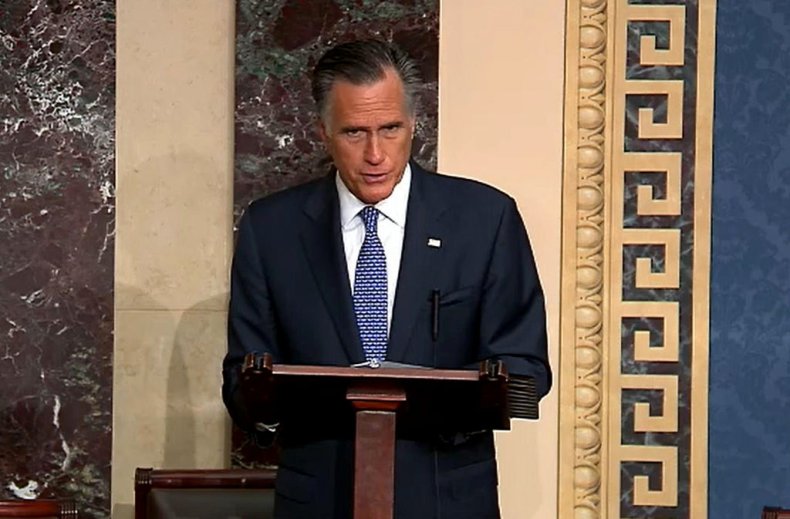 The newspaper argued that everyone in Utah and the country "regardless of politics, ideology or religion should be duly impressed with Romney's decision to follow his heart and his conscience—and his God—in doing the right thing when doing the right thing was difficult."
The editorial concluded: "Romney deserves nothing but our thanks and our support."
Ahead of Wednesday's vote, which marked the end of only the third impeachment trial in U.S. history, Romney explained his decision in a Senate floor speech.
"The president's purpose was personal and political. Accordingly, the president is guilty of an appalling abuse of public trust," he said.
Although Romney noted that he was fully aware his decision would not affect the final outcome, he said he had to vote his conscience and carry out impartial justice. The senator explained that his decision came despite agreeing with much of the president's policies and noted that he'd voted with Trump about 80 percent of the time.
"I will only be one name among many, no more, no less, to future generations of Americans who look at the record of this trial. They will note merely that I was among the senators who determined that what the president did was wrong, grievously wrong," he said. "We are all footnotes at best in the annals of history, but in the most powerful nation on Earth, the nation conceived in liberty and justice, that distinction is enough for any citizen."
Trump Jr. was quick to attack the senator on Twitter. "Mitt Romney is forever bitter that he will never be POTUS. He was too weak to beat the Democrats then so he's joining them now," the president's son wrote. "He's now officially a member of the resistance & should be expelled from the @GOP."
The president tweeted out a video claiming bizarrely that Romney was a "Democrat secret asset." Trump later posted: "Had failed presidential candidate @MittRomney devoted the same energy and anger to defeating a faltering Barack Obama as he sanctimoniously does to me, he could have won the election."
Asked whether Romney would be expelled or punished from their party, Republican senators largely dismissed the possibility on Wednesday.
"I think Senator Romney has been largely supportive of most everything we've tried to accomplish," GOP Senate Majority Leader Mitch McConnell told reporters.