Utah Officer Investigated for Flying Confederate Flag in His Front Yard
An Adult Probation and Parole officer is under investigation for displaying a Confederate flag outside his home in Utah.
A complaint was made against the officer, who has not been named, after it was spotted by neighbors in Salt Lake County.
"When I saw that it was a confederate flag, I felt really sad because I knew who lived there," Mimi Mahone told ABC4 News.
Mahone said she tried to confront the officer about why he is flying the flag, to no avail.
"The officer, he's outside walking his dog and I said, 'Hey, why do you have this?' And he just sat there. He didn't say anything to me. He just had his arms folded, like yeah, just straight-faced," she said.
Mahone then returned to the home the next day and filmed an encounter she had with a woman.
Cellphone footage, obtained by ABC4 News, shows Mahone asking the woman: "Then why don't you just have the American flag up?"
The woman responds: "Why can't we have both? They are both for the United States."
Fellow neighbor Wendy Knowles believes the officer was well aware of the connotations surrounding the flag.
"When you know that it is a law enforcement person, you're like, 'Ok, they're for sure making a statement' and to know that he works for the public as an AP and P officer, he is around people that he could have an effect on," Knowles said.
In a statement, Liam Truchard, of the Utah Department of Corrections said: "This officer has been placed on Administrative Leave pending the results of an investigation."
The Utah Department of Corrections has been contacted for comment.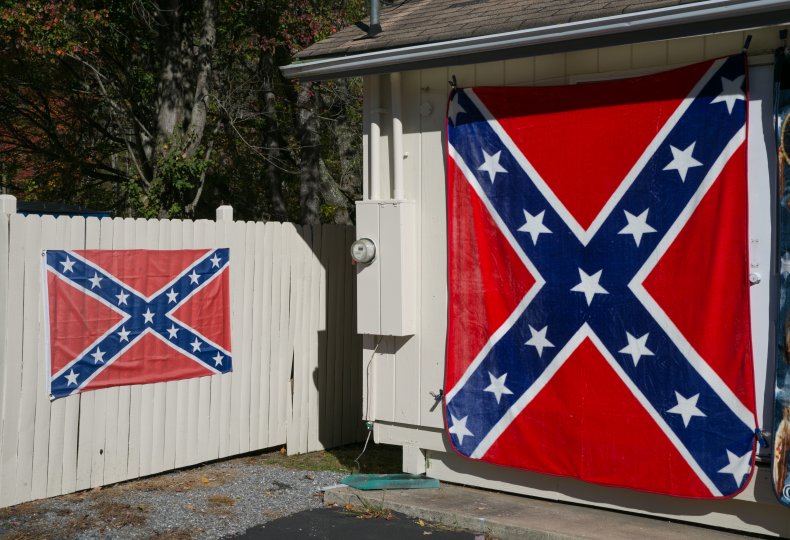 The incident comes as the U.S. continues long-running debates about the displaying of Confederate flags and monuments in the wake of the death of George Floyd and the Black Lives Matter protests which have resulted from it.
Seth Brysk, Regional Director of the Anti-Defamation League, said that we "cannot assume the intent" of the officer displaying the flag.
"I think coming to them with a certain understanding and helping them to understand why this is offensive. This is a teachable moment," he said.
According to a poll conducted by Morning Consult and Politico in June, nearly half of Americans consider displaying the Confederate flag as merely expressing Southern pride, compared to just over one third who consider it a symbol of racism.
The polls also found that 49 percent of Millennials—those born between 1981 and 1996—believe the flag is racist, nearly double that of the Baby Boomer generation born between 1946 and 1964 (28 percent).