Utah Protesters Who Faced Possible Life Imprisonment Over Alleged Paint Crimes See Charges Reduced
Utah protesters who faced possible life prison sentences for alleged paint crimes had their charges reduced on Friday.
According to the Salt Lake Tribune, the decision to reduce the charges was made by retired judge Dane Nolan, who was selected to rule on the matter by Salt Lake County District Attorney Sim Gill.
The Deseret News in Utah reported that the protesters who were previously charged with criminal mischief with an added gang enhancement—a first-degree felony—had their charges reduced and are currently charged with only a third-degree felony of criminal mischief. Those who were charged with rioting, also a third-degree felony, are now charged with disorderly conduct, a class C misdemeanor, according to the newspaper.
In Utah, a first-degree felony is accompanied by a possible range of imprisonment from five years to a life sentence. Third-degree felonies carry the possibility of up to five years in prison, and a fine of up to $5,000.
The nine were charged with allegedly vandalizing the Salt Lake County District Attorney's office on July 9 with buckets of red paint and damaging several windows. They were arrested amid protests that followed an announcement by Gill at the time that his office would not charge the police officers who fatally shot 22-year-old Bernardo Palacios-Carbajal.
On May 23, Palacios-Carbajal was shot numerous times by Salt Lake City police after he ran away from officers while carrying a gun. Gill announced that the officers were justified in their use deadly force, as, he said, Palacios-Carbajal had a stronger "urge" and "desire" to hold on to the gun than to throw it away.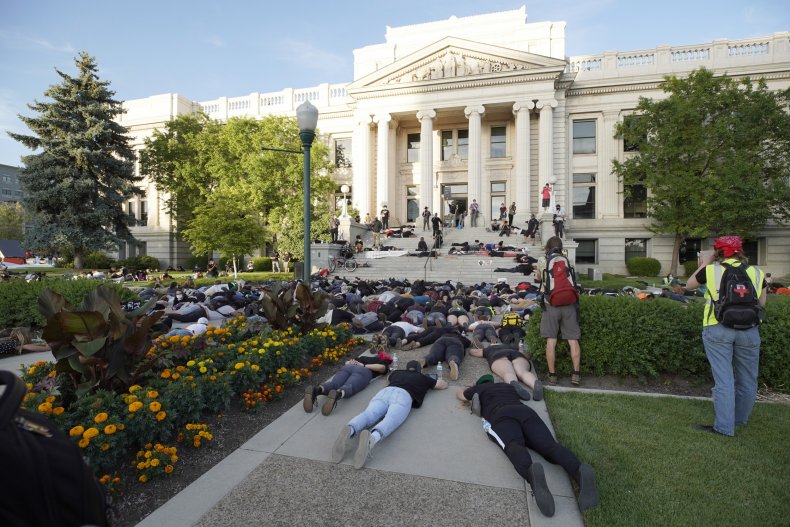 In response to the announcement, many took to the streets to protest, including the nine who allegedly vandalized Gill's office. The protests coincided with ones seen nationwide against the killing of George Floyd.
After the nine were charged and faced possible life imprisonment, Gill received severe backlash, prompting him to find another attorney, the retired Nolan, to prosecute them, avoiding a potential conflict of interest, according to the Deseret News.
According to the Salt Lake Tribune, four of the protesters—Madalena Rose McNeil (28), Michelle Claire Mower (25), Marvin Buck Oliveros (39) and Sofia Linda Alcala (18)—now face third-degree felony charges of criminal mischief, and class C misdemeanors for disorderly conduct.
Among the others, Emanuel Alan Hill (21) had his charges reduced to one count of second-degree felony criminal mischief, while Madison Tayt Alleman (25) and Viviane Marie Turman (24) had their charges lessened to third-degree felony criminal mischief.
The Salt Lake Tribune also reported that Nolan removed the felony count against Hurija Mustafic (26), who was previously charged with rioting and two class A misdemeanors of assaulting a police officer.
Newsweek reached out to the Salt Lake County District Attorney's office for comment, but did not receive a response in time for publication.
Correction 6:48 PM ET: Updated to correct the name of the Salt Lake County District Attorney. It's Sim Gill, not Sam Gill.