Utah Senator's Solution to Climate Change: 'Get Married, and Have Some Kids' Instead of Green New Deal
Utah Senator Mike Lee offered an alternative proposal to the Green New Deal while speaking on the Senate floor on Tuesday: Get married and have kids.
Lee, a Republican, brought posters featuring images from Star Wars, Aquaman and Ronald Reagan riding a dinosaur while firing a machine gun to Congress on Tuesday.
The lawmaker gave his derisive display hours before the Senate was expected to vote on the Green New Deal, the comprehensive resolution introduced by Representative Alexandria Ocasio-Cortez to address climate change and promote economic growth.
"The solution to climate change is not this unserious resolution, but the serious business of human flourishing – the solution to so many of our problems, at all times and in all places: fall in love, get married, and have some kids," he tweeted, along with a picture of his presentation.
Lee mentioned socialism while criticizing the Green New Deal.
"Unfortunately, fear is unavoidable when debating the substance of the resolution before this body today – that is climate change, socialism, and the Green New Deal," Lee said. "Unlike some of my colleagues, I am not immediately afraid of what carbon emissions, unaddressed, might do to our environment, in the near-term future, or our civilization or our planet in the next few years. Unlike others, I am not immediately afraid of what the Green New Deal would do to our economy and our government. After all, this isn't going to pass."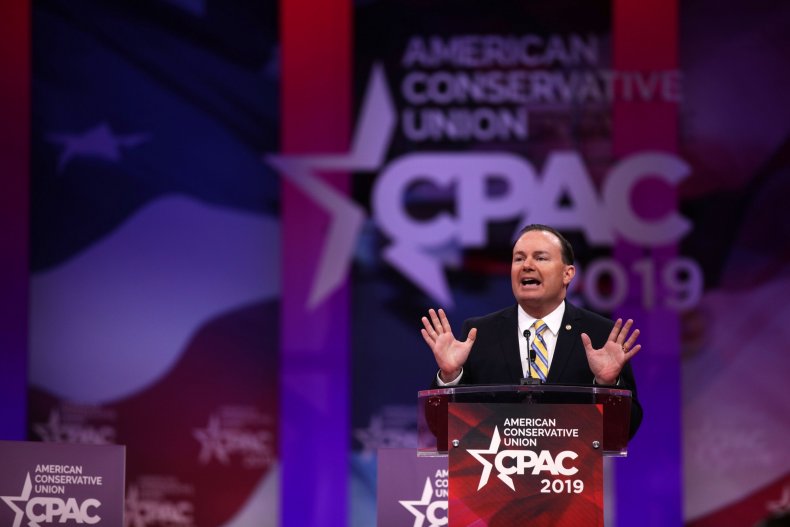 During his criticism, the senator trotted out false tropes that have become popular among Republicans, such as that the deal would ban plane travel.
He asked how people in Hawaii would travel to and from the U.S.
"This is a picture of Aquaman, a superhero from the undersea kingdom of Atlantis and, notably here, a founding member of the Super Friends," he said. "I draw your attention, Mr. President, to the 20-foot impressive seahorse he's riding. Under the Green New Deal, this is probably Hawaii's best bet."
Ocasio-Cortez has repeatedly brought up climate change with more urgency than many other members of the Democratic Party and said that young Americans feel that climate change poses a grave threat.
She quickly hit back at Lee's mockery, tweeting "Like many other women + working people, I occasionally suffer from impostor syndrome: those small moments, especially on hard days, where you wonder if the haters are right. But then they do things like this to clear it right up. If this guy can be Senator, you can do anything."
Newsweek reached out to Ocasio-Cortez's office for further comment but had not heard back by publication.
Lee has previously cited concerns about the economic costs of addressing climate change and questioned whether global warming is being caused by humans. His mockery adds to a wealth of scorn Republicans have expressed toward the Green New Deal.
Senate Majority Leader Mitch McConnell has claimed that the Green New Deal would gut the economy.
Republicans, including the president, have mocked the proposals put forth.
"Cars, lawnmowers, commercial airliners — everything must go," McConnell said earlier this month. "All this and more can be ours for the low, low price of a staggering expansion of centralized government."
The resolution has also caused discord within the Democratic Party, exposing fissures between more progressive party members and establishment figures. Democratic leaders including House Speaker Nancy Pelosi have dismissed the resolution.
Analysts said that McConnell's decision to hold a vote in the Senate, where Republicans hold a majority, was intended to expose these internal divides.