Utah Senator Mitt Romney Says He's Asymptomatic After Testing COVID Positive
Republican Utah Senator Mitt Romney, 74, has tested positive for COVID-19, but his office says he's not experiencing any symptoms.
"Senator Romney tested positive today for COVID-19," a Friday statement from his office began. "He is currently asymptomatic and will be isolating and working remotely for the recommended period of time. Mrs. Romney has tested negative."
Both Romney and his wife, Ann, have been fully vaccinated and boosted against the virus, the statement concluded. It's unclear where the senator might have contracted the virus.
Romney's positive test result comes as both his home state and the nation face a spike in COVID-19 cases due to the highly infectious Omicron variant.
His test result also comes nearly two and a half weeks after he criticized the administration of Democratic President Joe Biden for failing to make COVID-19 tests more widely available across he nation before the variant emerged.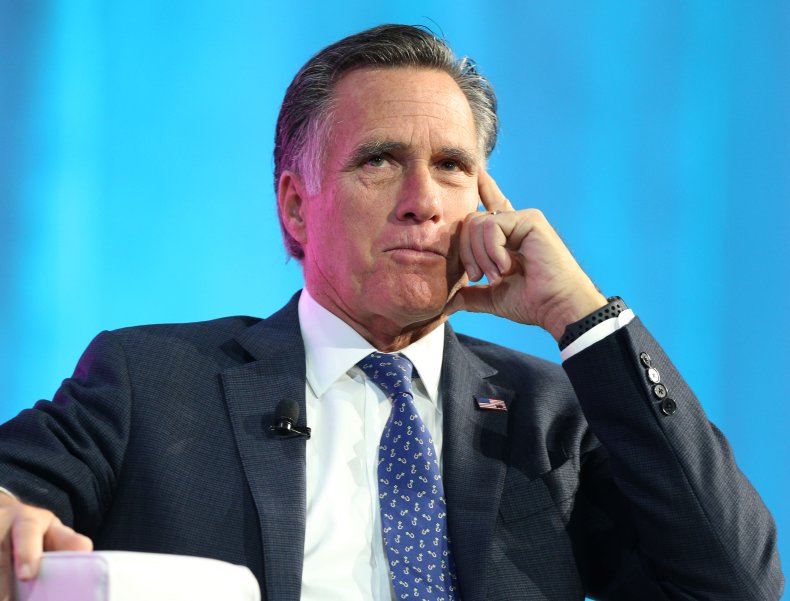 "Unfortunately, the administration was wrong in not building testing capacity at a time when we all thought COVID was going away," Romney said in a January 11 Senate hearing.
Romney also blamed the shortage of tests on a lack of clear guidelines informing the public of when they should get tested and when they shouldn't.
"A lot of individuals, myself included, get tested when there's no indication that I need to get tested, other than to just want to make sure I'm not sick," Romney said.
Indeed, COVID-19 cases can be entirely asymptomatic and can share ambiguous symptoms—such as diarrhea, runny nose and tiredness—that are associated with other illnesses, seasonal allergies, colds and cases of flu. The variety of symptoms, and the lack thereof, have created confusion about when someone should get tested or quarantine themselves from others.
Unlike many of his Republican colleagues, Romney has repeatedly advocated for people to follow COVID-19 prevention measures, including vaccinations.
"It's unfortunate that this became a political issue. It's not political," Romney said in a December 2020 interview with CNN anchor Wolf Blitzer.
"Unless you take this very, very seriously and communicate that this is not a political matter, this is not a matter of liberty, this is a matter of safety and public health," he continued. "We have people who are very, very sick, many people in the hospital. We have people who have died and are dying—it's unacceptable."
Like the rest of the nation, Utah's COVID cases began to spike in late December 2021. The state's cases have steadily increased since then to a current average of 7,815 new cases each week.
As of January 28, Utah ranks 28th amongst states with the highest overall number of COVID-19 cases. The state has reported over 875,000 cases since the pandemic began.
As of January 28, Utah ranks 38th amongst states with the highest overall number of COVID-related deaths. The state has reported 4,107 deaths since the pandemic began.