Utah Teachers Furious Over Proposal to Post Lesson Plans in Advance for Parent Approval
Utah teachers are upset about a proposal that would require parent approval on material taught in social science classes.
The proposal by state Republican Senator Lincoln Fillmore suggested that social science material should be posted online for parents to review first before teachers use it in classrooms, The Salt Lake Tribune reported.
"Open and transparent process that allows for parental feedback on the front end, rather than the back end," Fillmore said on Wednesday during a hearing of the state legislature's education interim committee as he discussed his proposal, according to Fox 13 News Utah. "This effort is simply about having school boards be transparent when the school board adopts standards."
Fillmore, who was a sponsor on a bill that banned discussion of critical race theory in the state's public schools, also wants Utah education officials to vet the material 30 days before they are discussed in class.
Some Utah teachers criticized Fillmore's proposal, calling it a "blatant assault on the integrity of educators."
"THIS is a blatant assault on the integrity of Utah educators. I am aghast that we are thought so unprofessional & incapable by an elected official, suggesting school boards should approve 'all instructional materials' 30 days in advance. What, then, are current events?" Deborah Gatrell, a teacher at Hunter High in Granite School District, wrote on Twitter.
Fillmore noted in his bill proposal draft that he is concerned about the topics being taught in school and urged a higher level of transparency. However, he didn't point out the areas of concern.
"In light of controversial topics arising in objectionable ways within the classroom, this proposed legislation seeks to increase transparency across the curriculum and improve curriculum so that issues of controversy are open and in full view of the public before being implemented in the classroom," he said in the proposal.
Though Fillmore is calling for the material to be vetted before it is taught, some Utah teachers argued that educators are already doing so by seeking approval from school districts and the state board of education before moving forward with books they will use in classes.
"Don't teachers already offer this through disclosure documents, curriculum maps, unit cards, etc. I'm confused Sir, I don't think you understand what our teachers are already doing," Belinda Talonia, a principal at Orem Junior High School, tweeted.
During the Wednesday interim education committee hearing, Democratic Rep. Karen Kwan of Utah reportedly challenged Fillmore's proposal.
"The language here makes it sound like social science is opinion-based, which it is not. And so I think we need to be careful, when we talk about the science we are not talking about opinion-based topics," she said, according to Fox 13.
But Fillmore argued that many opinions could come out when discussing "current events or history."
"In talking about current events or history, there's a lot of [things] where opinion could come in if something was good or bad, even if the fact of it was historical. Teachers should present history and fact and not insist that students or the student body hold a specific opinion," Fillmore said, according to the outlet.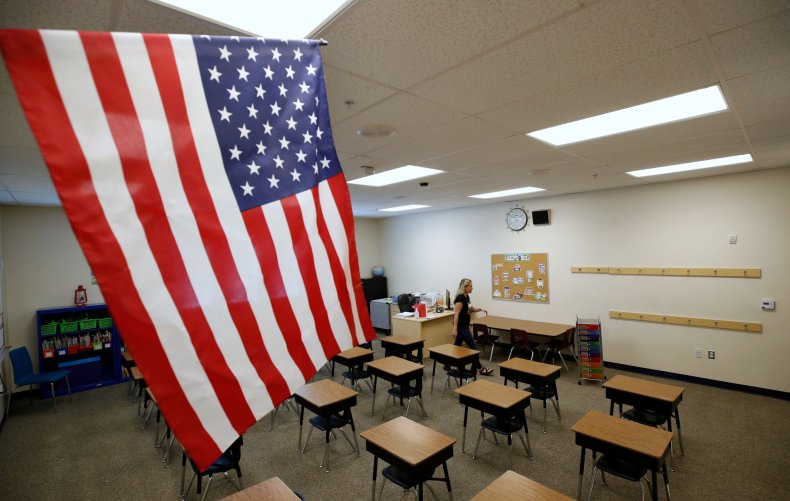 According to The Salt Lake Tribune, Fillmore plans to bring together legislators, educators, and parents to discuss his proposal and draft a bill by November. The interim education committee urged the senator to include a local school board and a representative from the state school board in his group discussion.
Newsweek contacted Fillmore and the Utah State Board of Education for comments but didn't hear back in time for publication.