Utrecht Shooting: Everything We Know About Netherlands Tram Attack as Suspect Is Captured
Dutch authorities have reportedly apprehended the main suspect in Monday's deadly shooting on a tram in the city of Utrecht.
Utrecht police said Monday that they have detained a man suspected of opening fire, killing three and wounding up to five more on the 24 Oktoberplein. Authorities had previously identified 37-year-old Gokmen Tanis, a Turkish national, as their primary suspect in the manhunt but deleted a tweet with his image.
In a new tweet, the police said the detainee was the same man previously seen in images and information disseminated by authorities.
The Netherlands's National Coordinator for Security and Counterterrorism (NCTV) unit said earlier on Monday that it had raised the city's threat level to a maximum of 5 while the rest of the country remained at level 4. Coordinator Pieter-Jaap Aalbersberg later brought Utrecht's threat level back down to 4, following news of the suspect's arrest.
"The NCTV brings the threat level for the province #Utrecht back to level 4," Aalbersberg tweeted. "The reason is the arrest of the main suspect of the shooting."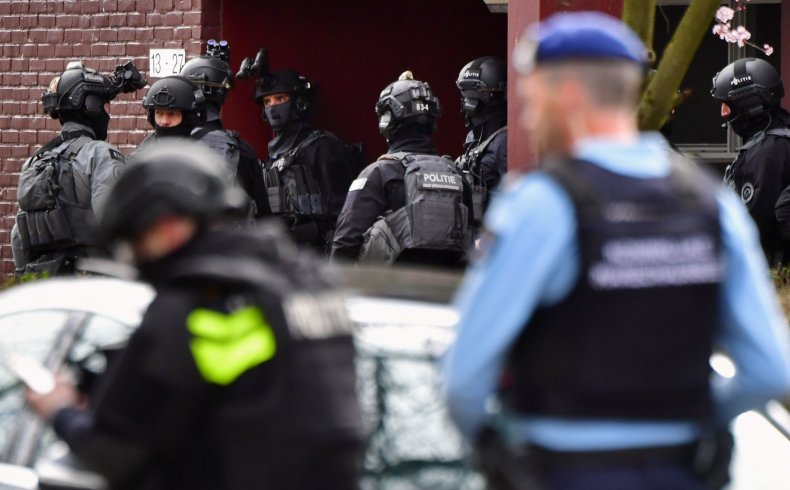 The NCTV had previously said that the Utrecht shooting "has all the characteristics of a terrorist attack." Following the threat level being lowered, the NCTV maintained that the "threat is substantial" and that "the chance of an attack in the Netherlands is real."
"We sympathize with the families of the victims, the wounded and all the people who were involved in the shooting incident this morning. We hold one another and support those who grieve," Utrecht Mayor Jan van Zanen said, according to the city's official Twitter account.
BBC Turkish quoted a local businessman who said that Tanis has previously traveled to the Russian republic of Chechnya to join an insurgency being waged by Sunni organizations, some of whom were affiliated with the Islamic State militant group. The source claimed that Tanis had previously been arrested because of alleged ISIS ties but was released.
Monday's deadly incident came just days after a far-right gunman attacked two mosques, killing up to 50 people and injuring about the same number, in Christchurch, New Zealand. The attack that has been widely attributed to the suspect's white nationalist views.