A fairly new college football program in Texas adopted an historic saying from the state as part of its tradition to start the fourth quarter. Now, the "Come and Take It" slogan has been deemed racist, pro-slavery and "anti-Mexican," according to an online petition to have it removed.
The University of Texas at San Antonio (UTSA) announced this week that it will disassociate itself with the "Come and Take It" flag unfurling tradition, and any other connections to the slogan, effective immediately.
UTSA President Taylor Eighmy sent an email to students, staff, faculty and alumni that said the slogan would be removed from any events, buildings and the school's website.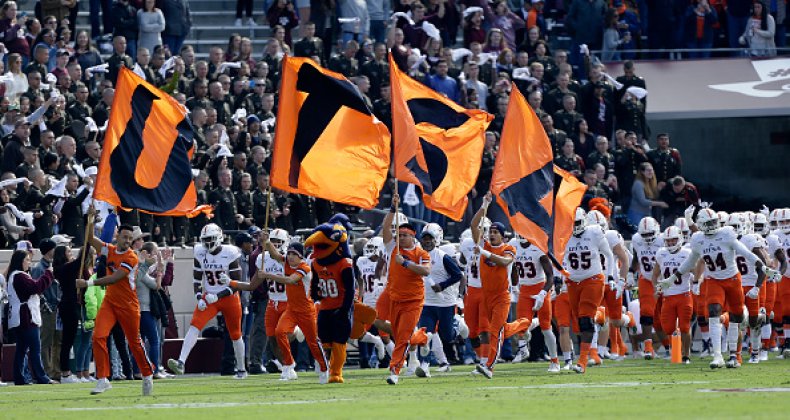 The Roadrunners football team adopted the slogan during the 2011 season, and during 2016, a "Come and Take It" flag was unfurled in the student section at home games as a way to hype the crowd and perhaps inspire the team.
Dr. Ellen Riojas Clark, who is a former bicultural and bilingual studies professor at UTSA, created a petition at change.org to have the "Come and Take It" slogan removed from the campus. The petition garnered less than 1,000 signatures, but it was enough to prompt a move by the university.
Clark called "Come and Take It" not just a defiant cry among Texan fighters in the 1800s, but a saying "steeped in racist ideology and racist history."
"Referencing the infamous flag from the Battle of Gonzales, this is a slogan that embodies both anti-Mexican and pro-slavery sentiments," Clark wrote in the petition. "It has carried those white supremacist beliefs from 1835 to today, and in that time has also been widely adopted by anti-government, pro-gun extremists, such as at the January 6th insurrection at the US Capital. Like the Alamo, the Gonzales flag is an open wound for many Mexican Americans, especially Mexican American Texans."
UTSA opened its Roadrunner Athletics Center for Excellence (RACE Center) last month. Upon entering the center, there's a giant "Come and Take It" sign to greet visitors.
Where does "Come and Take It" come from? During the "Battle of Gonzales" in the Texas Revolution, Texas settlers borrowed a small cannon from Mexico so the newbie Texans could protect themselves from Native Americans. The Mexican government eventually wanted the cannon returned, in which the Texans adopted a white flag with the cannon, a lone star and the words "COME AND TAKE IT" emblazoned. The cannon was ultimately used against Mexican forces at the skirmish in Gonzales.
The Roadrunners football team went on the road and knocked off Illinois, 37-30, last week, just one week after the Fighting Illini beat Nebraska in the Big Ten opener fort both of those teams.
UTSA opens its home schedule this Saturday against Lamar University, but without its fourth quarter tradition, which has now been taken.