'Utterly Distasteful': Donald Trump Meeting With Anti-Semitic Hungarian Leader Slammed by Former White House Adviser
A meeting today between President Donald Trump and Hungary's Prime Minister Viktor Orban has been deemed "utterly distasteful" by a former White House adviser in light of the right-wing European leader's comments against Jewish and other minority groups.
Julianne Smith, a former adviser to former Vice President Joe Biden and now a fellow at the Bosch Academy in Berlin, told Newsweek that Trump was sending alarming signals to the rest of the world by meeting with Orban, who had been kept at a distance by the president's White House predecessors Barack Obama and George W. Bush.
"Given what Orban has said, the views he has expressed about minority communities, including the Jewish community, it is utterly distasteful for the U.S. president to host someone like Viktor Orban in the Oval Office," Smith told Newsweek in a telephone interview.
"I think the message is now crystal clear," she continued. "The United States is not going to allow human rights abuses or anti-Semitic statements or a nationalist approach on immigration to prohibit you from coming to the White House. This fundamentally says something very different about what the United States stands for. I think the message is that this president is very comfortable with authoritarian systems," Smith added.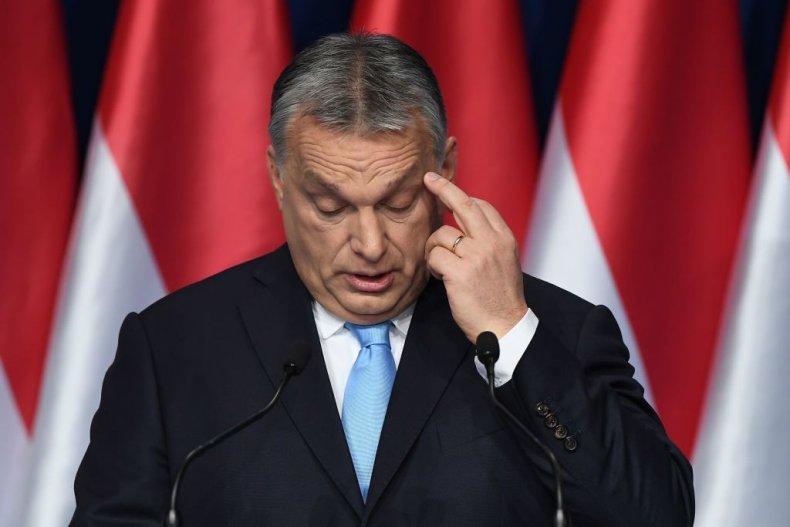 Orban, Hungary's prime minister since 2010, had been embraced by the White House in the 1990s following the fall of the Soviet Union as an ally of the West. But his increasingly nationalistic and anti-immigrant stance led former U.S. presidents to eschew him after he took office.
The Hungarian leader has engaged in dog-whistle politics, appealing to an anti-Semitic base while limiting political dissent. Though Orban has repeatedly denied the charge of anti-Semitism, in 2018 he was criticized for failing to condemn the use of a historically anti-Semitic trope employed by a pro-government publication on its front page. The cover page of the magazine showed Hungarian Jewish leader Andras Heisler, the head of the country's largest Jewish group, surrounded by money. It was widely condemned by international Jewish organizations.
In 2014, before the national elections, Orban was widely viewed to be referring to Hungary's Jewish community when he referred to those who "do not believe in work but speculate with money; they have no homeland, but feel that the whole world is theirs. They are not generous, but vengeful, and always attack the heart."
Like Donald Trump, he has identified Holocaust survivor and Hungarian-born billionaire George Soros as an enemy. The similarities between the two men do not end there.
When it comes to immigration policy (Orban put up fences and barbed wire during Europe's 2015 migrant crisis), a skeptical stance on Europe and a talent for grabbing headlines with provocative and controversial statements, many comparisons have been made between the U.S. president and the Hungarian prime minister.
"They are quite comfortable with identity politics, and they make immigration the lightning rod of that," Smith explained.
According to Reuters, the Trump administration said the invitation to Orban was part of a strategy to re-engage with leaders in central and eastern Europe. But, Smith said, the government's stance had further alienated America's traditional allies.
"The problem is that the Trump administration often chides its closest European allies for failing to live up to expectations either on defense spending...or some other policy disagreement, but here he is rolling out the red carpet for Victor Orban," Smith said.