UVA Shooting Leaves 3 Dead, Christopher Darnell Jones Remains at Large
Three people are dead after a shooting at the University of Virginia on Sunday night.
The shooting was reported at a garage on Culbreth Road in Charlottesville, Virginia at about 10:30 p.m., according to the University of Virginia Police Department.
Police said they are searching for a suspect, who has been identified as UVA student Christopher Darnell Jones. Police said he is considered armed and dangerous, and anyone who sees him should call 911 immediately.
On Monday morning, the university's police department tweeted that law enforcement teams are conducting a complete search on and around UVA grounds, and urged students and the public to remain sheltered in place until further notice.
In a message to the university community early Monday, UVA president Jim Ryan confirmed that three people had died, while two people who were injured are receiving medical care. Their identities were not disclosed.
"We are working closely with the families of the victims, and we will share additional details as soon as we are able," Ryan said.
"Our University Police Department has joined forces with other law enforcement agencies to apprehend the suspect, and we will keep our community apprised of developments as the situation evolves."
Ryan said that classes were canceled on Monday and that counseling would be made available. He said only designated essential employees should report to work on Monday.
"This is a message any leader hopes never to have to send, and I am devastated that this violence has visited the University of Virginia. This is a traumatic incident for everyone in our community, and we have canceled classes for today," Ryan said.
"I am holding the victims, their families, and all members of the University of Virginia community in my heart today, and we will make plans to come together as a community to grieve as soon as the suspect is apprehended."
Culbreth Road, the area where the shooting occurred, is on the north end of the school's campus.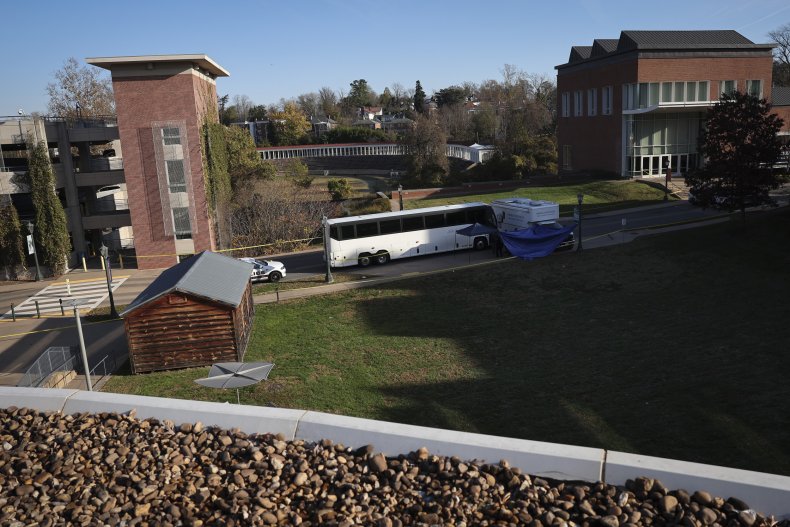 A UVA student who was in her dormitory room nearby at the time of the shooting said she heard six shots fired and quickly sent a message to the 350 other residents in her building, the Richmond Times-Dispatch reported.
"I just have no words," 19-year-old Em Gunter told the newspaper. "This is insane."
Virginia Governor Glenn Youngkin said on Twitter: "This morning, Suzanne and I are praying for the UVA community. Virginia State Police is fully coordinating with UVA police department and local authorities. Please shelter in place while the authorities work to locate the suspect."
Update 11/14/2022, 7:15 a.m. ET: This story has been updated with additional information.
Update 11/14/2022, 10:15 a.m. ET: This story has been updated with a photo.