Uvalde GOP Rep Gonzales Supports Gun Reforms, But Votes 'No' on Dem Bill
The massacre at Robb Elementary School in Uvalde Texas that left 21 people dead, 19 of them children, has ignited a new level energy behind gun control reform, and a bipartisan Senate working group is "optimistic" legislation will pass.
On the House side, however, America's two parties remain firmly divided. A Wednesday vote on the Democratic Party's gun control bill, the Protecting Our Kids Act, passed the House 223-204, earning only five Republican votes. This followed a notice from Republican leaders earlier this week instructing members to vote "no" on the bill.
Congressman Tony Gonzales, who represents the Texas congressional district that houses the city of Uvalde, was among the "no" votes. In an interview with Newsweek, the freshman representative explained why he did not support the Democrat's new proposals.
"The reason why I'm a 'no' on all of them is: One, they don't get to the root of the problem," Gonzales said. "Two, they have a 0.00% chance of passing into law, so they're not real; and three, there has been no debate over it. We literally came back from our districts [on Tuesday], and on [Wednesday] we're voting on all of these bills."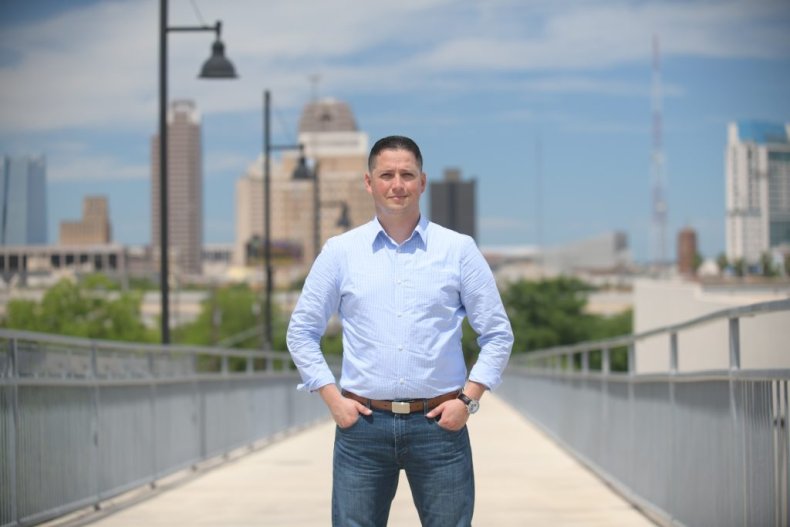 The eight proposals in the House package include raising the age to purchase semiautomatic rifles from 18 to 21, cracking down on large-capacity magazine sales, adding new gun storage requirements, making firearms trafficking a distinct federal crime, and curbing the manufacturing and sale of firearms without serial numbers.
Gonzales, who grew up about 38 miles from Uvalde, said in his largely rural district people "grow up with guns," saying that they're a "part of our culture." With his district experiencing almost 260,000 migrant encounters between October and April, according to data collected by U.S. Customs and Border Protection, Gonzales told Newsweek that "everyone needs a gun to protect themselves."
Despite his displeasure with the recent proposal, which he sees as political "theater" by Democrats, Gonzales said he does see room for some gun control reforms, and believes the conversations taking place in the Senate represent a path forward on this issue.
He told Newsweek that he would support the Eagles Act, a bill that would expand the U.S. Secret Service's National Threat Assessment Center to "include the establishment of a national program on targeted school violence prevention."
Gonzales also supports the Luke and Alex School Safety Act, which would require the Department of Homeland Security to establish a Federal Clearinghouse on School Safety Best Practices for use by state and local institutions.
In addition to these specific bills, Gonzales would like to see "extensive background checks, in particular to 18-to-21-year-olds." And additionally, one of his most important priorities is bringing forth legislation that would expand mental health resources.
"I went in Uvalde when I first got elected, and I said this to everybody, 'Hey, if I could do one thing for you, what would that be?'" He told Newsweek. "In Uvalde, they asked me for a mental health hospital."
When President Joe Biden visited the district, Gonzales said he told the president that his district needs $23 million to complete the construction of a mental health center in Uvalde. He said he would like to see mental health services expanded nationally across not just big cities but also rural areas.
"I don't think anybody in the United States is going, 'Oh, I'm perfectly mentally OK,'" he added. "Life's tough. Whether it's finances, whether it's relationships, whether it's work, whether it's something else, everybody kind of gets down, maybe depression, anxiety."
These are things that are very real in our community, in our country," Gonzales added. "Uvalde is not just this one-off — we see it everywhere."