Uvalde Hallway Video Reignites Fury at Police as Families Condemn Release
Uvalde police are again being severely berated after a newly released video shows officers stopping for hand sanitizer and to check their phones while a school shooter was locked in a classroom.
A surveillance video from Uvalde's Robb Elementary School released Tuesday has reignited outrage over the police's delayed response to the May 24 massacre in the small Texas community. Families victimized by the shooting and others have complained about a lack of transparency surrounding multiple investigations into the massacre that left 19 children and two adults dead. Now, families as well as state and local officials have condemned the release of the video.
Javier Cazares, whose daughter was killed in the shooting, reacted with outrage along with other families, according to CNN's Shimon Prokupecz.
"We were supposed to get some footage shown to us on Sunday of the filming inside the hallway and then we got a call," said Cazares.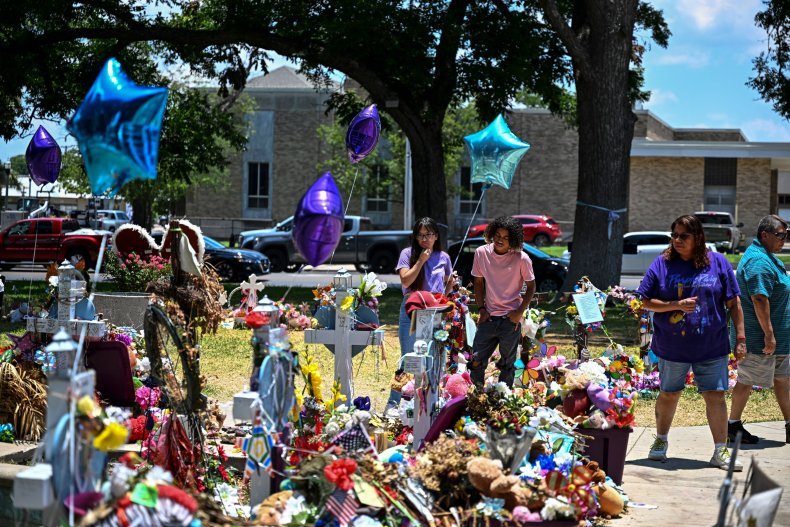 The previously undisclosed footage, published by the Austin American-Statesman and KVUE, shows the harrowing events unfold as the 18-year-old gunman enters the school and heads toward a classroom carrying a long gun. The video shows a student step around a corner and look at the gunman before shots ring out.
The school surveillance shows police continuing to gather and wait in the hallway. One takes a moment to check his phone. A group of officers move toward the classroom after more shots are fired, but don't gain entry. More officers gather, and one wearing body armor takes a moment to squeeze some hand sanitizer from a dispenser. After more waiting, more heavily armed officers arrive and finally confront the shooter in a burst of gunshots.
Previously, Uvalde police have come under heavy criticism for their delayed response to the shooting. Earlier reports described how police did not have keys to unlock the door that the shooter was behind.
"the new surveillance footage of the Uvalde shooting breaks my fcking heart," Twitter user @fuhknjo wrote in a tweet. "i couldn't watch it all the way. COPS STOOD THERE and did NOTHING. my aunt and uncle didn't deserve this ... we NEED justice."
Writer Janice Dean said in a tweet, "These cowards spent 77 minutes doing nothing while children were murdered."
"It's crazy to watch this shooting footage in Uvalde and to actually see responding officers doing literally nothing," Twitter user @polishXcellence wrote in a tweet. "I thought that maybe a little nuance was shed during reports, but no, they are straight up doing less than an average, untrained person would."
Steven McCraw, director of the state's Public Safety Department, released a statement frowning on the video's release. He said it would have been better if the families had a chance to see it first, as planned by state Representative Dustin Burrows, who is leading a legislative investigation into the shooting.
In a statement released to Newsweek, Uvalde Mayor Don McLaughlin said "it is unbelievable that this video was posted as part of a news story with images and audio of the violence of this incident without consideration for the families involved.
"I continue to stand behind my statements that full transparency and consideration for the families remains the priority as it relates to this incident," he said.