Uvalde School Shooting GoFundMe Pages Raise More Than $300K
More than $300,000 in donations have been collected by GoFundMe fundraisers set up to help those affected by Tuesday's massacre at an elementary school in Texas.
At least 19 children and two adults were killed after a gunman opened fire inside Robb Elementary School in Uvalde in what has become the deadliest shooting at a U.S. school since a gunman killed 20 children and six adults at Sandy Hook Elementary in Newtown, Connecticut, in December 2012.
The shooter, identified as 18-year-old Salvador Ramos, was killed by law enforcement, Texas Governor Greg Abbott said. In the hours since the massacre, the names of some of the victims have been released while other families are still awaiting news about their children.
Meanwhile, GoFundMe has set up a hub for verified fundraisers to help those affected by the shooting.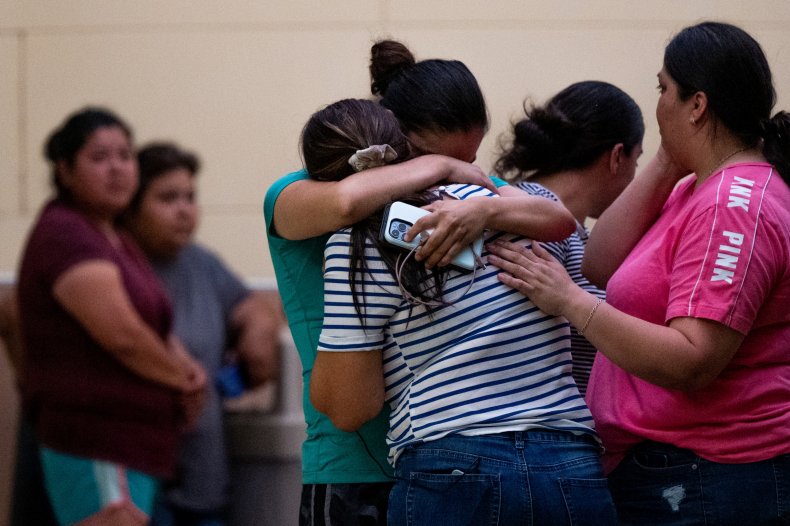 One fundraiser set up by Victims First, a network of families of victims and survivors of previous mass shootings, quickly soared past its $100,000 target. By early Wednesday, the fundraiser stood at more than $270,000.
"Our hearts are breaking for the victims and survivors of the mass shooting at the Robb Elementary School in Uvalde, TX where two adults and 19 children were murdered and many others wounded, some critically," a post on the page says. "[We] have started this fund to make sure that 100% of what is collected goes DIRECTLY to the victim base so the victims' families and those wounded/injured are protected from fraud and exploitation."
Another fundraiser was set up by the family of Xavier Lopez, one of the children killed in the shooting, to cover funeral expenses. It has so far collected more than $57,000.
"It is with a heavy heart and deep sadness that we have to create this fundraiser for our cousin Felicia Martinez and Abel Lopez," organizer Stephanie Harris wrote on the page. "Her son was tragically taken along with so many other precious angels today in Uvalde."
A fundraiser organized by Rico Hernandez has raised just over $14,000 so far.
"Los Verdes Supporter Group (Austin, TX) is raising funds for the families in Uvalde, TX, affected by the horrific school shooting at Robb Elementary," that page says. "Our thoughts and prayers are with all those affected by this event, and we are actively working with the city council members of Uvalde on making sure these donations go directly to those families."