President-elect Joe Biden's vows to prioritize democracy and human rights abroad, as well as taking a tougher stance on China, are bad news for the Chinese Communist Party and good news for the minority groups and pro-democracy activists being crushed by Beijing.
On the campaign trail, Biden sought to dispel fears he will resurrect the naive commercialist policies of past administrations that helped the CCP entrench its authoritarian rule and expand its influence. Next month it will be time to deliver.
President Xi Jinping had amassed power in the capital since coming to power in 2013, using it to unapologetically suffocate any hint of internal dissent or desire for political reform. Perhaps the most brutal and totalitarian policies have been inflicted on Xinjiang, the far-western province home to minority Muslim groups like the Uyghurs.
For the Uyghurs and other minority groups, a great deal is at stake over the coming four years. As the world waits to see what path Biden will take on China, activists are urging the incoming team not to forget what is happening in Xinjiang.
"Some Uyghurs are concerned, are worried because of the China-friendly position that the upcoming administration might have," said Jewher Ilham, a Uyghur activist and the daughter of economist Ilham Tohti, who is jailed by the Chinese government.
"But also there are Uyghurs holding lots of confidence and hope in the upcoming administration," she told Newsweek, "and they do believe that the new one will do better. There are two different voices."
Peter Irwin, the senior program officer at the Uyghur Human Rights Project, told Newsweek there was concern about what direction the Biden administration will take, given his commitment to dialogue and multilateral action.
"The Uyghur community in general—they're a little bit wary, I think, because there has been so much action over the past four years," Irwin said, adding it is hard to say how much credit for such action can go to the Trump administration.
Right now, the Biden administration is somewhat of an "unknown" for the Uyghur community, Irwin said, following four years of quite clearly China-skeptic policy. "They know that there's been consistent pressure and at the very least, people in the administration who are speaking loudly and clearly about opposition to this."
For the UHRP's part, though, Irwin said he doesn't believe "we have any reason to be too concerned." This in part because of the broad bipartisan support the issue has drawn in Washington, he explained.
Irwin said the UHRP is also encouraged by signs that Biden will be better able to command a broad coalition of nations in pushing back on China, something Trump showed little interest in doing alongside his unilateral America-first agenda.
"You simply need to be maintaining good relationships with the [European Union], for example, with other countries who are supportive of you," Irwin said.
More than 1 million people are believed to have been imprisoned in re-education centers—or concentration camps, to China's critics—in Xinjiang to ensure loyalty to the CCP and erase a separate cultural identity considered a threat by Beijing.
Outside the camps, the CCP has established a fearsome security state to surveil and oppress Xinjiang's residents. Modern technology is used to track residents and look for any signs of opposition, underpinned by reportedly invasive home searches and arbitrary arrests by security agents.
Meanwhile, homes, cemeteries and mosques have been demolished as part of the CCP's effort to wipe out any sign of an alternative to the dominant Han Chinese culture. Critics have described the campaign as cultural genocide.
China has consistently denied it is oppressing minority groups or erasing competing cultures. Officials claim the camps are vocational centers used to re-train inmates and battle extremism.
They argue they are a necessary antidote to the influence of violent separatist and Islamist groups that have launched attacks on Chinese citizens across the country, killing dozens. Critics say the camps are a disproportionate response to such attacks and a grave human rights abuse.
President Donald Trump's administration has spoken out against the oppression of Xinjiang as part of its China-skeptic strategy. Secretary of State Mike Pompeo has described the campaign as "truly the stain of the century," while Vice President Mike Pence has said Americans stand in solidarity with those being oppressed.
Trump himself signed the Uyghur Human Rights Protection Act, which was passed with overwhelming bipartisan support and directs the U.S. to address the human rights abuse in Xinjiang.
But the president reportedly gave the issue short shrift in private according to former national security adviser John Bolton, encouraging Xi to keep building camps and detaining Uyghurs if it meant Trump could secure his long-desired trade deal.
This disconnect between rhetoric and action has been a common theme of Trump's time in office, whether on domestic or foreign policy. Irwin said he hopes the next administration will have a clear and consistent line on China and the Uyghur issue.
"It's been hard to watch sometimes when you have people in the administration who clearly care about the issue, and they speak loudly, but there's a little bit of perhaps incoherence from the top," he explained.
Ilham also lauded those in the Trump administration she worked with who "actually do genuinely want to help," though noted: "I'm sure some of them had other purposes."
Biden will have to juggle a host of China-related issues. To make progress on climate change, he may have to compromise on trade. To advance arms control, he may have to make sacrifices on human rights. Much remains unclear, but China will certainly seek to use its leverage wherever it can.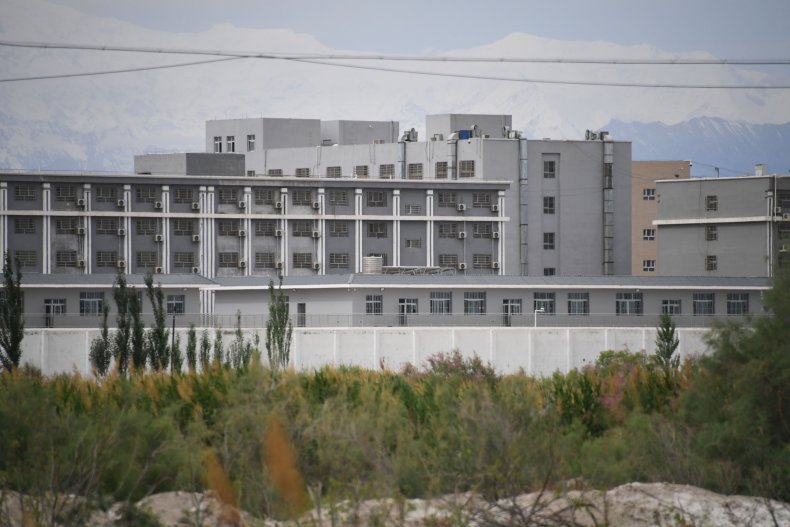 This is part and parcel of international relations, though Irwin said groups like the UHRP will continue to hold officials' feet to the fire.
"You have Trump saying that, look, we're not going to do anything about the Uyghurs because we want to get a trade deal. In any administration, that's not acceptable for us," Irwin said. "I know that's not how the world works, but you need to be able to separate human rights from your trade policy."
"You can have both conversations at the same time," Irwin added, urging Biden's team to keep bringing up human rights issues even on the sidelines of others. "So that's what we'd like to see, with a more coherent policy in terms of engagement," he said.
"We'll see what happens in January, February to see if they actually do pursue this," Irwin said. Biden spokesperson Andrew Bates already characterized the Xinjiang oppression as "genocide" in August, raising hopes the incoming administration will give the issue due weight.
"You can say that very easily in public, if you're not in the administration," Irwin said. "It's a little bit tougher to make that call" from inside the White House, he added.
Ilham suggested some specific measures that would assuage Uyghur fears of being forgotten by the incoming administration. The first is enforcing the Uyghur Human Rights Protection Act and ensuring its mandated reports are delivered to Congress
The second would be supporting the Uyghur Forced Labor Prevention Act, now awaiting a Senate vote having been approved by the House despite opposing lobbying efforts from major corporations like Nike and Coca-Cola.
Ilham also praised the Customs and Border Protection order blocking imports from the Xinjiang Production and Construction Corps, a state-owned economic and paramilitary organization benefiting from the oppression of the Uyghurs and others. "It will be very important to make this a priority agenda item for the Biden administration," Ilham said.
"We are happy with the momentum we are seeing now with this withhold release order—it was a really critical step," Ilham said of the CBP action. "The Uyghur community and the international human rights and labor rights community are urging the Biden administration to center this as an important agenda item in the upcoming term."
Meanwhile, the advocacy continues on behalf of those imprisoned in Xinjiang. The international community is certainly more aware of and outraged by the camps than this time for years ago, but forcing a nation as large and wealthy as China to compromise on its ideology is a daunting challenge. Beijing's riches and strategic significance dissuade even Muslim nations from speaking out against what is being done to their co-religionists.
"People are actually paying attention," Irwin said. "But it's hard to say you make progress...How can you say you've made progress when there's camps there and people can't speak to their families, and you have basically a genocide happening?"
Ilham concurred. "I haven't seen any positive changes yet, but I think it's a matter of time," she said. "And in order to really make a huge change we will need other people to be united and help China to behave better."
The Biden transition team did not reply to Newsweek's request for comment on the Uyghur issue and the incoming administration's plan to address China's policies in Xinjiang.