'V Wars' on Netflix: Ian Somerhalder on How the Series is Different From 'The Vampire Diaries'
Two years after hanging up his fangs as Damon Salvatore on The Vampire Diaries, Ian Somerhalder is back in vampire series V Wars, coming to Netflix on December 5. However, the series has a very different feel from his former show, which ran for eight years on The CW.
"It's such a different scope," Somerhalder told Digital Spy, "I would like to think I learned a good bit after eight years of television in this genre. I love this genre. It has been very good to me. But also, it's so unique. It's so vast. There's so much you can do with it." He later added, "We're leaning into aspects of the horror genre, which they work very well together."
In The Vampire Diaries, Somerhalder played vampire Salvatore, while in V Wars he is on the human side, fighting a virus that is turning people into vampires with a desire to feast on human blood. However, these vampires are nothing like those in The CW's show. "These creatures are f***ing scary," he said of the Netflix show's monsters.
"Like, in The Vampire Diaries, they're sexy, they're cool even when they're turned, they can still make jokes. These are murderous creatures. None of them want to be. But if you were in a room with one of these people, first of all, you probably wouldn't make it out, but you would run for your life."
Asked by Cinema Blend why he decided to return to the world of vampires, the former Lost actor said, "In all honesty, when my agent and manager brought this to me, of course, initially I went, 'Guys, there's no way that we can continue in this genre.' And then they very quickly reminded me, as did my wife, that this was a completely different take."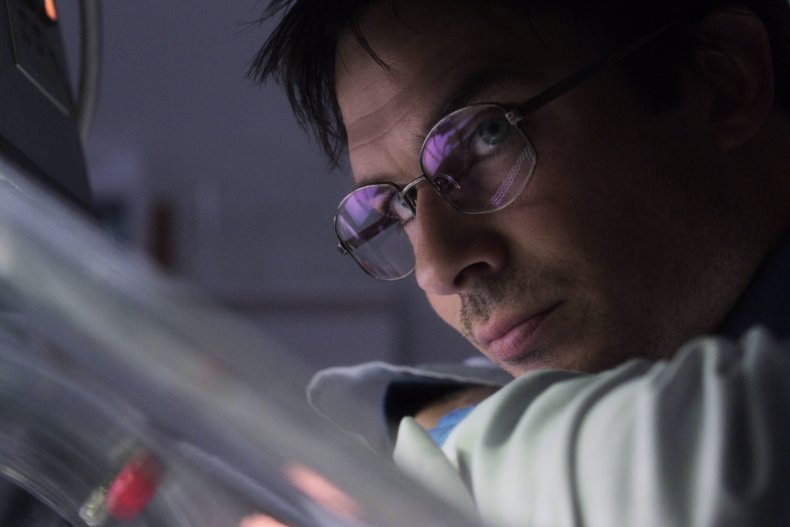 "This was a totally different view of this genre, and it's a grounded view with a best-selling author with five amazing books, and a graphic novel to back it up and to pull and mine from, and this character wasn't a vampire. This character is a scientist," said Somerhalder.
Somerhalder described his character Dr. Luther Swann in a TVLine interview as someone who is "going to be fighting his way tooth and nail to not only stay alive to protect his son, but as a doctor, as a research physician, and as a scientist, he wants to protect people and he wants to save people."
"He's an infectious disease specialist. He's literally catapulted into this world and he's forced under really tough circumstances to try and find a cure because his best friend in the world is infected," said Somerhalder.
Whether he succeeds will be revealed when the series is released on Netflix on Thursday, December 5, with all 10 episodes available to stream.