Veterans Groups Accuse Trump Administration of Dereliction Over Changing VA's 'Outdated and Sexist' Motto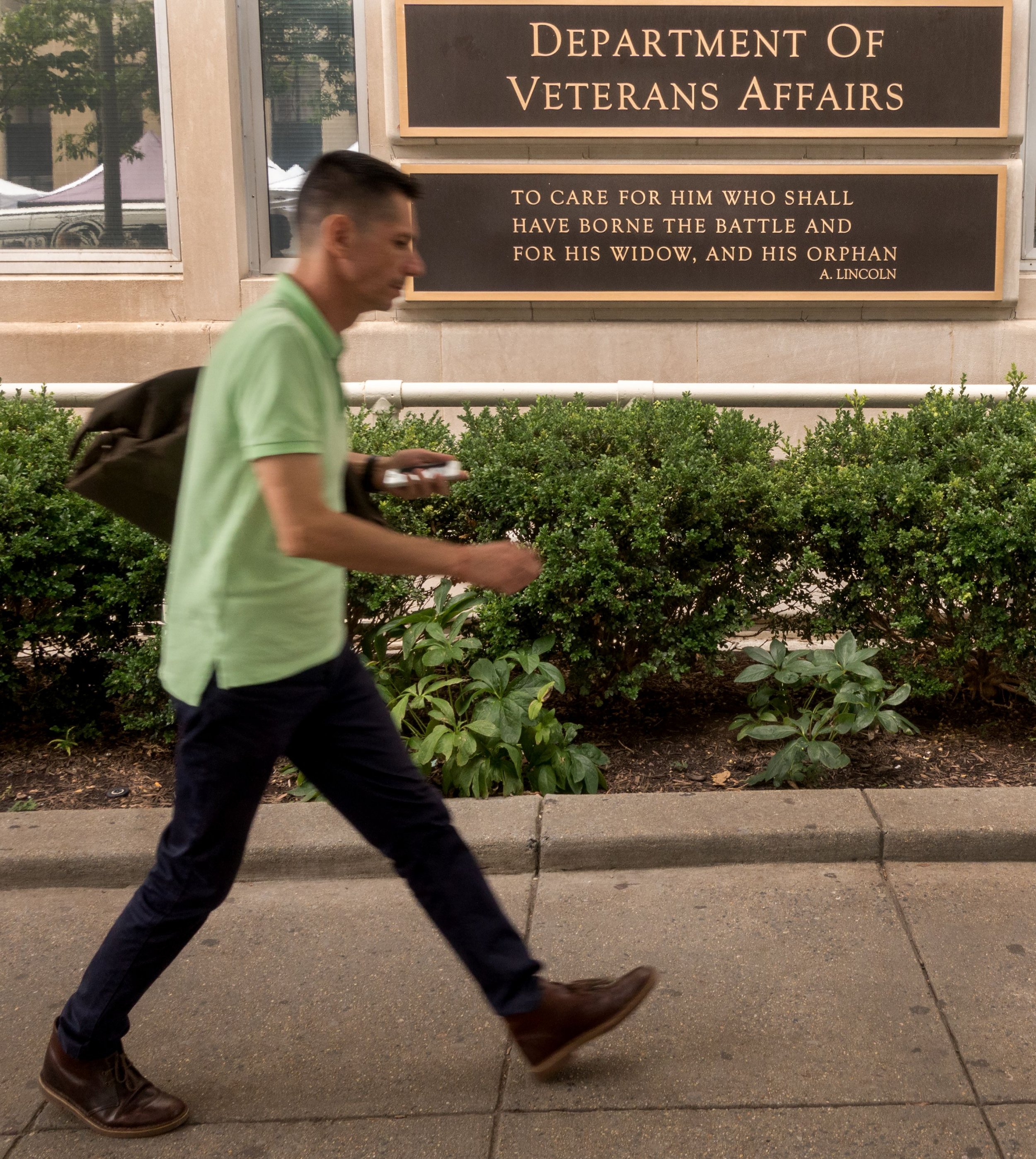 As a new monument is set to be dedicated to the military service of women in New York on Saturday, veteran advocacy groups accuse the Trump administration and the current leadership at the Department of Veterans Affairs of stonewalling a change to the agency's "outdated and sexist" mission statement.
The demand for revision centers on the 1865 quote from President Abraham Lincoln made during his Second Inaugural Address and which became the VA motto in 1959: "To care for him who shall have borne the battle and for his widow, and his orphan."
Veteran groups contend that the motto is gendered and fails to recognize the sacrifices and service of more than two million women veterans and their families, according to a press release given to Newsweek Thursday night.
"The time to act is now" said Paul Rieckhoff, founder and CEO of IAVA in the statement. "The unveiling of the Women Serve monument at Calverton National Cemetery is an important time to recognize and support women veterans."
"A long overdue motto change would do the same on the biggest level possible. By finally making this change, President Trump and VA leadership can mark a powerful commitment to creating a culture that acknowledges and respects the service and sacrifices of women veterans," Rieckhoff said.
Yale Law School's Veterans Legal Service Clinic is acting on behalf of the Iraq and Afghanistan Veterans of America (IAVA), the largest organization representing post-9/11 veterans, along with the Service Women's Action Network and the New York City Veterans Alliance as they petition both President Donald J. Trump and his newly minted VA Secretary Robert L. Wilkie Jr., to change the motto.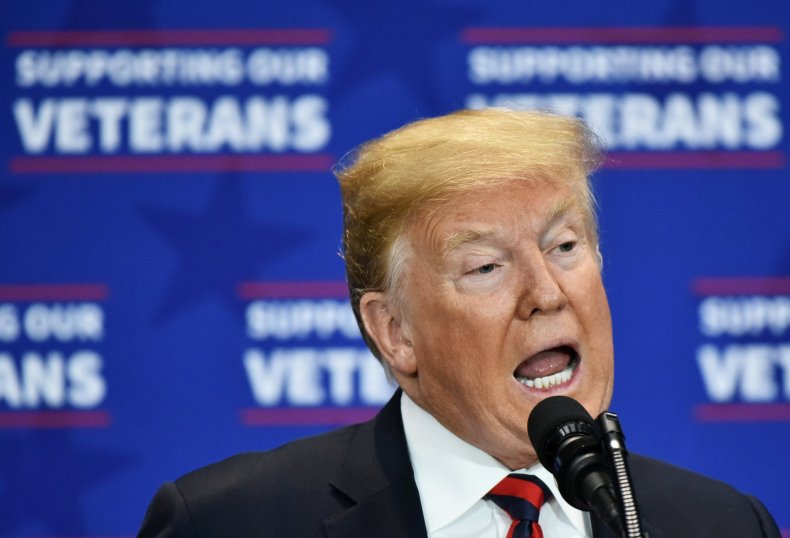 If successful, the petition would trigger an informal process within U.S. government agencies known as "notice and comment," which is used to create new administrative regulations or to modify or repeal agency policy.
For federal agencies like the VA, a notice of the proposed rule has to be published in the Federal Register, the daily journal of the federal government.
While there are no guarantees the new rule would be adopted to ultimately change the motto, it forces the Trump administration and the VA to take a position as to why the change would not occur—the results would also be published in the Federal Register.
"The mere fact that we have to fight to ensure that the VA's motto recognizes women veterans and survivors of fallen women service members is mind-boggling and something I never could have anticipated," said Allison Jaslow, a former U.S. Army captain, who previously served as IAVA's executive director until earlier this year.
"The motto is not only emblematic of the cultural barriers that women face at the VA, but the resistance to this simple request is indicative of how the agency is utterly out of touch with the changing face of America's veteran population," Jaslow told Newsweek by phone on Thursday evening.
In a report published earlier this year, many female combat veterans said VA doctors disparaged their service at VA facilities and were skeptical about their war experiences.
The more than four-year study into VA mental health services published by the National Academy of Sciences, Engineering and Medicine found instances of women being catcalled in VA facilities where some were seeking treatment for military sexual trauma, according to the report first written about by Stars and Stripes.
A VA clinician in Cleveland, Ohio, quoted in the report said, "The last thing [female veterans] want to do is go to the clinic or the medical center and sit around in a waiting room with a bunch of people who look like potential perpetrators," the report states. In East Orange, New Jersey, another clinician said, "I think there are many, many people who fall through the cracks and don't want to come here because they associate it with the very culture that traumatized them. That's a huge barrier to treatment."
The fight to change the VA's motto started in March 2017 as IAVA rolled out the #SheWhoBorneTheBattle campaign to highlight the outdated motto and underscore how women veterans were being alienated by the government agency designed to care for them after transitioning out of the armed forces.
Veteran groups met with former VA Secretary David Shulkin and Kayla Williams, once an Army intelligence specialist but who then served as the director of the Center for Women Veterans at the VA. Williams left the VA this past July to become the director of the Military, Veterans and Society program at the Center for a New American Security.
In November 2017, IAVA pressured Shulkin to change the motto, describing it as "sexist and outdated." A response by the VA this past January, two months later, said the motto was representative of "the heart of our noble mission."
Determined not to be discouraged, veteran groups continued to press on and began to garner positive results as signs began to emerge that indicated that the VA was open to the idea of modifying Lincoln's 1865 motto—a common practice that had already occurred over the last 15 years at the U.S. Air Force Academy; the U.S. Naval Academy; and the U.S. Military Academy at West Point as official signs, school slogans and academy hymn lyrics have been modified to gender-neutral terms, according to IAVA.
In a letter to Jaslow from Williams on February 2, and first reported by Stars and Stripes earlier this year, Williams wrote, "Recognizing that they can seem exclusionary to some women veterans, for many years I—along with other senior VA leaders—have honored the population we serve today by using a modernized version [of Lincoln's words]."
"This symbolic update, which we are continuing to gradually incorporate alongside the original in digital and print materials, as well as spoken remarks, is an important acknowledgement of today's veteran population," Williams wrote.
However, four days later, Williams's sentiments would be undercut by Shulkin's spokesman, Curt Cashour, who said the VA would continue to use Lincoln's quote as its motto, "unchanged." Cashour added, "VA is proud of Lincoln's words as a historic tribute to all Veterans, including women Veterans, whose service and sacrifice inspires us all."
In February, The Washington Post reported that the VA had planned to modernize the motto, but was reversed. In a document posted on the VA's official website that outlined the department's objectives through 2024, officials quickly noticed that the motto had been edited without authorization. The document was removed a day later from the website.
An email obtained by Newsweek from July 23 shows that Jacquelyn Hayes-Byrd, the acting chief of staff for the VA, blasted out official department policy throughout the entire agency, saying, "To ensure consistency and clarity across the Department, I am reminding all Administrations and Staff Offices that our mission statement is President Abraham Lincoln's direct quote from his 1865 second inaugural address, 'To care for him who shall have borne the battle and for his widow, and his orphan.'"
The message goes on to state that the use of "him" in Lincoln's quote is assumed to be gender neutral in this "historical usage and context."
"VA is proud of Lincoln's words as a historic tribute to all Veterans, including women Veterans, whose service and sacrifice inspire us all," said Hayes-Byrd. "This mission statement is effective Department-wide. Administrations and Staff Offices may not paraphrase it or alter it on official VA documents or in external or internal presentations."
The email prompted an interesting remark from Tony McClain, a staff director who works on the Senate Committee on Veterans' Affairs, who said in an email: "Now they're just being obnoxious…."
Shulkin, an Obama holdover and appointed to lead the VA by Trump in 2017, was drummed out of office back in March after a damning inspector general report slammed Shulkin for wasteful spending and unethical behavior during a 10-day official department trip in the summer of 2017.
A week after Hayes-Byrd's letter, Wilkie, an intelligence officer in the Naval Reserve and nominated to work at the Defense Department by former President George W. Bush, assumed office as the 10th VA secretary.
It is not known where Wilkie stands on the position of changing the motto, but in August, Wilkie, in a speech during a VA Central Office Town Hall in Washington, D.C., said, "The active duty force is 17 percent composed of America's fighting women. That means there's a change coming here for our VA. That all goes to show you that I've been around a while, and I've been privileged to see a lot that has happened."
Ellen Haring, the CEO of Service Women's Action Network, said Friday she asked Wilkie about changing the motto while he was addressing their group in Atlanta, Georgia in September. Wilkie, however, declined to comment.
Newsweek reached out to the White House for comment on Friday, but was referred to the VA prompting condemnation from IAVA.
"That sad response is the ultimate abdication of responsibility," Rieckhoff told Newsweek. "The VA answers to the White House, and the buck stops with the President."
"The latest suicide number released by the Defense Department show how many women vets we're losing to suicide every day, and we need the Commander-in-Chief to lead on this issue now," Rieckhoff said.
More than 345,000 women have deployed since the September 11, 2001 terrorist attacks, according to IAVA. The VA reported last month that in 2016, the suicide rate for women veterans was 1.8 percent higher than for civilians.
Last week, James Byrne, the acting deputy secretary who served as VA's general counsel, brushed off the motto question last week during a meeting with IAVA representatives in Washington, D.C.
"Lincoln's words serve as an historic tribute to all Veterans, including women Veterans, whose service and sacrifice inspires us all," Cashour said in response to an inquiry by Newsweek on Friday. "They are a timeless and poignant reminder of the debt America owes all who have worn the uniform. VA will review the petition and respond appropriately."
Editor's note: This article has been updated to reflect a response from Curt Cashour, the press secretary for the Department of Veterans Affairs.