Va. Gov. Ralph Northam Requires Masks Indoors, Ties COVID Spread to Religious Services
Virginia Governor Ralph Northam announced Thursday a new set of rules to prevent the spread of the coronavirus, including a strict indoor mask requirement, and tied some of the state's virus spread to people not wearing masks during religious services.
During a press briefing, Northam told reporters that while most places of worship have implemented safety measures, the ones that have not have contributed to a rise in coronavirus cases.
"Quite frankly, we know that a lot of the spread is coming from this because individuals that are in places of worship and contract the virus then go out to their place of work, or to the grocery store or convenience store, and that's how it spreads," he said.
Northam pleaded with worshippers and faith leaders to practice safety guidelines ahead of the holidays but said he would not implement any new restrictions. He cited a Supreme Court case that struck down New York state's ability to limit attendance in churches.
"We are following suit with that," Northam said.
Alena Yarmosky, a spokesperson for the governor, wrote in an email to Newsweek that Northam is "asking folks to practice their faith as safely as possible, whether that means social distancing in person, doing virtual services or even drive-in worship."
During the press briefing, Northam encouraged faith leaders throughout the state to "do the right thing" and set an example so worshippers comply with safety guidelines.
"I call on our faith leaders to lead the way and set an example for their members. Worship with a mask on is still worship. Worship outside, or worship online, is still worship," he said.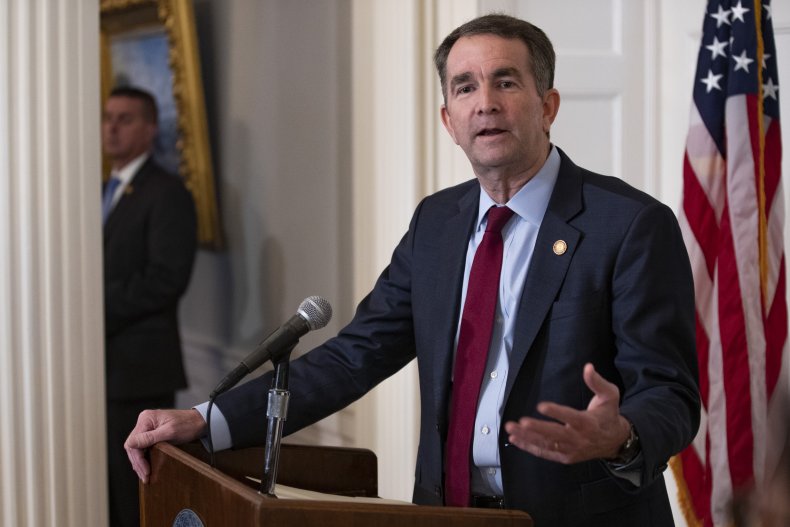 He asked worshippers to think about attending indoor services, saying that "you don't have to sit in a church pew for God to hear you."
"This year we need to think about what is truly the most important thing. Is it the worship or the building? For me, God is wherever you are."
As part of the effort to curb the virus's spread, Northam expanded on the state's previous mask recommendation by issuing a mask requirement for all indoor public spaces, from December 14 through January 31.
"If you could stop just one case by wearing a mask or staying home when you didn't have to go out, it would help us so much. If everybody did that for one person, I think we could stop this," the governor said, quoting a Virginia health care worker.
In addition to religious services, Northam cited restaurants and grocery stores as places where people have not been wearing masks.
"I can't understand why anyone would want to flaunt these rules, because they make such a big impact and they are really easy. Stay home, and if you need to go out, wear a mask. That's it," he said.
Along with a mask requirement, the state has limited social gatherings to 10 people, set a curfew from midnight to 5 a.m., encouraged all Virginians to work from home when possible, and limited capacities for both indoor and outdoor sports.
The new restrictions come as coronavirus cases continue to rise in Virginia. According to a New York Times database, there have been at least 271,043 cases and 4,335 deaths in the state since the beginning of the pandemic.