'Vacations are Ruined': Flight Canceled After High School Students Refuse to Wear Masks
Passengers on an American Airlines flight had a major setback to their vacations Monday when a group of high schoolers refusing to wear masks on the plane caused their flight to be canceled.
American Airlines Flight 893 departing from Charlotte Douglas International Airport in Charlotte, N.C. was carrying passengers heading to the Bahamas.
The 9:30 a.m. flight to Nassau was first delayed due to mechanical issues, which caused the passengers to be put on a new plane, WSOC-TV reported. Once aboard the new plane, passengers reported that a group of high schoolers started cursing, yelling and refusing to put on masks.
"Some people's vacations are ruined. They were only going for a couple of nights. Now, they have to get rebooked," passenger Stephanie Krzywanski told the local station.
American Airlines still has a face-covering policy in place on all flights due to CDC guidelines and a federal mask mandate. Passengers are asked to keep masks or face shields on at all times, even while sleeping on the plane. According to American Airlines' guidelines on face-coverings, passengers may be asked to leave the flight if they do not comply.
The airline makes exceptions for customers with disabilities if proper documentation is provided in advance and a negative COVID test is given.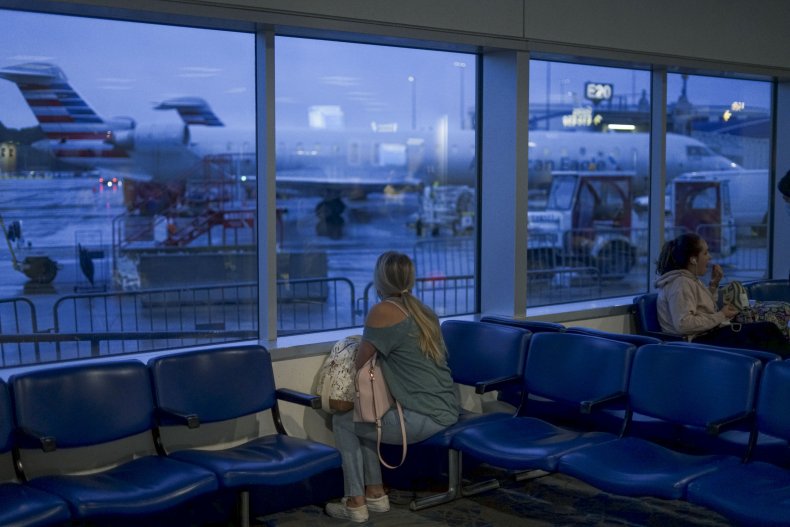 "Prior to departure on July 5, passengers traveling on American Airlines Flight 893 from Charlotte (CLT) to Nassau, Bahamas (NAS) were reported to be noncompliant with the federal mask mandate, became disruptive to other customers and refused to follow crew member instructions while onboard," Ameican Airlines spokesperson Andrew Trull told Newsweek. "Per procedure, the customers involved were asked to exit the aircraft. We expect our customers to comply with our policies when they choose to fly with us, and we take action when that is not the case."
The airline told Newsweek that the group of more than 30 Boston-area high schoolers was reminded of the policy multiple times by crew members on the plane.
"All they had to do was follow the rules, put the mask on, sit there. No smart-mouth comments. And they couldn't do it," passenger Christina Randolph told WSOC-TV. Randolph is a nurse who was headed for a long-awaited vacation.
"Everyone has to follow the rules. Nobody likes it. Nobody wants to sit around and do this, but you've got to follow the rules," Krzywanski said.
Trull said the flight was canceled and moved to Tuesday morning. All of the passengers were offered local hotel vouchers. Due to their age, the high schoolers spent the night in the airport, WSOC-TV reported.
"After having a conversation with the group, our team at CLT confirmed with the customers that they can travel if they agree to comply with the face-covering policy," Tull said. "The customers ultimately agreed and were allowed to continue to NAS this morning."