Vacaville Evacuations: Fire Forces People From Homes in Solano County, California, as More Than 32,000 Acres Burn
Evacuations are in place for swaths of Vacaville, California, as the LNU Lightning Complex wildfires continue to burn through more than 32,000 acres.
The Vacaville Fire District ordered evacuations for all of English Hills Road, Pleasant Valley Road and its connecting streets, Quail, Miller, Mix and Gates Canyons. Threatening the area is the LNU Lightning Complex, a cluster of seven different lightning-sparked wildfires burning near each other.
An evacuation order means there is an immediate threat to life, the Solano County Sheriff posted on Twitter. Additional orders were issued for west of Blue Ridge Road to 505 and north of Cherry Glen Road to Highway 128.
Collectively, the LNU Lightning Complex burned through more than 32,000 acres as of Wednesday morning and was zero percent contained. More than 500 people were assigned to fight the group of fires.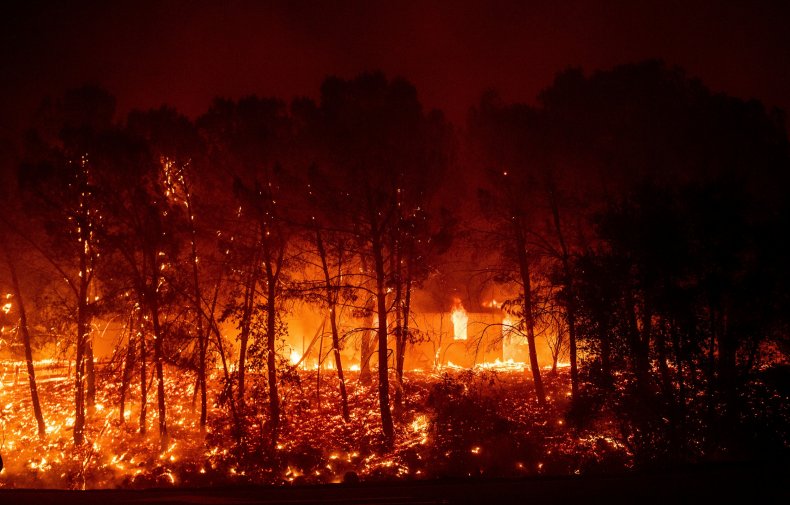 Three structures have been destroyed, all by the Hennessey Fire, which has burned some 10,000 acres. The Gamble Fire has burned the same amount of acres, followed by the 15-10 fire, which is the third-largest at 8,000 acres.
The California Department of Forestry and Fire Protection (Cal Fire) doesn't have an estimated date for when the fire could be contained and multiple evacuation centers were established. In Vacaville, residents forced to evacuate could find refuge at the Ulatis Community Center and McBride Community Center, according to KGO-TV, and large animals can be taken to the Solano County Fairgrounds in Vallejo. Smaller animals were welcome at the Solano County animal shelter on Claybank Road.
KPIX reporter Katie Nielsen, who was reporting from Pleasant Valley Road and Pleasant Hills Ranch Way, posted on Twitter that it seemed like people were forced to evacuate "in minutes with little more than the clothes they wore to bed."
Nielsen added in a subsequent tweet that firefighters' focus is on saving lives and police were going door to door to tell people to evacuate. A woman named Diane, who she interviewed, said she ran almost a mile from her house to the main road in just her nightgown.
"Based on what I saw tonight, this will not be the only story like this. People literally ran for their lives," Nielsen posted on Twitter.
Posing a challenge to firefighting efforts is the "extreme fire behavior" and short and long-range spotting, according to Cal Fire, and the multiple fires burning in the area are stretching air resources thin.