Vaccinated Alaska School Employees to Get Extra Paid Leave if They Test Positive for COVID
School district employees in Anchorage, Alaska, who are fully vaccinated are now eligible for up to 10 days of paid time off if they test positive for COVID-19, according to a recent district memo.
The Anchorage School District's chief human resources office sent a memo last week to district supervisors, principals and timekeepers stating that employees will have to show a positive coronavirus test and proof of vaccination to be eligible for the new leave, the Anchorage Daily News reported Sunday.
Employees who are not fully vaccinated but test positive for the coronavirus will not be eligible for the paid time off, according to the news outlet. In a survey conducted by the Daily News in March, over 80 percent of teachers and other staff members in the school district said they were fully vaccinated, though vaccines are not mandated.
"Many district employees are vaccinated, which contributes to a safe school start and minimizes classroom/school disruptions, and protects staff and student health," a school district spokesperson told the news outlet.
The new paid leave initiative comes as COVID-19 cases in Alaska are continuing to soar due to the highly contagious Delta variant, even among vaccinated people.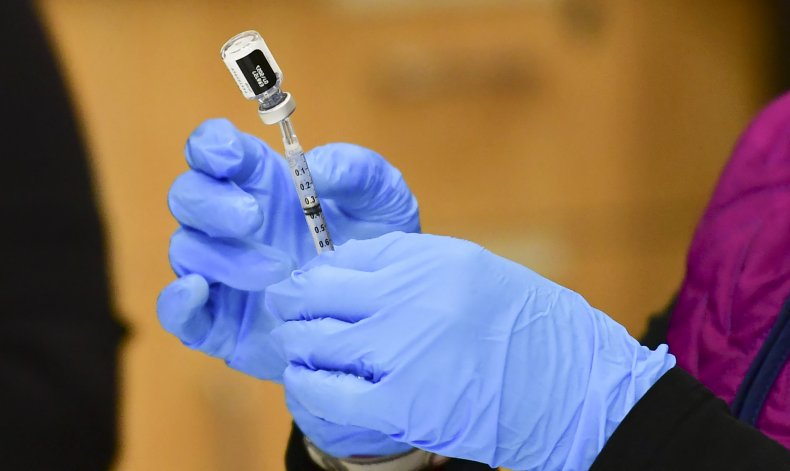 According to a July report from the Alaska Department of Health and Social Services, vaccinated people accounted for nearly 30 percent of new coronavirus cases that month. However, the state's July report also found that unvaccinated Alaskans were 7.5 times more likely to be hospitalized than vaccinated people.
In general, Alaska is experiencing one of its worst COVID-19 outbreaks since the pandemic first began. Last week, the state recorded over 1,000 new cases in one day, marking one of the highest levels its seen since the virus surged last winter. As of Monday, the state is reporting an average of over 500 cases per week, up 62 percent from the past two weeks, according to a New York Times database.
On Friday, emergency room workers in Anchorage told the Alaskan radio station KTOO that hospitals are understaffed and nearing full capacity with COVID-19 patients.
"We are on the verge of a hospital system collapse," Dr. Andrea Caballero, an infectious disease doctor who also works at Providence Hospital, told KTOO. "And that happens when you have the right number of patients and acuity, staff burnout, which leads to staff shortages, and supply shortages. This is a very, very imminent reality," she added.
In response to the surge in cases, the state's Republican governor, Mike Dunleavy, encouraged residents to have a conversation with their doctor about getting vaccinated.
"We know what we need to do. People know what they need to do," Dunleavy said last week, according to the Associated Press. "They need to have conversations with their doctor and make a decision if that's what they want to do. If they don't, then they have to understand that they run the risk of getting infected, especially with this variant that is highly contagious."
As of Monday, 47 percent of Alaska's population is fully vaccinated against COVID-19, while 54 percent have received at least one dose, according to The New York Times.