Vaccinated Oklahoma Teacher Blames COVID Infection 'Squarely' on Lawmakers, Gov. Stitt
A high school teacher from northwest Oklahoma City, Oklahoma is blaming state lawmakers and GOP Governor Kevin Stitt for passing Senate Bill 658 earlier this year—a bill he said lead directly to his COVID-19 infection.
Aaron Baker, who teaches social studies at one of Oklahoma's public schools, alleges that he contracted COVID-19 at school after returning for the new school year.
SB 658, which Stitt signed into law in May, bans schools in Oklahoma from implementing mask mandates unless the governor declares a state of emergency.
Listing every co-author of SB 658 and every state senator or representative who voted for the bill, Baker wrote, "I want to be as clear as I possibly can. The blame for me contracting COVID-19 lies squarely with the following people."
Baker stated that he did not blame his school, the school's administration, the district's elected officials, unmasked students or even unvaccinated colleagues, but went on to put the majority of the responsibility of his infection onto the governor.
"Last but not least, blame lies firmly with Governor Kevin Stitt, who continues to refuse to respond to our ever growing medical crisis in Oklahoma caused by the Delta variant," Baker wrote in a Monday blog post.
"I have absolutely no doubt that if Gov. Stitt had declared a state of emergency three weeks ago when it was clear that numbers would continue to rise, then my district would have kept our mask mandate in place from last year, and I would not be sitting here with a fever and an ache that is almost enough to overpower and silence my anger and frustration," he added.
State Senator Rob Standridge, who co-authored SB 658 and who is named by Baker in the post, slammed the teacher for "blaming children's freedom not to wear masks for your illness."
"Here's a thought, for those working around children and are very concerned of contracting an illness they can wear two masks (although probably different type/method than the teacher mentioned as his mask did not seem to work), the second [mask] for the children/students to prevent the aforementioned known and potential harms to these children they are entrusted with," Standridge wrote in a statement to Newsweek.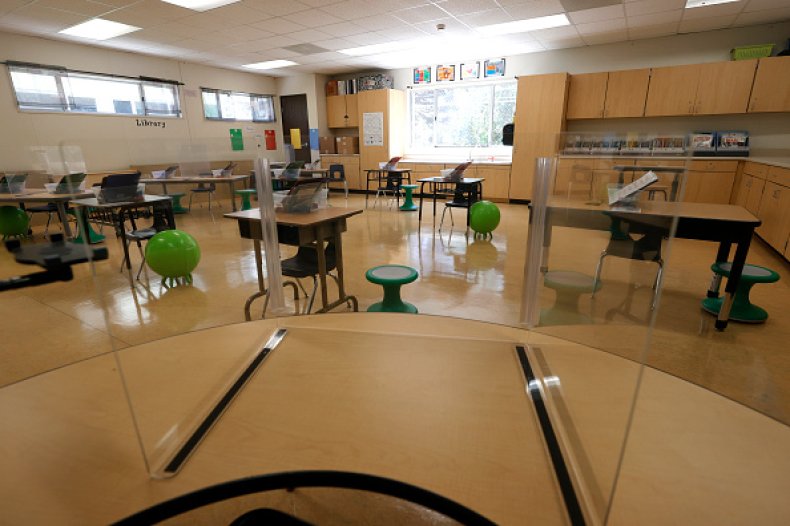 The vaccinated teacher said it was "undeniable" that he contracted the virus at school because his "exposure level elsewhere pales in comparison."
Baker, who says he wears a mask at school except for when he lectures behind his standing desk, wrote that began feeling sick on the eighth day back to school after he noticed his throat had become sore during lunch time.
"Around 3:30 p.m. at the end of the school day, I felt strange enough to seek out a test and begin a self-quarantine from my family. This is not a story about the ineffectiveness of masks and vaccines. Quite the opposite," the teacher wrote.
He continued, "This is a story about the state of Oklahoma jeopardizing my health and creating a massive occupational hazard for public school educators and students statewide."
He said he is currently experiencing minor symptoms like a cough and sore throat.
Baker claimed that because Oklahoma lawmakers refused to allow school officials from instituting a mask mandate amid the spread of the highly transmissible Delta variant, they not only caused his battle against COVID but robbed him from his ability to teach in-person after a year and a half of teaching virtually.
"Shame on you Senators, Representatives, and Governor. Shame on you for creating an environment in my workplace where I can not adequately protect myself from infection," Baker wrote.
"Shame on you for placing all of Oklahoma's students in danger of suffering the same fate as me. Shame on you for blindly parroting talking points about 'woke school boards' and the 'tyranny of mask mandates,'" he added. "Shame on you for hating Oklahoma public schools so much that you are willing to risk the lives of students and educators in your effort to defund public education. And shame on you for separating me from my students, with whom I was just beginning to form new relational bonds."
Baker is not the only person to speak out against SB 658.
The Oklahoma State Medical Association and a group of parents are pursuing a temporary injunction against the law in a suit where the plaintiffs have declared SB 658 a violation of the state's constitution.
State Democrats have also filed legislation, House Bill 2967, also known as the "Safe at School Act," to reverse the bill banning mask mandates.
Both the legal and legislative efforts against Oklahoma's current law are pending.
Newsweek reached out to Stitt's office for comment but did not hear back before publication.
Update (08/25/21, 4:30 p.m. ET): This story was updated with comments from Standridge.