Watch: Anti-Vaxxer Hijacks Microphone At Utah Congressional Debate: 'Vaccines Cause Autism'
An anti-vaxxer jumped onto the stage of a Utah congressional candidate debate Monday and yelled "vaccines cause autism" into the microphone as the GOP candidate gave his closing remarks.
Corbin McMillen, a California resident, interrupted the 2nd Congressional District debate between Republican Rep. Chris Stewart and Democratic challenger Shireen Ghorbani at Dixie State University. The St. George News reported that McMillen was quickly apprehended by campus police after a raucous congressional debate that was disrupted by several other audience members booing and shouting throughout the event. Both Stewart and Ghorbani exchanged views on health care and social programs before McMillen briefly hijacked the microphone.
Stewart, the incumbent Republican who was first elected to the U.S. House seat in 2012, was giving his closing remarks when suddenly McMillen emerged and leaned into his podium to yell, "vaccines cause autism." Stewart said he thought McMillen was a technician coming to fix his microphone before he blurted out his opposition to vaccinations.
Video from KSTU-TV showed a confused Stewart smile and ask, "Please sir, can we get security?" before McMillen was briskly removed by event staff and police.
Debate moderator and Deseret News editor Doug Wilkes had repeatedly urged several audience members to stop interrupting the candidates as they spoke. The St. George News reported a second man was yelling "Utah supports families" as Stewart and Ghorbani debated health care. He quickly walked to the exit door before event staff could remove him from the debate room.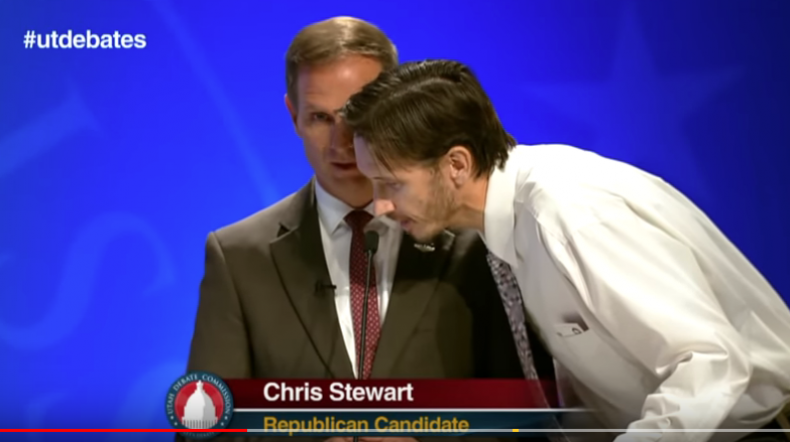 Washington County arrest records show McMillen, of Citrus Heights, California, was charged with a misdemeanor for disrupting an official meeting as well as a disorderly violation for causing public alarm. Dixie State University Police records show McMillen paid the $680 fine.
Researchers from the National School of Tropical Medicine at the Baylor College of Medicine released a study earlier this year identifying Utah counties with some of the country's highest rates for nonmedical vaccine exemptions. Among the "pockets of intense anti-vaccine activity" throughout the U.S., Dr. Peter Hotez and his colleagues warned of the dangers stemming from parents opting out of giving their children vaccination shots.
"Since 2009, the number of 'philosophical-belief' vaccine nonmedical exemptions has risen in 12 of the 18 states that currently allow this policy: Arkansas, Arizona, Idaho, Maine, Minnesota, North Dakota, Ohio, Oklahoma, Oregon, Pennsylvania, Texas, and Utah," the study said.