Vaccination Proof Repeal Doesn't Stop Some Businesses From Keeping Tabs
Several cities and counties across the U.S. are beginning to lift local COVID-19 precautions, but not all businesses are ready to follow suit.
Business owners contacted this week by Newsweek said they don't know exactly when they will be ready to lift proof of vaccination requirements for their customers, largely due to the unpredictable nature of the coronavirus thus far.
Last month, California became the first state to introduce an endemic approach to the pandemic, acknowledging that the virus' presence is likely to remain. The policy shift came less than three months after the COVID-19 Omicron variant was first detected in the U.S., leading to the country's most recent surge in new virus cases.
Over the last few weeks, several cities and counties have begun easing virus precautions that were tightened amid the Omicron variant's surge. While some areas no longer require customers to provide proof that they have been vaccinated against COVID-19 in order to enter indoor businesses, some of those businesses say they intend to keep their own precautions in place a while longer.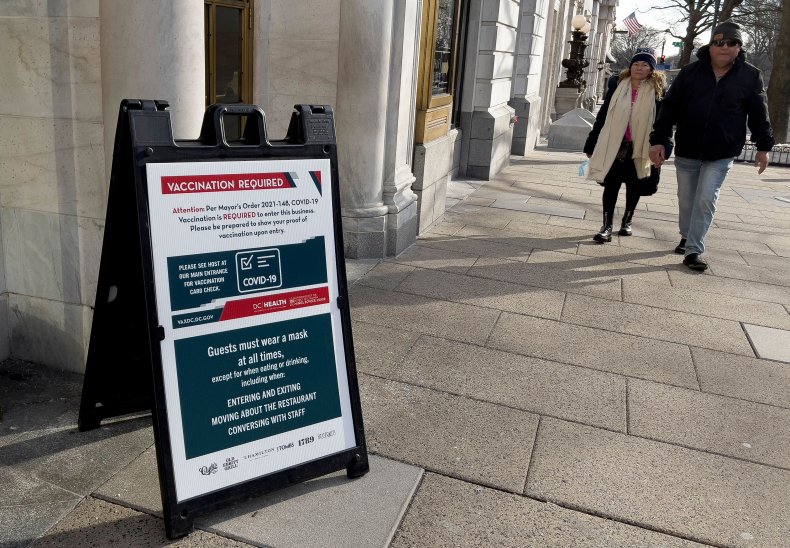 Christine Kondra, co-owner and general manager of Cornerstone Bistro & Artisanal Market just outside Philadelphia in Wayne, Pennsylvania, said keeping COVID-19 precautions in place is "something that we have been pretty adamant about." Cornerstone was the first restaurant to introduce a proof of vaccination requirement in Pennsylvania last summer, Kondra said, and while the initial pushback was strong, she said patrons are now widely supportive and understanding.
"There's only so much that we can control," Kondra told Newsweek. While Philadelphia dropped its indoor vaccine mandate for restaurants last month, Kondra said her restaurant will keep its requirement for indoor dining "for the foreseeable future," noting her restaurant offers outdoor dining and doesn't require proof of vaccination for its outdoor space.
"That's a personal thing for us," she said of the indoor mandate. "It didn't have to be run by the state, it didn't have to be something that was mandated. It was something that we wanted to do."
Fork, a restaurant in Philadelphia operated by High Street Hospitality Group, is similarly keeping its proof of vaccine requirement for its customers.
"While the mandates in Philadelphia have changed over the past two weeks, we are continuing to ask guests to show proof of vaccination prior to entering the dining room," High Street Hospitality Group co-founder and owner Ellen Yin told Newsweek. "This decision was made in an effort to keep everyone in the restaurant safe; we are requiring these same precautions of our staff."
Yin said future decisions about when those protocols will be adjusted will depend upon how case counts in the area shift moving forward.
Justicia DeClue, owner and director of Philadelphia's Maha Yoga Studio, pointed to the frequency of shifting COVID-19 mandates at the national and local levels over the last several months and said the decision to keep her studio's proof of vaccination requirement in place is a result of her interest in "being a bit more patient" to see how the pandemic proceeds.
Maha specializes in clients who experience chronic pain and injuries, DeClue told Newsweek. "We have just personally, in our space, erred a little bit more on the side of caution," she said. That caution has "overwhelmingly" received "positive feedback" from clients, though she said there have been a few exceptions.
"I've gotten a few people who canceled a membership or sent an email that they disagreed, but the safety of the community is so important to me," DeClue said. "With the potential of a new variant and what we saw with Omicron, I just want to make sure that the students are protected—a lot of our students have kids in school—and just give it a little bit more time to see if the numbers continue to move in the right direction."
In Washington, D.C., where the local vaccine mandate for indoor dining was rescinded February 15, 2Amys co-owner Peter Pastan told Newsweek he has "no idea" when his pizzeria will lift its proof of vaccination requirement for indoor dining, but said it will most likely happen when the pandemic is "over" or when there is "a much clearer picture of what comes next."
"Until then, we would rather be safe than sorry," he said.
Jackie Greenbaum, who owns El Chucho in the Columbia Heights neighborhood and three other restaurants in the D.C. area, said each of her restaurants will continue to require proof of vaccination for its customers.
"We've elected to move slowly to step down our pandemic-related policies and watch how the case numbers go," Greenbaum told Newsweek. With indoor vaccine and mask mandates now lifted in D.C., Greenbaum said her restaurants have lifted indoor masking requirements for customers, with staff masking becoming optional by mid-March.
"From our point of view, it is simply a matter of caution," Greenbaum said. "Our staff interact closely with so many people each day that their risk of infection or transmission is considerably higher than the general public, and we want to protect them."
Greenbaum added she will be keeping track of case numbers in the coming weeks. "If they do not spike and remain low, we will reconsider our policies and eliminate them," she said.
Across the country, King County in Washington state lifted its proof of vaccination requirements earlier this week, according to Seattle-based radio station KNWN. Some business owners in the area told the station they, too, will be waiting to lift their own mandates to see how local COVID-19 case numbers play out in the weeks ahead.
Updated 03/03/22 at 6:10 p.m. ET: This article has been updated to reflect that Cornerstone Bistro & Artisanal Market was first restaurant in Pennsylvania to implement a proof of vaccination requirement for its guests.