Vaccination Proof Required For Visitors, Not Lawmakers, in New Mexico's Capitol Building
Vaccination proof will be required for visitors in New Mexico's Capitol building informally called the Roundhouse, but not lawmakers.
Beginning Dec. 6, there will also be news rules restricting performances, advocacy booths, and tours at the Capitol, The Associated Press reported. The Legislature will be meeting then to set new political boundaries for districts based on data from the 2020 census.
The rules will be enforced in January as well when the regular legislative session begins, but vaccinated individuals would be able to go to legislative hearings, a first since the pandemic started.
"Given the high number of COVID-19 cases across the state and the strain this continues to put on state resources, it is incumbent on us to protect everyone in the Capitol complex while conducting the state's business," said Legislative Council Service Director Raúl Burciaga, who oversees safety and operations at the state capital.
For months, the public has been able to enter the Capitol building as long as they wear a mask. Many visit to see local art displayed and the round shape of the building.
Because of concerns regarding COVID, the building was closed during the previous legislative session. It was also watched over by armed guards for a while after the Jan. 6 insurrection at the U.S. Capitol. However, the public was able to watch sessions online and comment through Zoom.
While the Roundhouse will be open, the practice of broadcasting the sessions will remain, making them accessible to unvaccinated individuals.
Democratic Lawmakers also banned weapons at the Capitol, as well as firearms earlier this month, for the first time.
For more reporting from the Associated Press, see below.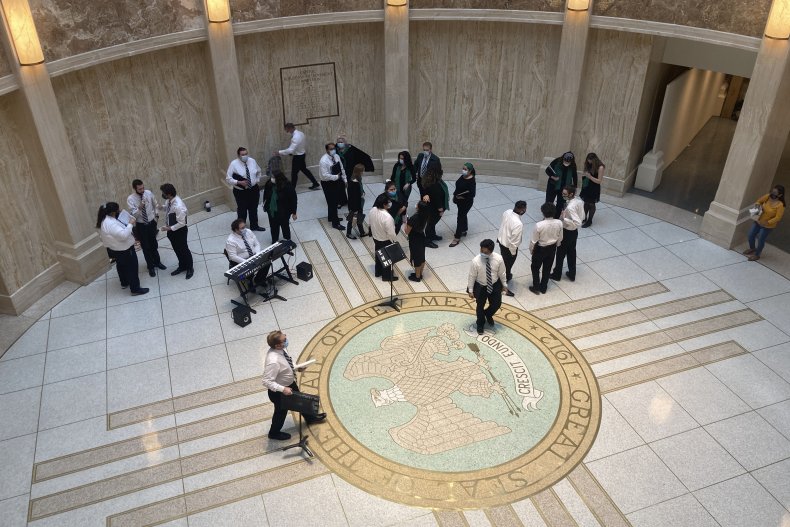 State Republican lawmakers have condemned the gun and in-person restrictions, including Tuesday's announcement.
"Last year they put up a fence blockade and called the National Guard, this year they've decided to ask for your medical records and take away your Second Amendment rights," said state House Republican Leader Jim Townsend, of Artesia, in southeastern New Mexico.
Before the pandemic, legislative sessions served as a festive platform for musical performances and dancing, and lobbying booths. That included advocacy groups handing out pens and massage stations where legislators and members of the public could get a free back rub, all of which are prohibited under the new rules.
New Mexico on Wednesday reported 1,409 new cases of COVID-19 and 21 deaths linked to the disease statewide, according to the state Health Department. Just under 650 people were hospitalized in New Mexico with COVID-19.