Vaccinations Issued at Funeral of Florida Deputy Who Died From COVID
A vaccination clinic was set up at the funeral of a Florida deputy who died from COVID-19.
Polk County Deputy Sheriff Christopher Broadhead died on August 31 following a weeks-long battle with the virus, which according to reports, he contracted in the line of duty. Funeral services for the 32-year-old father of five were held at Victory Church in Lakeland on Monday.
The Polk County Sheriff's Office told Newsweek that the church hosted the clinic, at the request of the family.
"The Dept. of Health came to the church and set up inside after the service," Carrie Horstman, a public information officer at the sheriff's office, said in an email. "The Dept. of Health reported seven people took advantage of the opportunity and got vaccinated today."
Among those who received a dose was Polk County Deputy Sheriff Dustin Pantalone, WFLA reported. Pantalone told the local NBC affiliate that he and his fiancée had been on the fence about getting the vaccine, but said Broadhead's death was an "eye opener."
Broadhead's family had also requested that masks be worn throughout the funeral service, the sheriff's office said. It is not clear whether Broadhead had been vaccinated before contracting the virus.
Polk County Sheriff Grady Judd briefly addressed the issue of vaccines during his speech at Monday's memorial. The service was live streamed on the church's Facebook page.
"Chris set the examples for others to follow," Judd said. "It is my prayer that we never forget the man who was selfless and genuinely and intelligent. After all, he had to be – he was a Florida Gator. And you know, I think if Chris were here with us today, he'd look around the room and say, 'Get the vaccine.'"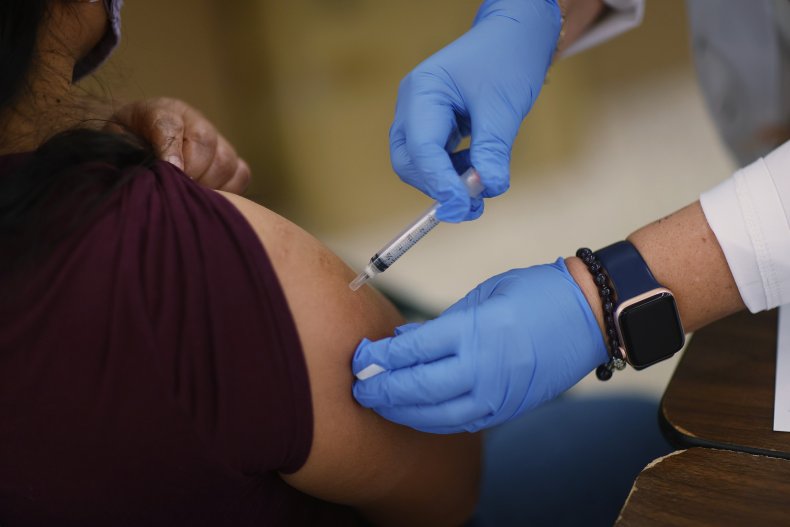 Coronavirus cases are rising across the United States due to the prevalence of the highly contagious Delta variant. Florida is home to one of the country's worst surges, and at one point was responsible for 20 percent of all COVID-19 cases in the U.S.
The Sunshine State reported 52,094 new virus cases over the past three days. The Florida Hospital Association said there were 15,488 people in the state admitted with COVID-19 on Monday.
Sixty-eight percent of eligible Floridians, those age 12 and older, have received at least one shot of a COVID-19 vaccine.
Approximately 11.2 million eligible Floridians—or roughly 52 percent of the state's population—have completed the two-dose series of Pfizer-BioNTech or Moderna, or received Johnson & Johnson's single-dose vaccine, according to the U.S. Center for Disease Control and Prevention (CDC).