As the Biden administration prepares to start offering third vaccine shots as early as mid-September, a leading immunologist has warned that wealthy nations prioritizing boosters over immunizing the rest of the world risks the emergence of deadly COVID-19 variants.
On Monday, Reuters reported that the U.S. government plans to start rolling out third vaccine shots as early as mid-September, eight months after the administration offered Americans their second shot. Other countries planning to offer booster shots in the coming months include Israel, France, Germany, Russia and the United Kingdom. Many countries have not made decisions on whether to provide third shots or not.
Scientists are divided on the subject of boosters, but most believe that achieving global immunity is more important first before rich countries provide more shots to those who have been vaccinated.
Some believe that not striving to reach global immunity could pave the way for new variants of COVID-19, some of which could be more deadly than the variants we have already seen.
Speaking to Newsweek, Dr. Jerome Kim, director general of International Vaccine Institute, warned that there was lack of global leadership in dealing with the pandemic. He also warned that not aiming to vaccinate the whole world could generate more transmissible COVID variants.
He said: "Providing booster doses in highly vaccinated populations risks exacerbating inequities by driving up demand and consuming scarce vaccine supply while priority populations in many countries have yet to even receive a primary series."
Not only is there the health threat of vaccine inequity, but also the economic threat—high income countries could lose $4.5 trillion this year if there is no equity in vaccine distribution.
According to the Our World In Data website, 76.3 percent of the world has not been fully vaccinated and only 1.3 percent of people in low-income countries have received at least one dose.
But Kim said that those who are immunosuppressed—some of whom didn't respond normally to vaccines—should get boosters as soon as possible.
"We should not leave them unprotected, and it is not a large population. Before we start using vaccine to boost people with normal immune systems in high income countries we must provide vaccine to the 75 percent of the world's population that has not been vaccinated," Kim said.
"We should moreover be using the global mechanism for distribution, COVAX, rather than a series of bilateral gestures in the name of vaccine diplomacy or individual contracts between manufacturers and countries (that can afford to pay).
"Supply remains an issue and if supply were not an issue, are we confident that countries can efficiently vaccinate their populations and measure the impact of vaccination?
"Finally there is the biological threat—we know that ongoing, uncontrolled outbreaks are generating variants that are becoming more transmissible, more lethal, and more resistant to vaccines, much of the world lacks sufficient surveillance of infections in general and of variants specifically. So we are blind. And though the vaccines that are WHO approved still work against the variants that we know of, these outbreaks could very well generate the variant that undermines greater than $20 billion in successful vaccine development," Kim said.
The World Health Organization (WHO) has been critical of governments prioritizing booster vaccines instead of inoculating the whole world.
In a statement on August 10, the U.N.-body warned that governments should take into account the strength of the evidence regarding the need for booster doses and the global availability of vaccines.
"Offering booster doses to a large proportion of a population when many have not yet received even a first dose undermines the principle of national and global equity. Prioritizing booster doses over speed and breadth in the initial dose coverage may also damage the prospects for global mitigation of the pandemic, with severe implications for the health, social and economic well-being of people globally," the statement read.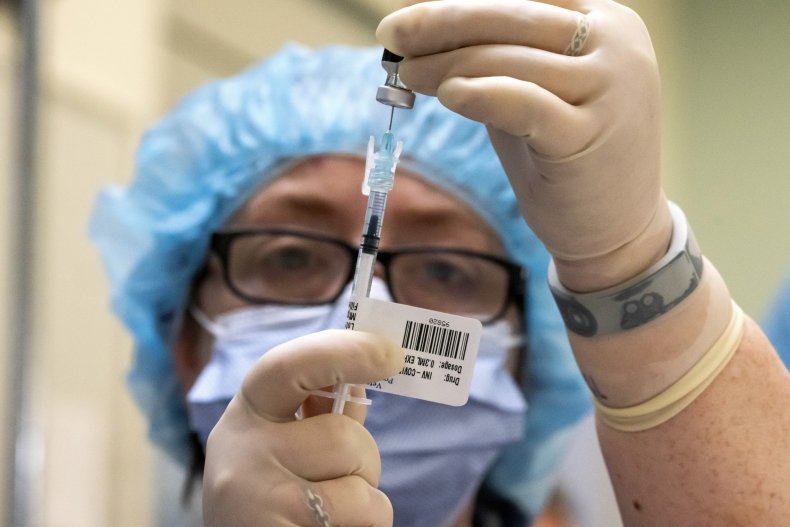 In a joint column for The Guardian on Friday, the chief executive officer of the Global Vaccine Alliance (GAVI) Seth Berkley and Andrew Pollard, director of the Oxford Vaccine Group at the University of Oxford, said rich countries shouldn't be giving out boosters when millions are still waiting for their first dose. They said there is no solid evidence yet that top-up shots were needed.
"Large-scale boosting in one rich country would send a signal around the world that boosters are needed everywhere. This will suck many vaccine doses out of the system, and many more people will die because they never even had a chance to get a single dose," the two scientists wrote.
A GAVI spokesperson told Newsweek: "Research into boosters remains an essential part of the pandemic response as boosters could potentially offer enhanced protection. However, if some high-income countries now start offering boosters, others will follow, and this will have a terrible impact on global supply.
"The vaccines currently in use are highly effective against all variants, including the Delta variant, providing a high level of protection against severe disease and death. Giving third shots to people who are already fully protected will do nothing to reduce hospitalizations and deaths.
"Where we really need to focus all efforts and precious doses, is getting first and second doses out. Boosters will only delay this and increase the risk that more unvaccinated people become infected, which will prolong this global health crisis. While it's important for governments to protect their citizens, we need to consider the most effective way to help stop the virus from circulating globally."
Asked if immunosuppressed people should get a booster shot, Gavi said: "New evidence suggests that antibody levels against COVID-19 may decline over time and that a third dose could help boost them. However, declining antibodies does not necessarily mean reduced protection, since other factors, such as T cells, play an important role here too.
"Moreover, there is also evidence that the protection some Covid-19 vaccines offer may even mature over time, that the immune response to these vaccines becomes broader, offering wider protection. Some immunologists believe that if this proves to be the case, boosters may not be needed at all during this pandemic
"That is not to say that boosters won't become necessary and that countries shouldn't prepare for their eventuality, and indeed there may be a case to start offering boosters to extremely vulnerable groups, such as people with compromised immune systems or some older people."
Pfizer and BioNtech, who produced the world's first COVID-19 vaccine, on Monday announced they had submitted initial data to the U.S. Food & Drug Administration (FDA) to support the booster dose of its COVID-19 vaccine. The two companies said phase 1 safety and immunogenicity data in individuals that received the third doses of their vaccine show "a favorable safety profile and robust immune responses." The data will also be submitted to the European Medicines Agency and other regulatory authorities for review in the coming weeks.
Officials at the FDA and the Centers for Disease Control and Prevention have said that authorizing third doses for people with weakened immune systems was a separate issue from whether booster doses were needed for the rest of the population.
Update 8/18/21, 12 a.m. ET: This article was updated with comment from GAVI.